sarAika for Emerging Artists New Work Series Fall 2022 present "L TRAIN"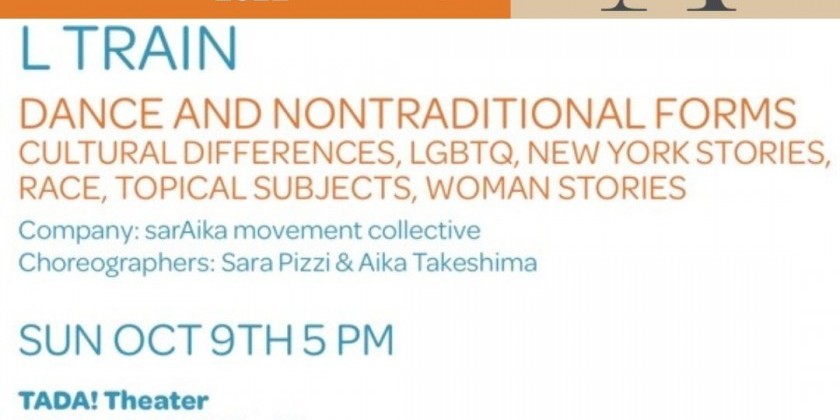 Company:
sarAika movement collective
sarAika for Emerging Artists Theatre Presents "L TRAIN"
A workshop performance on October 9th, 5pm at TADA Theatre
Part of the 2022 New Work Series September 26 to Sunday, October 23, 2022
sarAika movement collective will premiere the revised version of "L TRAIN" choreographed and directed by Sara Pizzi & Aika Takeshima. This production is part of the "Fall 2022 New Work Series". Performance takes place at TADA Theatre in Manhattan on October 9 at 5pm.
sarAika movement collective will premiere a revised version of its contemporary/conceptual dance performance "L TRAIN", which was well received in its January premiere and April revival. This time, we invited a guest actor to emphasize the story more. The 38-minute production is divided into 7 acts, involving dance movements by 6 dancers, theatrical play by an actor and MTA recordings. The components are deep bass and rhythmic music selection, acting, which are not often used in contemporary dance works, the choreography is based on partnering, floor work, improvisational skills, storytelling, conceptual art, street dance style influences.
"L TRAIN'' speaks about us – about the uncomfortable common sensation that we are not in control. Even if one moment, right now, is precious, it will not last forever. Everything is subject to change. Where is the stability? At the end, life seems like the L train line: everyone goes in the same direction, but nobody has the same destination.
Directors/Choreographers/Dancers: Sara Pizzi & Aika Takeshima
The cast features company dancers: Mayu Nakaya, Faustine Lavie, Haley Morgan Miller, Maitlin Jordan and a guest actor: Arianna Wellmoney.
sarAika is dedicated to making art about and for humans. We want to create a bridge of connection between artists and non artists. Our goal is to create awareness and reflect upon global and social issues. sarAika aims to break the concept of standard performances by creating collaborative, conceptual, and interactive art experiences.
Website: https://saraikacreation.com
Instagram: @saraikamovementcollective
Tickets are $20 in advance, $25 at the door and are available athttps://www.newworkseries.com/new_works_series/l-train/.
The performance takes place at TADA Theater, 15 West 28th Street (between Broadway and 5th Avenue), 2nd Floor (elevator accessible), New York, NY 10001. Subways: N/R/1/2 to 28th Street, B/D/F/W to 34th Street.