Advertise With Us
Make an impression — place an ad on The Dance Enthusiast and receive thousands of eyes on your work every week. Learn more. 
50% OFF ALL ADS through December 31st. Use the promo code FALL50 at checkout HERE.
Contribute
Your support helps us cover dance in New York City and beyond! Donate now.
works by Eleo Pomare, Martial Roumain and Enrique Cruz De Jesus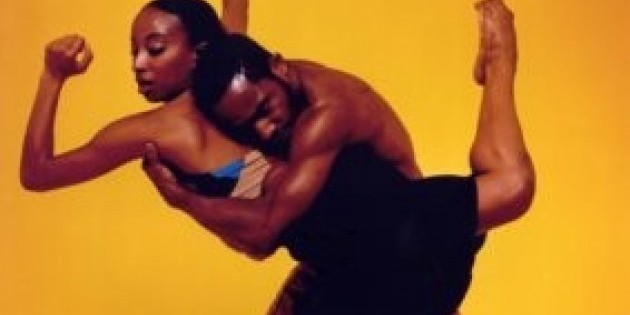 Company:
Alpha Omega Theatrical Dance Company
ALPHA OMEGA THEATRICAL DANCE COMPANY in a program of works by
ELEO POMARE, MARTIAL ROUMAIN, and ENRIQUE CRUZ DeJESUS
Saturday/Sunday/Monday, November 20, 21, 22 at 8 PM
Manhattan Movement and Arts Center (MMAC), 248 West 60 Street
Tickets: for November 20 tickets are 5 and includes performance and
post-performance reception
Tickets: for November 21 & 22: 5; 0 for students & seniors
Dancers: Efosa D. Agbontaen, Mario Bermudez, Donna Clark, Shauntee
Henry, Elise King, Ashely Race, Brandi Stewart, Nicholle White
Musicians: Ty Stephens and SoulJaazz
Ty Stephens, lead vocalist
Richard Cummings Jr, Musical Director and Piano
Gene Torres, bass
George Gray, drums
R.T. Taylor, guitar
Alpha Omega Theatrical Dance Company will present works by Eleo Pomare, Martial Roumain, and Company Artistic Director Enrique Cruz DeJesus, on its 38th Concert Season, November 20-22 (Saturday/Sunday/Monday) at 8 PM.
Live music by the elegantly funky, R&B, and jazz sounds of Ty Stephens and SoulJaazz will accompany the premiere of DeJesus's "Crossroads to Hathaway," danced to the songs of R&B singer/songwriter Donny Hathaway. His chart-topping musical arrangements and intimate concert performances resonated with audiences and were unique to his personal experiences. DeCruz's new work includes storytelling elements that highlight the times of the music's origins, the 60's and 70's, and its relevance today.
Also by deCruz is his Evolution, a playful take on the Big Bang Theory danced to Tito Puente's big band sounds of the 50's. Claudia La Rocco, reviewing in The New York Times, noted the work's "delicious fun with a mash-up of styles, including Latino, jazz and modern. Mr. DeJesus delights in the earthy, sensual pleasures to be found in such simple things as walking, in all its permutations: struts, saunters, shimmies, slides." (November 3, 2008)
Martial Roumain choreographed the Elegy, set to music by Michael Wimberly, "in memoria of a passing loved one." The 1993 solo was created for, and will be danced by, Donna Clark, who "made the grief majestically stoical and imposing in her powerful performance of the solo." (Jennifer Dunning, The New York Times, April 10, 2003)
Alpha Omega prizes a large repertory of works by African-American and Hispanic choreographers, including several dances by the late Eleo Pomare. They will perform one of his major works: the 1996 "Radeau" (Raft) which he described "as depicting a stormy sea voyage to safety from strife-torn Haiti." Noted Jennifer Dunning: "The genius of the work...is that its turmoil has no specific reference point. Three women - a mother, perhaps, and a child and a grandmother - roll with tumultuous waves, pulling apart in fear and pulling together into a line of women who might be sitting in a boat It is an abstract dance, but evey move and gesture seethes with the terror and hope of a voyage to a different and perhaps better world." (The New York Times, December 15, 2005)