A Dance Enthusiast's A to Z: J is for Finis Jhung and Amy Jordan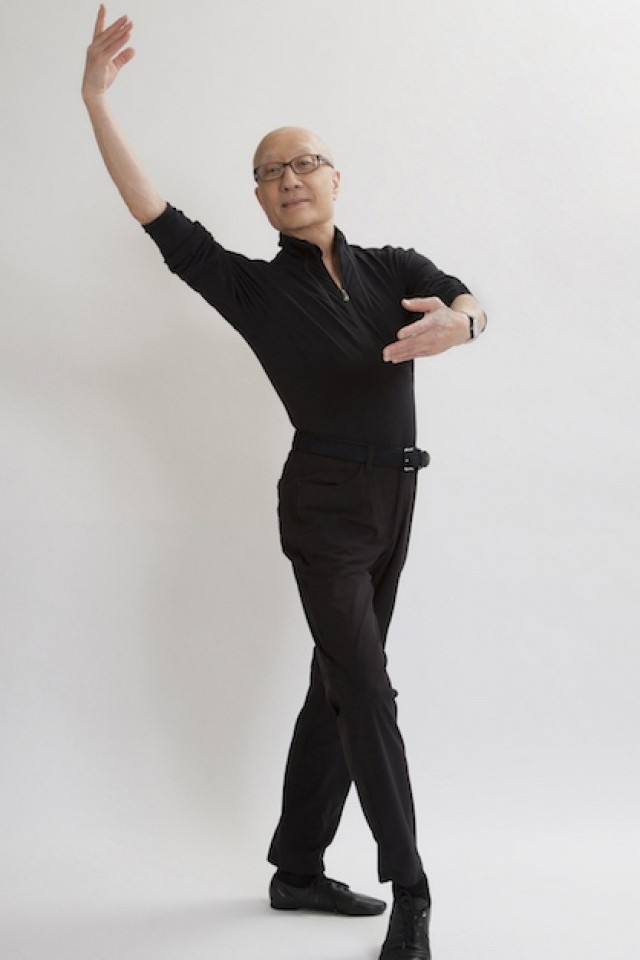 Finis Jhung
Biography
In a career spanning six decades, ballet legend Finis Jhung has left his mark on Broadway, in film, and on stages across the world. While still a dancer, he studied with the greats — Valentina Pereyaslavec, Vera Volkova, Stanley Williams, Erik Bruhn, Rosella Hightower, and David Howard — and danced in the San Francisco Ballet, The Joffrey Ballet, and the Harkness Ballet. He danced for presidents and dignitaries and eventually founded and choreographed for his own ballet company. Now in the second phase of his career as a renowned and beloved dance instructor, Finis has taught everyone from prima ballerinas and Broadway stars to adult beginners. His goal is to make ballet accessible to everyone, to create innovative ways of teaching, and to inspire present and future generations of dancers. Not content with life in the studio, he has created more than 50 instructional dance videos, produced 18 music CDs, and authored The Finis Jhung Ballet Technique: A Guide for Teachers & Students — all so that aspiring dancers of every level can learn his techniques, without ever leaving home. In Ballet for Life: A Pictorial Memoir, he shares his own story for the first time, starting from humble roots in World War II Hawaii. Still actively teaching at the age of 81, his greatest joy is helping each of his students to find the dancer within.
Image: Stephen von der Launitz
Amy Jordan
Biography
Amy Jordan is an author, inspirational speaker, consultant and choreographer. She is a motivator, coach, fitness expert and a classically trained dancer who embodies her mantra, Dance Because You Can.
Amy's professional and personal experiences have given her the insight needed to help others. Her life has been full of unexpected challenges, sending her on a journey that transformed transform tragedy into triumph.
Amy has Type 1 Juvenile Diabetes and fought most of her life to hide it. As a professional dancer, she experienced complications from the diabetes that caused her to lose sight in one eye becoming legally blind. 
Unable to continue her dance career, she turned her attention to supporting others living with diabetes. This began her life-long work as an advocate and motivator. She founded SWEET ENUFF Movement to help prevent childhood obesity through dance and exercise. It was a top 5 national finalist of First Lady Michelle Obama's 'End Childhood Obesity Challenge.'
She began teaching and training group fitness while managing some of NYC's largest fitness centers. 
Life challenged Amy again when she was hit and run over by a bus while living in New York City.  The accident nearly ended her life and her leg came close to being amputated. She used her dance training and discipline to survive dozens on surgeries, and against all odds, regained use of her leg. 
Her determination and indomitable spirit carried her through grueling years of rehabilitation, and her inner strength enabled her to return to fitness classes.  She began choreographing and returned to her essence as a dancer in 2014,  founding The Victory Dance Project, a NYC-based professional dance company.
Today, Amy strives to inspire and motivate others to overcome ANY adversity. She continues to choreograph and and is a sought-after motivational speaker and coach. Amy shares her unique, DANCE philosophy in her signature presentation Dance Because You Can. She believes that the process of Creating Your Own Victory Dance is the key to success in business, leadership and life.
Living in the idea of Making the Impossible Possible, Amy Jordan is determined to transform her own traumas into victory and inspire and coach others to do the same. She believes that everyone can, and should, "Dance Because You Can."
Top image: Cherylynn Tsushima; Cover image: Mami Yamada
1
My earliest memory of dancing : _______________
Jhung:
was around the house when I was six.
2
What was the light bulb moment when you realized you were going to be a dancer?
Jhung:
At age 9 [during my] first ballet class in Honolulu. I told my parents I wanted to grow up to be a famous dancer in Hollywood and New York.
Jordan:
I'm not sure I had 'one' moment. It was clear as a teen that I simply had to be moving. After high school the only sensible next step was to move to New York City.
Jhung:
Buddhist practice every morning, and living to be the best ballet teacher I can be.
4
A perfect day includes____________
Jhung:
coming up with new ideas for teaching my "adult babies" at The Ailey Extension and seeing them improve because of these ideas.
Jordan:
coffee, chanting, exercise, and finishing three work tasks. On Sundays: coffee and The New York Times.
5
What event (dance-related or not) has transformed you?
Jhung:
Practicing Buddhism.
Jordan:
My Tremaine scholarship in 1989; managing type 1 diabetes; my dance company, The Victory Dance Project honoring Broadway legend Chita Rivera; writing my book Dance Because You Can, which will be published this fall.
6
What are your favorite dance movies?
7
The most expressive part of the body is _________
8
What do you consider your greatest achievement thus far?
Jhung:
Creating more than 50 instructional ballet videos that are used by teachers and students all over the world.
Jordan:
Being run over by a New York City bus, surviving, and yes, dancing again!
9
What is your life's motto?
Jhung:
Help others solve their problems.
Jordan:
Dance Because You Can.
10
What is your most treasured possession?
Jhung:
A Buddhist altar and the scroll it protects.
Jordan:
I am not very attached to 'things' but I love my photo with First Lady Michelle Obama. It was taken when SWEET ENUFF, the movement-based non-profit I founded to help prevent juvenile diabetes, was a finalist for Mrs. Obama's "End Childhood Obesity Challenge." (Yes, she is as amazing in person as she seems!)
11
What is your favorite post-performance meal?
Jhung:
Bagel with cream cheese.
Jordan:
Grilled salmon and grilled vegetables.
12
If you could travel anywhere in the world where would you like to go?
Jhung:
Nowhere. As a professional, I performed in most major European cities, Near East, Mid-East, and Far East. I love New York.
Jhung:
the condition of human life today – there is so much oppression and suffering caused by the people in power.
Jordan:
how we will start to respect each other simply as equal human beings.
14
_____________ is overrated.
Jordan:
"Keeping Up with the Kardashians''
15
My greatest influence(s) is/are______.
16
If I could switch careers I would be a _______.
Jordan:
college professor.
17
I would like to learn to ____________.
Jhung:
be a better teacher.
18
One of the jobs/projects I most enjoyed was _______ because______.
Jhung:
dancing in the film version of Flower Drum Song, because my childhood dream of going to Hollywood was fulfilled.
Jordan:
choreographing a full show for my company The Victory Dance Project, and honoring Chita Rivera, because I proved I could overcome my doubt and fear and create value with my choreography.
19
One of my favorite artists (dead or alive) dance or otherwise is ________
20
I am looking forward to ________
Jhung:
writing my next book.
Jordan:
the release of my book Dance Because You Can and what adventures life brings after 50.
The Dance Enthusiast's A to Z Celebrates our 10th Anniversary by Highlighting People Who Power The Dance World.
Stay Tuned for More Installments!
BE A PART OF OUR TENTH ANNIVERSARY CELEBRATION!
HERE'S HOW:
Have a Suggestion for our A TO Z List of People Who Power the Dance World? Contact info@dance-enthusiast.com
This Season We are Talking to Artists about Activating Space. Activate Your Space in the Dance World by Sharing Your Insight on Performance.  Submit an #AudienceReview
Send us a POSTCARD to info@dance-enthusiast.com and let us know what you are up to.
List Your Events With us for FREE.
Support Dance Writing in New York! Place an Ad on The Dance Enthusiast! Take a look at the specs here and contact info@dance-enthusiast.com for further information.
Related Features
More from this Author