A Dance Enthusiast's A to Z: M is for Cameron McKinney and Christopher Morgan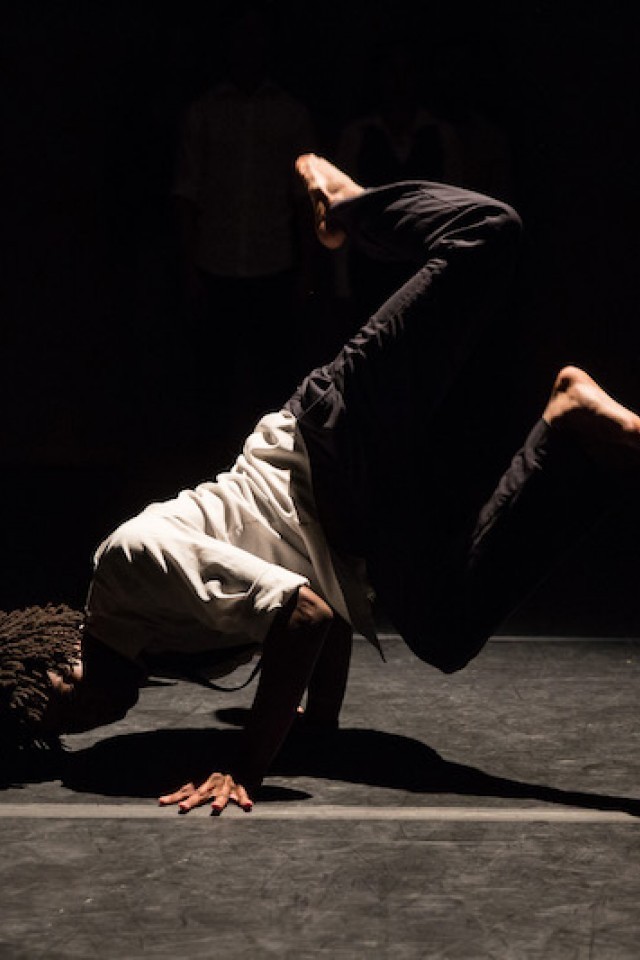 Cameron McKinney
Biography
Cameron McKinney is a New York City-based choreographer, dancer, and educator. He founded Kizuna Dance in 2014 with the mission of creating works that celebrate the Japanese language and culture. His work has been recognized through a Choreographic Fellowship for the Alvin Ailey Foundation's New Directions Choreography Lab, provided through generous support from the Rockefeller Brothers Foundation. He also recently received a three-month Individual Fellowship from the Asian Cultural Council to travel to Japan and continue his studies on the intersections of streetdance and butoh in 2019. In addition to receiving commissions for new works from The Dance Gallery Festival, the Men in Dance Festival, The Thacher School, SUNY Brockport, and Peridance Capezio Center's inaugural Choreographic Development Project in 2018, he has also been commissioned twice by the Joffrey Ballet School and twice by the Let's Dance International Frontiers Festival, among others.
He has presented choreographic work nationally and internationally at prestigious institutions and festivals such as The Japan Society, Performatica (Mexico), the Let's Dance International Frontiers Festival (UK), Gibney Dance, Movement Research, Middlebury Institute for International Studies, Middlebury College, the Boston Contemporary Dance Festival, Against the Grain / Men in Dance, the Wassaic Summer Project Festival, Triskelion Arts, Nazareth College, The Dance Gallery Festival, the 92nd Street Y, and the KUNST-OFF Arts Studio, among many others. His choreography was awarded the Audience Choice Award at the 2017 Men in Dance Festival in Seattle, WA.
As a professional educator, Cameron has lead workshops, masterclasses, and residencies at Gibney Dance, Joffrey Dance Center, Cleveland State University, Purdue University, Middlebury Institute for International Studies, Middlebury College, Spectrum Dance Theater, De Montfort University, Performatica, Hunter College, and Studio Muku (Japan), among many others. He is currently teaching on faculty at Gibney Dance Center, and has taught on faculty at the Joffrey Dance School, the Southern Vermont Dance Festival, and Williamsburg Movement and Arts Center. Cameron will join the faculty of the Tennessee Dance Festival in September 2018.
Cover Photo: Rachel Neville // Top Photo: Scott Shaw
Christopher Morgan
Biography
Christopher K. Morgan is the Executive Artistic Director of Dance Place in Washington, DC, where he oversees the curation of 40 weekends of performances by national and international choreographers annually, a school for youth and adults, youth enrichment programs and continues Dance Place's leadership in creative placemaking. He is the Artistic & Executive Director of contemporary dance company Christopher K. Morgan & Artists (CKM&A) and the Director of Art Omi: Dance, an annual collaborative residency for international choreographers in Ghent, New York.  Born in Orange County, CA, Christopher's Native Hawaiian ancestry and a diverse, international performance career that moved him to San Diego, Munich, New York, Dublin and London all influence his work as an administrator, choreographer, educator, facilitator, curator and performer. Said to be "direct, transcendent and entrancing" by The Washington Post, his choreography has been presented in 18 countries on five continents. Morgan founded CKM&A in 2011; the same year Dance Magazine profiled him as one of six breakout choreographers in the United States. Awards include a 2013 Native Arts & Cultures Foundation Fellowship in Dance, 2014 NPN Creation Fund, 2014 NEFA National Dance Project (NDP) Production Grant, 2015 Montgomery County Executive's Outstanding Artist Award and 2011, 2014 and 2017 Maryland State Arts Council Individual Artist Awards, and one of three inaugural 2018 Native Launchpad Awards from the Western Arts Alliance. Christopher taught at American University (Washington, DC) from 2011-14, and in the BA and MFA programs at the University of Maryland from 2014-2017, and residencies at over 20 institutions of higher learning in the US and abroad. In demand as a speaker, panelist and grants reviewer for his informed and balanced perspective, Morgan has recently been at the forefront of national and international discussions on cultural appropriation and equity. He resides in Washington, DC with his husband, opera director Kyle Lang.
Cover Photo: Brianne Bland // Top Photo: Steven Schreiber
1
My earliest memory of dancing : _______________
McKinney:
In sixth grade, I was able to do a coffee grinder and so I became the mascot of my math class: Beck's Breakdancing Biscuits. 
Morgan:
is doing the hula and dances of Polynesia with my family as a child growing up in Southern California.
2
What was the light bulb moment when you realized you were going to be a dancer?
McKinney:
After spending the summer of 2013 dancing in Japan and at the Bates Dance Festival. I returned to college and wanted movement to be a central part of my life. 
Morgan:
I was around 17 or 18 years old. I had been studying western forms of ballet and jazz for about 1 year when I was given my first paid performance opportunity as a backup dancer for an unknown pop singer. I performed in front of a huge audience at the San Diego Sports Arena, and I had never experienced anything like it. I felt a freedom I had never felt before. I found shelter on stage.
McKinney:
Good friends, good conversations, deep house music! 
Morgan:
Creating space for others, space for artists to do their work, space for audiences to see the work of artists and engage with them, space for voices we don't hear from enough in mainstream entertainment to sing out loud, andspace for my own work to be heard. All these things energize me.
4
A perfect day includes____________
McKinney:
A huge breakfast, a productive rehearsal, taking a class that drenches me in sweat, dinner at a Japanese restaurant, time to myself before winding down in the evening. 
Morgan:
Coffee, dance, people, my husband, my cat, a good meal and a good drink, and SLEEP.
5
What event (dance-related or not) has transformed you?
McKinney:
Seeing Kyle Abraham's Radio Show during my sophomore year in college opened my eyes to new ways that dance could exist and be used to tell a story. All of Doug Varone's body of work (especially Carrugi!), and being able to study with him briefly while in his DEVICES choreographic intensive, reinvigorated my ability to trust my instincts. Traveling to Jacob's Pillow for the first time recently gave me a new sense of dance's cultural importance and necessity. 
Morgan:
I just completed my 13th summer facilitating Art Omi:Dance. Facilitating the collaborative process of 10 dancer/choreographers from as many as 7 different countries each summer, with their varied aesthetics, languages and cultural contexts, has expanded my sense of the global village I live within. It has taken my worldview, validated it, shaped and expanded it.
6
What is/are your favorite dance move(s)?
McKinney:
Coffee grinders! The shuffle and dodge, loose legs, and the farmer in house dance. Anything that involves crawling on my hands.
Morgan:
I have a structured improvisation solo I perform called Unpredictable Repeat Hesitation, and one aspect of it is I address some of my dance improvisation habits, which of course includes my favorite moves! In recent performances of that work I identified my favorite moves as a descent to the floor over the top of the feet, leg gestures that extend in the back space, body rolls, head rolls and my favorite hula movement 'uwehe, which is lightly lifting one foot then popping the knees outward when that foot reconnects to the floor.
7
The most expressive part of the body is _________
McKinney:
The upper body — head to waist.
Morgan:
It's a split decision between the eyes and the hands.
8
What do you consider your greatest achievement thus far?
McKinney:
Taking my company on a month-long international tour earlier this year. 
Morgan:
I'm only one year into my role as Executive Artistic Director of Dance Place in Washington DC — it's a split decision between that and my work at Art Omi:Dance.
9
What is your life's motto?
McKinney:
Create your own luck. Make your own opportunities. You don't need to wait for people to hand them to you. 
Morgan:
Quiet all the noise from others, and listen to your na'au (the Hawaiian word for gut, or the seat of thought).
10
What is your most treasured possession?
McKinney:
My dance journal while I'm engaged creatively, and the book Love Poems by Nikki Giovanni.
11
What is your favorite post-performance meal?
McKinney:
Burger and a beer.
Morgan:
A burger, fries and a Manhattan.
12
If you could travel anywhere in the world where would you like to go?
McKinney:
I always want to go back to Japan. I'd also love to travel to Berlin. 
Morgan:
I'm pretty fortunate to have traveled a fair bit, but Australia and New Zealand have both eluded me. I'm dying to go!
McKinney:
Whether the field can truly accept and expand its definition of "technique" to include non-Eurocentric movement languages.
Morgan:
the field's (and our audiences') need to remount / see / hear the same old stories over and over again, especially ones steeped in misogyny or racism. How much resources and how many remounts of old ballets and "classic" or "masterpiece" works do we need, when there are so many artists out there making current, and vibrant work that speaks to the moment we live in now. I believe strongly in standing on the shoulders of those who came before us, but sometimes we need to interrogate what was done.
14
_____________ is overrated.
McKinney:
Working for exposure
Morgan:
Overpriced university degree programs are overrated. Less debt in the world please.
15
My greatest influence(s) is/are______.
Morgan:
At one point in my performing career I was looking for a mentor, someone I could dedicate 5-10 years of my career to, and glean from their knowledge master / apprentice style. Despite my search, I never found that in one person. It was partly due to the era in which I came of age (where the company model had begun dismantling). Instead, I ended up with a conglomo-mentor made up of the voices and influence of great people I am privileged to have danced with: John Malashock, Liz Lerman, David Gordon, Michael Keegan Dolan, Kevin Wynn, and others.
16
If I could switch careers I would be a _______.
McKinney:
DJ or an event planner. 
Morgan:
I'd love to be reincarnated as coloratura soprano. Incredible power from the body in a completely different way than I am able to achieve. 
17
I would like to learn to ____________.
McKinney:
Speak more languages and how to fly a helicopter! 
18
One of the jobs/projects I most enjoyed was _______ because______.
McKinney:
Being a part of The Dance Gallery Festival's recent residency in the Catskills for its LEVEL UP commissioned artists. We were not only treated royally well, but there was also a trust that I knew my craft - a sense of "you know what you're doing, so here's ample space for you to do your thing." Finding curators, communities, and presenters that are actively looking to support emerging artists is a rare and meaningful find. 
Morgan:
My 2016 work Pōhaku, which is still touring, changed me deeply as an artist and human. It was an incredibly long and in depth process to get that work to the stage. A process that was much more than research and rehearsal, but a personal excavation of my identity, family history, and how the colonization of Hawaii directly created the reality I now live. It was a significantly deeper dive into the kind of identity driven work I've been doing since my 2004 solo The Measure of a Man, or my 2005 work Rice, that forced me to face new things.
19
One of my favorite artists (dead or alive) dance or otherwise is ________
20
I am looking forward to ________
McKinney:
Returning to Japan next summer on an Individual Fellowship from the Asian Cultural Council, and the exciting new steps my company will be engaged in next year (more on that soon!). 
Morgan:
The 2018-2019 performance season at Dance Place, the first one curated under my leadership!
The Dance Enthusiast's A to Z Celebrates 11 Years of Dance Enthusiasm by Highlighting People Who Power The Dance World.
Stay Tuned for More Installments!
Share YOUR Power with the Dance Enthusiast's Audience. Here's How.
 
Share Your Insight on Performance by Submitting an #AudienceReview

Support Dance Writing in New York! 

Place an Ad on The Dance Enthusiast! Take a look at the specs and prices  here and contact info@dance-enthusiast.com for further information.
Related Features
More from this Author