A Dance Enthusiast's A to Z: F is for Pepper Fajans and Kristen Foote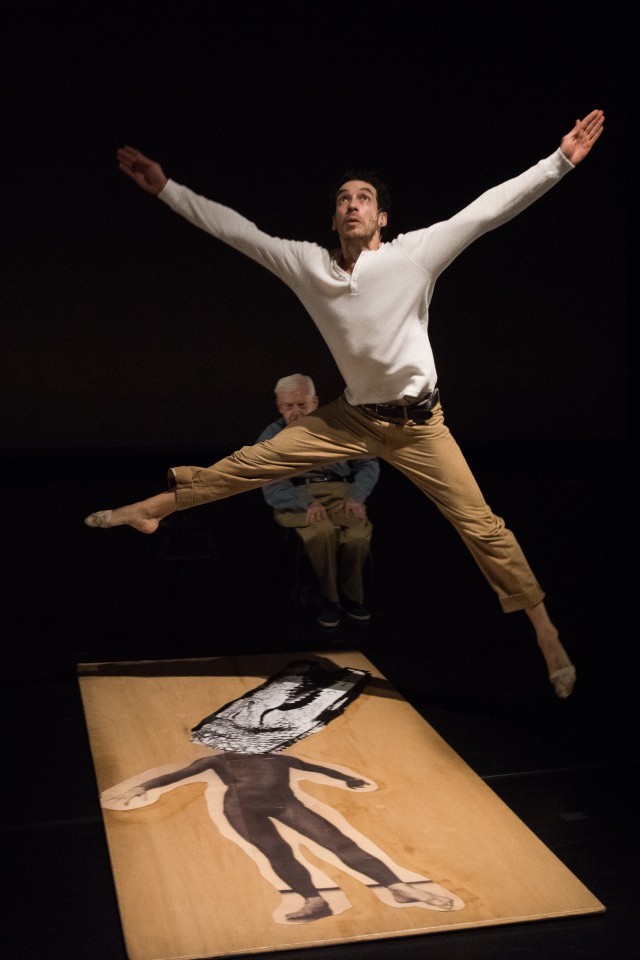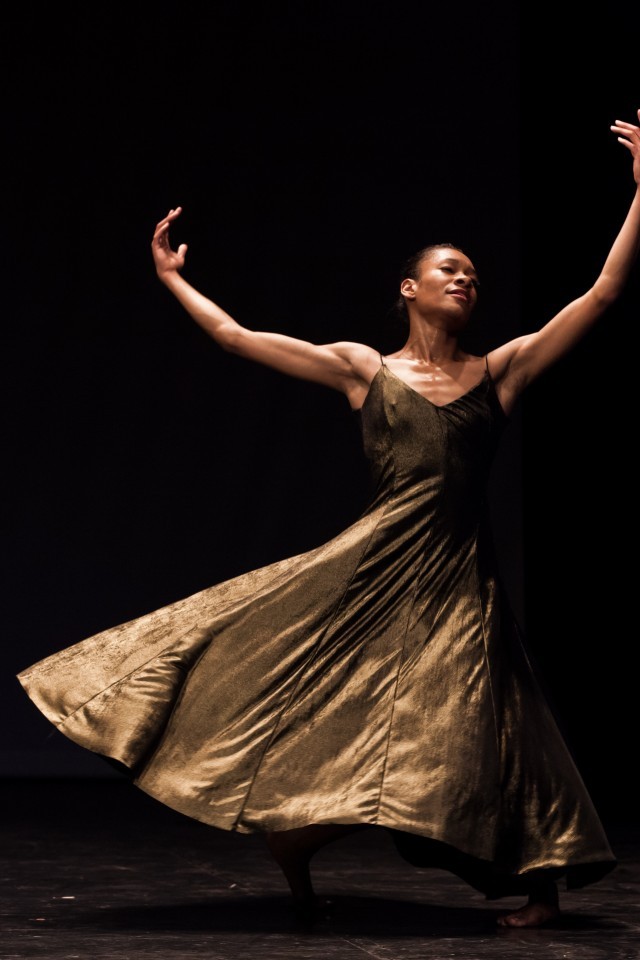 Pepper Fajans
Biography
Founder and Director of Brooklyn Studios for Dance (BkSD). Dancer, Puppeteer, Carpenter, producer of Object Theatre. Fajans partnered with Cadman Congregational Church in Brooklyn to renovate their 1920's era gymnasium into BkSD. Since opening in 2015, BkSD has offered classes, workshops, and performances featuring the work of hundreds of teaching and performing artists. His performing company, the Brooklyn Touring Outfit, was awarded Most Outstanding Choreography at the Montréal Fringe Festival in 2015 for Co. Venture, remounted the work at the Centaur Theater (Montréal), and gave their US premier at Baryshnikov Arts Center in 2016. Fajans was personal assistant to Merce Cunningham and toured with the Cunningham Company as production staff and assistant to Cunningham Archivist, David Vaughan, through the final world tour, and was the production/stage manager for New York Theatre Ballet. Fajans has created work through St. Ann's Puppet Lab and his latest work, Co. Incident, was presented at JACK in 2017. He was a puppeteer in Hagoromo at Brooklyn Academy of Music and The Windup Bird Chronicle at the Ohio Theater and has shown work through Movement Research at Judson Church, 92Y – Fridays at Noon, and DraftWork at Danspace. Fajans received his BA from Sarah Lawrence College, and has taught through Sarah Lawrence College and Pratt Institute. He is a member of the Brooklyn Contemporary Chorus and a board member of the Fort Greene Association. www.bksd.org / @BKSdance / @BKoutfit
Photos: Jai Odell and Stephen Pisano Photography
Kristen Foote
Biography
New York City-based dancer, performer, teacher, Limón reconstructor and coach, Kristen Foote is originally from Toronto, Canada, and joined the Limón Dance Company in 2000 — where she was a principal dancer until 2017  —and Dance Heginbotham in 2011. Hailed by The New York Times as "marvelously versatile" and "especially captivating," Foote has been recognized by Dance Magazine as a "Featured Artist" in 2011 and 2016, selected as one of the "Most Amazing Performers" of 2010, and one of their "Top 25 To Watch" in 2005. This year, Foote staged Limón's Missa Brevis on the Limón Dance Company, marking the work's 50th anniversary. The piece was also performed as part of the Company's 2018 NYC Season at the Joyce Theater. Ms. Foote has performed as a soloist in roles by noted choreographers including: José Limón, Isadora Duncan, Doris Humphrey, Anna Sokolow, Jiří Kylián, Donald McKayle, Lar Lubovitch, Rodrigo Pederneiras, Susanne Linke, Murray Louis and John Heginbotham. In 2015, she developed a solo dance project, The History of Her, that was lauded as "imposing, musical and subtle." The project had its international premiere in Paris, France and the U.S. premiere at Jacob's Pillow Inside Out Series. She has since performed Lar Lubovitch's solo Scriabin Dances at the Chicago Dancing Festival, American Dance Festival and at Lincoln Center; plus Isadora Duncan's Revolutionary Etude with Catherine Gallant/DANCE at St. Mark's Church. Other solos from the project have been featured at The Joyce Theater as part of the Limón Dance Company's 70th Anniversary Season, Limón International Dance Festival and Dance Heginbotham's NY debut season as well as during the U.S. State Department & BAM's DanceMotion USA tour throughout South East Asia. She was a Radio City Rockette; has performed with Mark Morris Dance Group; been featured as a lead dancer in music videos; was a guest artist with Rashaun Mitchell + Silas Riener's 3D Dance on Film project Tesseract directed by Charles Atlas; and was a featured dancer in An Ode To a performance piece created, composed, choreographed and performed by Solange Knowles for The Red Bull Music Academy Festival at the Solomon R. Guggenheim Museum. Foote recently performed in Megan Williams' One Woman Show at Joe's Pub, and will perform with Molissa Fenley on June 21 - 23, 2018 at Danspace at St. Mark's Church. Ms. Foote is a teacher of Limón Master classes and workshops, and re-stages Limón repertory across the U.S., Canada and Europe. She is attending New York University Tisch School of the Arts for her Masters of Fine Arts degree in Dance.
Photos: Roel Seeber and Emmanuel Donny
1
My earliest memory of dancing : _______________
Fajans:
In the living room, listening to my parents' record collections, which included Talking Heads, Stevie Wonder, Rolling Stones, Tina Turner, James Brown, Aretha Franklin, Jimi Hendrix, Van Morrison, Little Richard, and lots of Motown. I couldn't help but dance.
Foote:
My earliest memory of dancing is performing a group dance with neighborhood kids that we "choreographed" to a Michael Jackson song in the den of my parent's home when I was three. All of the kids were experimenting with "robot" moves, which was popular at the time. In addition to this, I found inspiration and freedom in swaying my hips, adding attitude balances plus my version of ballet pirouettes, an unabashed solo moment.
2
How did you know that you had to be involved in dance? Was there a specific moment, dance work, or person who motivated and inspired you?
Fajans:
I didn't think of myself as having to be involved in dance until I realized that I could build Brooklyn Studios for Dance. This came following the financial crisis of 2008 and after working with several dance organizations. I saw a disparity in the field between dancers and adequate space, and set to out address this by mixing my love of creative movement and utilitarian movement — dance and construction.
Foote:
As a young kid, I had a lot of energy; and to help channel that liveliness, my parents enrolled me in as many arts and sports classes they could find. I started taking dance classes, including tap and ballet, when I was four years old and at around the age of eight, my parents allowed me to stop with the other activities and to study only dance. From that moment on, all I wanted to do was perform.
Fajans:
Collaboration. I love being social and feeling transformed by new ideas and new perspectives on old ideas. Shared accomplishments are exhilarating and a party is not as fun if you're the only person there.
Foote:
On any given day there are many inspiring factors but my desire to move energizes me first and foremost. Some days, my muscles feel heavy or tight from being fatigued and it can be hard to motivate. However once I start dancing an infectious spirit ensues, and it can keep me going.
4
A perfect day includes____________
Fajans:
Home-cooked meals, taking my time, yoga, long conversations, a walk, dancing, running, singing, a kiss, a cocktail.
Foote:
Getting to do a little bit of everything I love to do; taking a leisurely walk with my husband and dog while enjoying a cortado! I would then take floor barre to organize and reinvigorate my body before taking a great dance class and then perform. In a perfect world, I would then have the energy to head out to listen to an intimate music performance and celebrate the day with a nice glass of wine!
5
Have you ever had a dance/performance disaster onstage or off? If so, what was it?
Fajans:
I was the production manager for a dance company that toured to small towns. We had a performance at a middle school auditorium. We had to carry our massive set through a quarter-mile long hallway, which was the shortest route in the building. The local presenter provided us a volunteer crew for two hours of an eight-hour day, and then scrambled to replace them, bringing in two classes of 7th graders. I couldn't believe it. We were already so far behind schedule. I decided to cut half of the set, and had the kids work in groups to carry the pieces a quarter-mile back to the truck. The dancers performed with half a set. The audience didn't know.
Foote:
Oh so many to speak of . . . A disaster that stands out, happened about fifteen years ago at The Yard on Martha's Vineyard. During a weekend of shows, dancers in residence were introduced to the community. I had attempted to construct my own costume tunic without any real know-how and, in the middle of dancing a solo, I experienced a memorable wardrobe malfunction! Let's just say that the community was introduced to me in a way I never intended . . .
6
What is/are your favorite dance move(s)?
Fajans:
Moonwalk, Charleston, Tour Jeté, Harlem Shake, and Kick Ball Change.
Foote:
I love to find moments of suspension when dancing. Stretching time allows for the challenge of unpredictability and quick problem solving which keeps me present.
7
The most expressive part of the body is _________
Foote:
Although difficult to articulate, I think that the chest is most reflective of our emotions.
8
What do you consider your greatest achievement thus far?
Fajans:
Having a daily personal practice. It's always shifting but includes exercising my physical, mental, practical, and creative self. When I started trying to cultivate a practice I spent most of the time off the wagon. The work is about getting back on, and back on again, and again, until you're on wagon more than you're off.
Foote:
I branched out independently for the first time in 2015 to create my own solo dance project, The History of Her, which successfully premiered internationally in Paris, France and nationally at Jacob's Pillow Inside Out stage.
Fajans:
If it's a job worth doing, it's worth doing well.
Foote:
I don't have a motto to speak of, but I try to remain present and in the moment – staying open and flexible. I make an effort to find the positive in situations.
10
What is your most treasured possession?
Fajans:
My carpentry tools: saws, hammers, clamps, screw guns, pliers, etc. They allow me to solve problems, to earn a living, and to lend a hand.
Foote:
There are a few material possessions that are meaningful to me, such as my engagement and wedding rings; a scarf that my mother gave to me that was once hers; and a mug that my dad drank from when I was a kid that he reluctantly gave to me when I moved away from home.
11
If you could travel anywhere in the world where would you like to go?
Fajans:
A road tour of South America with a performing company.
Foote:
I would like to travel to Greece and Spain.
12
I can't live without ________.
Fajans:
Cruciferous vegetables: cabbage, kale, broccoli, etc. They make everything better.
Foote:
My next steps that I will take going forward with my career.
14
_____________ is overrated.
15
My greatest influence(s) is/are______.
Fajans:
My parents, without a doubt. I was fortunate enough to have three. They taught me how to think, each giving me a different set of tools that have remained readily available no matter how I apply myself: my mother's compassion and resilience, my father's methodical process and drive, and my stepmother's sense of savvy and style.
Foote:
I have had a supportive and encouraging family who have demonstrated what a good work ethic, a positive outlook and resilience can achieve. Artistically, Jose Limón's work has been part of my life for such a long period of time that it feels ingrained in who I am and influences my outlook on so many aspects of my practice.
16
If I could switch careers I would be a _______.
Fajans:
Chef. I love cooking. I want to start a videocast called Cooking with Pepper. I would prepare simple dishes, discuss meal planning, and interview guests.
Foote:
If I were not dancing professionally, I would become a world class chef!
17
I would like to learn to ____________.
Fajans:
Do a standing backflip.
Foote:
Learn how to cook :)
18
One of the jobs/projects I most enjoyed was _______ because______.
Fajans:
Working for the Cunningham Dance Company as Merce Cunningham's personal assistant and as a production assistant during the final world tour. It was fascinating to see an aging artist continue to navigate a process. I enjoyed studying the technique, rebuilding old sets, installing sprung floors, transforming space, and experiencing creative intersection within the Westbeth studio, along with many generations of company dancers, and by way of the Cage/Cunningham approach to collaboration.
Foote:
When I was in high school, I would teach three to six year olds creative movement early on Saturday mornings. Despite the early hour, it was incredibly rewarding because the kids' imaginations were limitless and unpredictable. They inspired and reminded me why I loved dancing.
19
One of my favorite artists (dead or alive) dance or otherwise is ________
Fajans:
Michael Jackson. And one more is Charlie Chaplin. They were extraordinarily detail oriented and their work was layered yet free. They transmitted something to us that only they could hear and see. They are beyond categorization.
Foote:
I have recently been spending a good deal of time studying Josephine Baker. I'm inspired by her courage and daring, as she followed her desires in spite of the adversities she faced.
20
I am looking forward to ________
Fajans:
Taking on the challenges of developing Brooklyn Studios for Dance into a truly sustainable organization while maintaining an abundant variety of affordable activities. I can taste it, but I haven't figured out the recipe. Fortunately I have a big appetite and I like cooking.
Foote:
My second and final year of graduate school at Tisch NYU, while exploring the next chapter of my life in dance.
The Dance Enthusiast's A to Z Celebrates our 10th Anniversary by Highlighting People Who Power The Dance World.
Stay Tuned for More Installments!
BE A PART OF OUR  TENTH ANNIVERSARY CELEBRATION!!
HERE'S HOW:
Have a Suggestion for our A TO Z List of People Who Power the Dance World? Contact info@dance-enthusiast.com
This Season We are Talking to Artists about Activating Space. Activate Your Space in the Dance World by Sharing Your Insight on Performance.  Submit an #AudienceReview
Send us a POSTCARD to info@dance-enthusiast.com and let us know what you are up to.
List Your Events With us for FREE.
Support Dance Writing in New York! Place an Ad on The Dance Enthusiast! Take a look at the specs here and contact info@dance-enthusiast.com for further information.
Related Features
More from this Author