A Dance Enthusiast's A to Z: L is for Andrea Long Naidu and Nia Love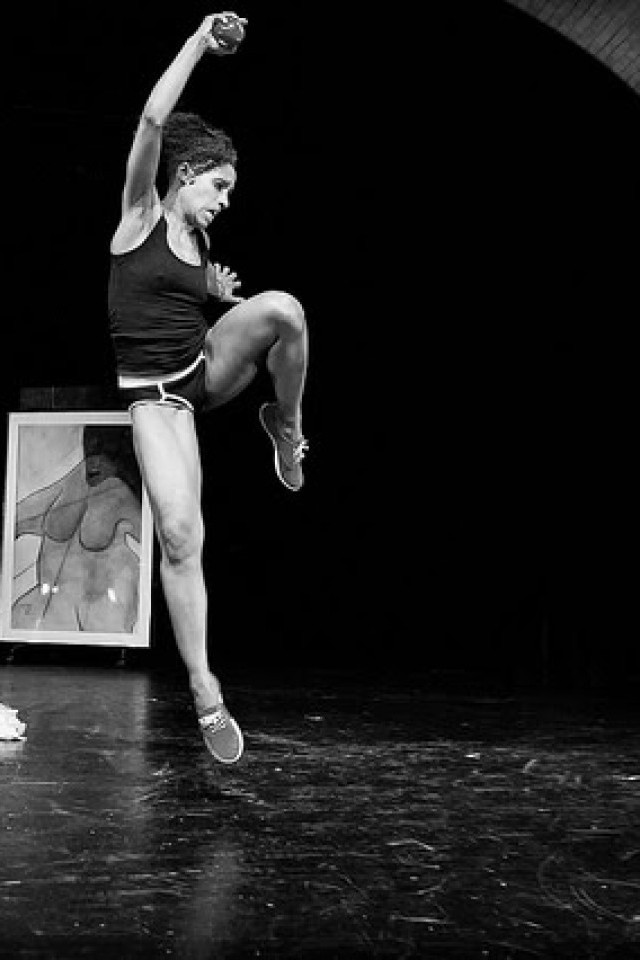 Andrea Long Naidu
Biography
Andrea Renee Long was born in Philadelphia and began her dance training at age seven at the Pennsylvania Ballet School. She continued her training at the Dance Theatre of Harlem School and American Ballet Theater School. At 14, Ms. Long became an apprentice with the Pennsylvania Ballet and after working with the company for a year decided to pursue a dance career in New York.  Ms. Long was accepted into the School of American Ballet on full scholarship and after two years joined the New York City Ballet. She performed much of the Balanchine repertoire including: Serenade, The Four Temperaments and Concerto Barocco and was part of the original cast of Peter Martins' ballets Fearful Symmetries and Ash. While a member of NYCB, Ms. Long also toured internationally with Peter Boal and Dancers, appeared in the NYCB Nutcracker film and modeled for French Vogue. 
In 1998, Ms. Long joined Dance Theatre of Harlem as a soloist and was promoted to Principal Dancer a year later. During her tenure at DTH, she toured internationally and performed principal roles in several ballets, among them: Firebird, Serenade, Allegro Brilliante, Four Temperaments, Concerto Barocco, Manifestations, Twist and Viraa. Ms. Long has appeared as guest artist with Complexions, The Washington Ballet and other dance companies. She retired from performing in 2008 and began her second career as a teacher.
Ms. Long has served on the faculty of Dance Theatre of Harlem, Sandonato School of Ballet, and CityDance. She has also served as guest faculty at Next Generation Ballet, Eglevsky Ballet, BalletNova, Center of Creative Arts (COCA), The Lovett School and International Association for Blacks in Dance.
Most recently Ms. Long served as the inaugural Ford Foundation Guest Faculty Chair at the School of American Ballet where she continues as guest teacher and member of the Alumni Advisory Committee on Diversity and Inclusion.
This fall, Ms. Long will begin her post as principal ballet teacher at the Dance Institute of Washington.
Cover Photo: Andrew Eccles and Top photo: Rosalie O'Connor
Nia Love
Biography
Nia Love's career spans forty years, beginning in 1978 when she became one of the youngest international apprentices with Havana's world renowned Ballet Nacional de Cuba. In 1986, Love studied Butoh and toured with celebrated Japanese Butoh master Min Tanaka. She received her B.F.A. in Theater from Howard University (1987) and M.F.A. in Choreography Florida State University (1992). She was a Fulbright Fellow (2002-03), a Brooklyn Arts Exchange/BAX Artist-In-Residence (2011-12, 2013-14), and a Movement Research Artist-in-Residence (2016-17). Love received the New York Live Arts Suitcase Fund (2013-14), the Alvin Ailey New Directions Lab Choreographer Award (2013-14), the CUNY Dance Initiative (2014-15), a Bessies award for the Most Outstanding Performer (2017) as part of the ensemble of Skeleton Architecture, and the CUNY Incubator Grant (2018-19). She's currently the BAX Racial Equity Advisor and an Adjunct Professor at Queens College and The New School. In Spring 2018, she was the Movement Research Exchange Guest Artist/Lecturer UCLA's Department of World Arts and Culture/Dance. In Fall 2018, she will be a guest professor at BARD College, and in Winter 2019 a visiting professor at University of Illinois— Urbana-Champaign. In addition to her own work, she is the co-founder of LOVE|FORTÉ, a collective with Marjani Forté-Saunders.
Photos: Orion Gordon
1
My earliest memory of dancing : _______________
Long Naidu:
Standing at the barre when I was 7 years old and realizing how much I loved moving to music.
Love:
When I was 5 years old, I jumped up on the Crampton Auditorium Stage unapologetically and uninhibited in Washington D.C. on Howard University's campus and danced with Nina Simone.
2
What was the light bulb moment when you realized you were going to be a dancer?
Long Naidu:
There was no single light bulb moment. I always just knew I wanted to be a dancer. Perhaps it was when I became an apprentice with Pennsylvania Ballet at 14 that becoming a professional dancer became real to me.
Love:
I saw some animation movie at the drive-in theater when I was about four . . . It was about some rainbow dancing fairies. I think the most memorable thing about it was the Egyptian kind-of costumes the fairies were dressed in. Something about the magic of the motion just jumped up inside of me and I've been with that feeling since.
Long Naidu:
Music. Light. Love. The young dancers that I train now.
Love:
My passion about dance, people, and the continued perseverance of freedom.
4
A perfect day includes____________
Long Naidu:
Waking up and enjoying a cup of coffee with my husband. Working out, either Gyrotonics or the gym, and then going to the studio to teach. Coming home, making dinner — I really enjoy cooking — and checking in with my loved ones.
Love:
No bodily pain, and the complete ability to feel the power of my feet, legs, arms, torso move in large and small ways. Also sunshine, ocean and warmth are a part of a perfect day for me.
5
What event (dance-related or not) has transformed you?
Long Naidu:
Meeting my life partner.
Love:
A couple things! Looking up into my mother's eyes and being close to her breast, dancing on my father's feet as a young child, learning how to swim in my grandparents pool and being able to swim daily my entire childhood to young adult years, Living in Cuba and dancing with Alicia Alonzo in 1978, living in Columbia during the Drug Cartel in 1980, seeing Butoh (Sankai Juku) in 1981, meeting my best friend at Duke Ellington High School for the performing Arts and later marrying him, and giving birth to my three children.
6
What is/are your favorite dance move(s)?
Long Naidu:
Fifth position.
Love:
Dance moves that come from the heart — shit that really connects to soul-work, no posturing pure rigor!
7
The most expressive part of the body is _________
Long Naidu:
The face, it shows so many emotions.
Love:
The toes! I believe that the body in and of itself is an expressive set of joints, muscles, tendons, and skin, possessing a great range of expressive states and qualities  
8
What do you consider your greatest achievement thus far?
Long Naidu:
Inspiring and teaching the next generation of dancers.
Love:
Continuing to grow this craft and create radical work through dance/art, as well as developing interactive ways to teach, to be taught, research and learn new systems of operation. I believe that my capacity to engage, enter and exit communities is a skill I have honed in my many travels around the world.
9
What is your life's motto?
Long Naidu:
The Devil whispered in my ear, "You're not strong enough to withstand the storm." Today I whispered in the Devil's ear, "I am the storm."
Love:
DanceMusicFamily and undoing racism!
10
What is your most treasured possession?
Long Naidu:
My journey. I makes me who I am.
11
What is your favorite post-performance meal?
Long Naidu:
No favorites.
Love:
Matcha tea with almond milk and sweet potatoes fries lightly toasted in avocado oil.
12
If you could travel anywhere in the world where would you like to go?
Love:
Well, because I'm deep in the research components of my latest project, g1(host) which will premier in 2021, I am constantly in the sea, under the sea and so I want to travel 100+feet down in the ocean and be able to look at and be with a whole other world.
Long Naidu:
the impact of social media on young dancers. It appears to no longer be about the work but about taking great pictures and getting Likes.  
Love:
Privilege and power.
14
_____________ is overrated.
Long Naidu:
Being normal and fitting-in
15
My greatest influence(s) is/are______.
Love:
My mother-Winada Love and my father-Ed Love, all my ancestors and the hundreds of African deities that continue to walk with me in this life.
16
If I could switch careers I would be a _______.
Love:
professional deep sea diver/oceanographer.
17
I would like to learn to ____________.
Love:
play the electric bass and learn to speak Ki-Swahili and French. 
18
One of the jobs/projects I most enjoyed was _______ because______.
Long Naidu:
being the first Ford Foundation Visiting Faculty Chair at the School of American Ballet this past year, because I got to share my passion and point of view as an African-American dancer and teacher.
Love:
One of my most fulfilling jobs was going to Tanzania as a part of the Program of the Suitcase Fund, an initiative of New York Live Arts, to create my project s(oil), where I partnered with dancers and women framers from Bagamoyo, Morogoro, and Arusha. This project initially was a direct conversation about how patriarchy shows up in the continued implementation of old colonial land laws and how those laws forbade women from owning land. This project had social and communal workshops alongside of the final traditional performative structure. Doing this work and meeting these women created a framework around dismantling patriarchy, white supremacy and created an immeasurable partnership that was valuable to many of those communities, as well as for me personally, and my outlook on joining forces with womyn all around the world who are interested in freedom and democracy.
19
One of my favorite artists (dead or alive) dance or otherwise is ________
20
I am looking forward to ________
Love:
growing my research with g1(host):lostatsea by growing my creative team, my administrative staff, sequester viable partnership with residencies, performance opportunities, and building a more sustainable financial support base for this work. I also am looking forward to partnership with the science-atmospheric and oceanic world(s).
The Dance Enthusiast's A to Z Celebrates our 10th Anniversary by Highlighting People Who Power The Dance World.
Stay Tuned for More Installments!
BE A PART OF OUR TENTH ANNIVERSARY CELEBRATION!
HERE'S HOW:
Have a Suggestion for our A TO Z List of People Who Power the Dance World? Contact info@dance-enthusiast.com
This Season We are Talking to Artists about Activating Space. Activate Your Space in the Dance World by Sharing Your Insight on Performance.  Submit an #AudienceReview
Send us a POSTCARD to info@dance-enthusiast.com and let us know what you are up to.
List Your Events With us for FREE.
Support Dance Writing in New York! Place an Ad on The Dance Enthusiast! Take a look at the specs here and contact info@dance-enthusiast.com for further information.
Related Features
More from this Author