The Dance Enthusiast's A to Z: U is for Daniel Ulbricht and Donna Uchizono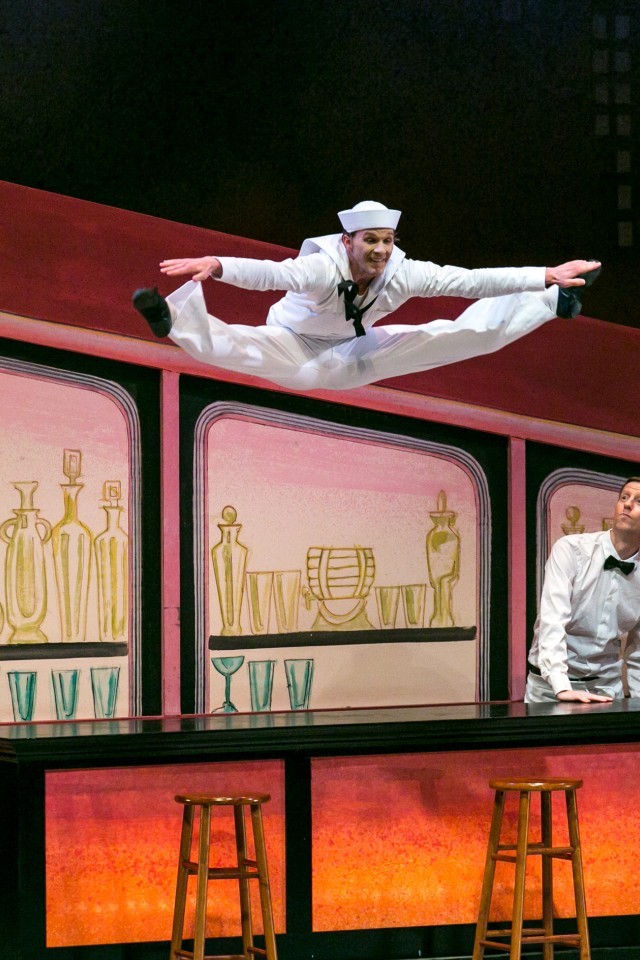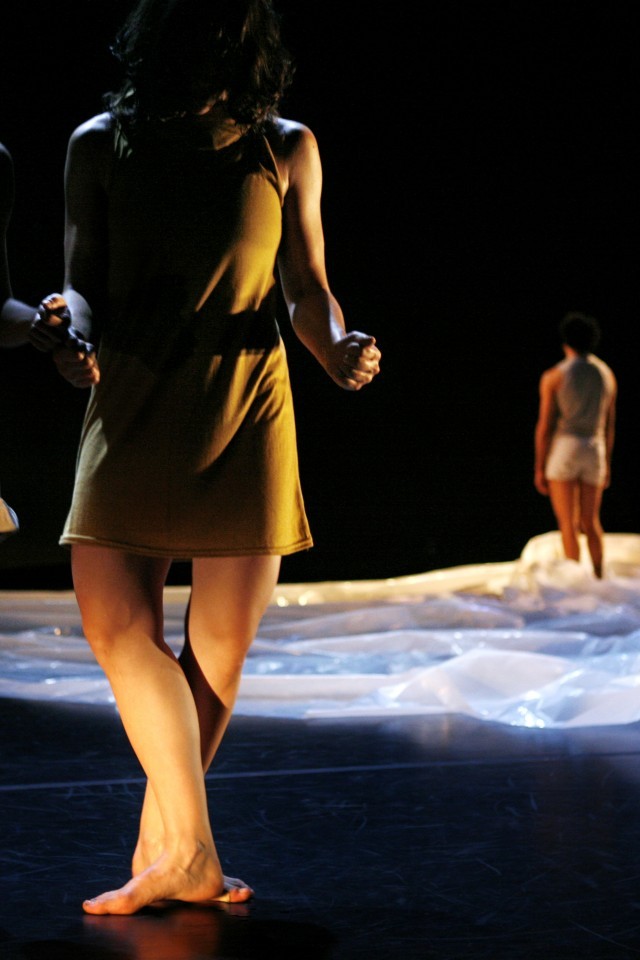 Daniel Ulbricht
Biography
Daniel Ulbricht was born in St. Petersburg, Florida, USA, and began his dance training at the age of 11. At age 16, Mr. Ulbricht was invited by the School of American Ballet (SAB), the official school of New York City Ballet, to continue his training.  As a student at SAB, Mr. Ulbricht performed with New York City Ballet as a Jester in Peter Martins' The Sleeping Beauty. In December 2000, he became an apprentice with New York City Ballet and in November 2001 he joined the Company as a member of the corps de ballet. In January 2005, Mr. Ulbricht was promoted to the rank of soloist and principal dancer in May 2007. During his time there, he has danced featured roles in a number of Balanchine, Robbins, Martins, and Wheeldon ballets including George Balanchine's Prodigal Son, Tarantella, Stars and Stripes, A Midsummer Night's Dream, Mozartiana, Nutcracker, Symphony in 3, The Steadfast Tin Soldier: Jerome Robbins's Fancy Free, Interplay, Suite of Dances, Four Seasons; and Peter Martins's Jeu de Cartes, Hallelujah Junction, Eight More, Swan Lake, Sleeping Beauty, Romeo + Juliet among many others. Mr. Ulbricht has also danced Tarantella at the 2004 Kennedy Center Honors to celebrate the Balanchine Centenary. He has also performed at a number of national and international festivals and galas.
Mr. Ulbricht is a guest teacher at the School of American Ballet, Ballet Academy East, as well as teaching at a number of well-known national dance schools, private schools, and universities throughout the United States. He is currently the Artistic Advisor of Manhattan Youth Ballet. He is also the Artistic Director of New York State Summer School for the Arts in Saratoga Springs, NY. Mr. Ulbricht is also founder and director of "Stars of American Ballet", a touring group focusing on high art, education and outreach. Mr. Ulbricht is also the co-founder and producer of "Dance Against Cancer," an annual benefit for the American Cancer Society. Learn more at danielulbricht.com and starsofamericanballet.com
Head shot by Paul Kolnik
Dance photo by Erin Baiano
Donna Uchizono
Biography
Donna Uchizono is the Artistic Director of Donna Uchizono Company which has toured throughout the United States, Europe, South America, Asia and Australia. Uchizono has created work for notables Mikhail Baryshnikov, Pulitzer Prize Winning Playwright Paula Vogel, MacArthur Fellow David Hammons and neurologist/writer Oliver Sacks. Donna Uchizono is a 2016 United States Artist Fellow and has been recognized by many awards including a "Bessie" Award, Alpert, Guggenheim, MAP Fund, National Dance Project, National Endowment for the Arts, New York State Council on the Arts, Creative Capital Foundation, the Jerome Foundation and New York Foundation for the Arts Fellowships among many others. Uchizono is a member of the Artist Advisory Board at Danspace Project at St. Mark's Church, where she was a founding member and Chair. She is an Associate Professor at Florida State University.
1
My earliest memory of dancing : _______________
Ulbricht:
When my family and I went to circus . . . Lights and music were around . . . Didn't know what to do to it, so I just danced . . .
Uchizono:
I was 4 and was the only Asian in the Mexican-American neighborhood of La Puente and learned social dancing at my best friend's house. They always danced.
2
What was the light bulb moment when you realized you were going to be a dancer?
Ulbricht:
I think the "light bulb" moment came when I decided to move away from home. I knew then that this (dance) was something that I would truly have to invest my time, passion and work. To this day, it has been the greatest leap of faith into one of the most incredible life experiences.
Uchizono:
In high school, my plans of med school to be a Ob/Gyn took a turn because of the prospect of tennis ruining my perfect 4.0 GPA, thus the alternative PE course was dance. For a nature study, I stood back to back with a friend, made a cracking sound, we both fell apart and fell to the ground. My teacher asked what that was and I replied, "A tree struck by lightning." She announced "You are an abstract choreographer!" Instead of a tree, it was I who was hit.  Announcing to my mom I wasn't going to med school and I was going to be an abstract choreographer, she asked, "What is an abstract choreographer?" I replied, "I don't know, but I know that's what I am!"
Ulbricht:
Great question. I think everyday is a new day. I have never worked a day in my life because I am doing what I was made to do. It is a God-given gift that I have had to grow, nuture, and cultivate. It has gone through tough seasons and amazing seasons. So my energy comes from the passion and fulfillment I find through dancing, teaching and direction.
Uchizono:
Depending on the day: my daughter, the dancers I work with, my gumption.
4
A perfect day includes____________
Ulbricht:
waking up!  More importantly, exploring all sides of the dance field, physically, intellectually and more. I also continue to learn from others and challenge myself. Not just doing the same thing every day.
Uchizono:
Waking up from a full and restful sleep (a rare occurrence), rehearsal with the beloved dance artists, and reading with my daughter before she goes to bed at night
5
What event (dance-related or not) has transformed you?
Ulbricht:
When my mother first got diagnosed with cancer. I felt an immediate reality check. It put so much into perspective for me.  It also inspired me to bring dance to her (due to her treatments) It lit a personal and professional fire for me to bring dance to her and everyone. It has since grown to Stars of American Ballet. Although, it has been 3 years since my mother lost her battle with cancer, I know that through producing and directing Stars of American Ballet, I get to honor her. She is with me every performance.
Uchizono:
The adoption of my gorgeous and inherently kind daughter, Tara, in 2011. She rocks my world!
6
What is/are your favorite dance move(s)?
Ulbricht:
I love fast footwork. There is something that defies the eye.  Moving so much with such clarity and joy is what I try to do when the music or choreography dictate it. So I love that challenge.
Uchizono:
I can't think of anything that isn't my favorite (except maybe the "butt roll"). There is a move from a social dance that I learned when I was in 3rd grade — something like "hitting the wall, or bumping the wall?"  — I'm not sure but I love that move. I showed it to a friend, and he thought it was the end all and said, "D, don't you turn Black on me!" I LOVE it because it made him laugh.
7
The most expressive part of the body is _________
Ulbricht:
probably my face . . . It is hopefully the easiest place for the audience to connect with any performer . . . you truly see all. The eyes can be a window to a soul or bring intensity to a part. The steps though are the medium in which we display this to the audience.
Uchizono:
My heart, my feet, my eyes, my neck, my hands  . . . oh gosh  — all of it. It's the sum of the whole.
8
What do you consider your greatest achievement thus far?
Ulbricht:
Greatest achievement, well, I hope to be living that in this moment. But upon reflection, I really feel like Dance Against Cancer is one of the biggest. My colleague, Erin Fogarty, and I have started a special event that uses dance to give back to the community. Dance Against Cancer is a benefit for the American Cancer Society that is one-night-only event. To date, we have raised over $1.5 Million for the ACS. It is something very personal to us, as we have both lost a parent to this disease. So we hope to one day have a world with less, or no, cancer . . .
Uchizono:
Maintaining a dance organization for almost 30 years running on the "fumes" of money.
9
What is your life's motto?
Ulbricht:
When I get super busy with projects, dancing, teaching, I simply remember what my dad always told me, "One thing at a time."
Uchizono:
I don't know if it's a motto, but I have always been in awe of the courage it takes to be human.
10
What is your most treasured possession?
Ulbricht:
Time is my most treasured possession. We are all given the same amount of 24/7/365. It fills up quickly, and it is important have your priorities. Dance takes up quite a bit of it, but my family and girlfriend are what balance that out. They are patient and understand the demand of the schedule, but I value each and every moment I get to be with them.
Uchizono:
The time with such generous dancers and the privilege of being a mom to the most optimistic and kindest spirit.
11
What is your favorite post-performance meal?
Ulbricht:
This is the toughest question of them all! I love a great quesadilla!  A close second are mozzarella sticks . . . I guess I just love cheese! You are what you eat!
Uchizono:
 My daughter's smile and green tea.
12
If you could travel anywhere in the world where would you like to go?
Ulbricht:
I have been so fortunate to travel the world. But I would love to go to Australia. One of my closest friends is there and it is a place that has natural beauty and life.
Uchizono:
I'd love to take my daughter to visit her birthplace in Nepal with the three families from our close-knit Nepali adoptive group.
Ulbricht:
I don't have an answer for this . . .
Uchizono:
how to protect and raise my daughter within the climate of blatant and brutal racism and sexism.
14
_____________ is overrated.
Ulbricht:
Ego is overrated. Can't stand it.
Uchizono:
Fondness for our own opinions
15
My greatest influence(s) is/are______.
Ulbricht:
My dad. He taught me the value of finding something you love to do. Work ethic and that you not finished until the job is done. Lastly, both of my parents taught me that who you are off-stage is more important that what you do on-stage.
16
If I could switch careers I would be a _______.
Ulbricht:
stock broker . . . Love numbers!
17
I would like to learn to ____________.
Ulbricht:
speak and communicate in different languages. I would love to convey my passion of dancing and teaching to people all over.
18
One of the jobs/projects I most enjoyed was _______ because______.
Ulbricht:
One of the projects I enjoyed the most was recently working with the Orchestra of St. Luke's. We had the opportunity to bring dance to the orchestra and educate of 4,000 NYC school kids! It was an honor to present dance to them, many of them, their very first time. I also enjoyed collaborating with other amazing institutions such as OSL.
Uchizono:
My current piece, Iron Jane, which we have been working on for a little over two years. It's both bold and humane.
19
One of my favorite artists (dead or alive) dance or otherwise is ________
Ulbricht:
One of my favorite artists would have to be Victor Borge. He was a famous-comedic pianist. He would play both live and on television. He would parody everything imaginable. More importantly, he was a first rate musician. So to me, that is a wonderful balance! 
20
I am looking forward to ________
Ulbricht:
2019! Growing as a dancer, teacher, director, collaborator, fundraiser, through all of the amazing platform and outlets I have.  More importantly, to grow as a person. Give more, share more and inspire me; that is my goal each and everyday!
Uchizono:
Experiencing my daughter growing up and realizing her authentic self. And some sleep, but not the permanent kind just yet.
The Dance Enthusiast's A to Z Celebrates our 10th Anniversary by Highlighting People Who Power The Dance World.
Stay Tuned for More Installments!
Related Features
More from this Author