Related Features
Contribute
Your support helps us cover dance in New York City and beyond! Donate now.
Julian Barnett Returns to New York to Premiere "Bluemarble" at Danspace Project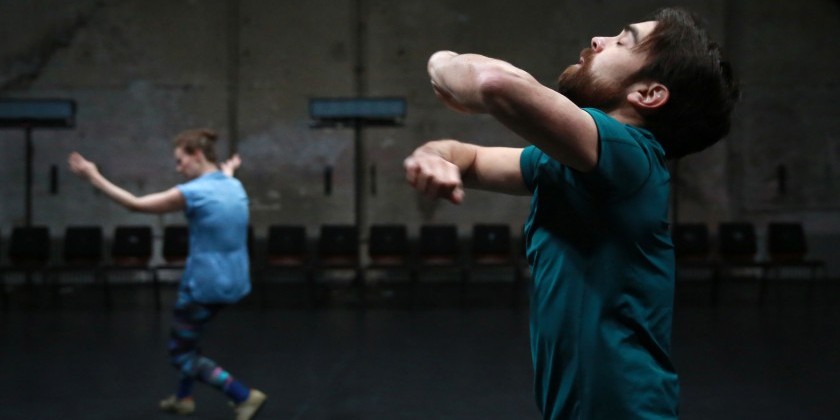 Julian Barnett's Bluemarble
Location: Danspace Project
Tickets: $20; $15 Danspace members
For ticket information, go to Danspace's website.
Date: October 23-25, 2014 – 8pm
---
Julian Barnett, a long time member of Larry Keigwin's Keigwin+Company, among others,  including Lar Lubovitch, is racketing up a number of residencies, commissions, and performances in U.S. and Europe. He will return from Germany this month to premiere Bluemarble, a 50 minute duet for himself and Jocelyn Tobias, his collaborator since 2006.

A teaser of Bluemarble shows Barnett walking counterclockwise, looking down on a oblique slanted disc on which Tobias spins clockwise, sitting on the edge looking out on an urban playground. We sense that these two have their own perspectives.
Bluemarble (preview) from Julian Barnett on Vimeo.
---

For years, Barnett and his collaborator Tobias have explored singing as a springboard for choreography, in their search for "the body within the voice" as inspired by the philosopher Roland Barthes. Tobias and Barnett create their own solos and, then, work to meld those solos as a duet.
Julian Barnett's Bluemarble. Photo: Anja Beutler

Barnett says, "I've always felt that there was potency through language, within the context of dance and performance. In Bluemarble, I wanted to create a structure where the linguistic meaning of a word, or more directly 'content', could function as a way of moving thought trajectories and providing experiential resonance."

"I am interested in creating frameworks that open interpretations for how we see art and the world around us. The nature of dealing with political content revealed to me a new perspective for what it means to be an artist and make live performances, both in terms of responsibility and ability. Other key insights came from the unique collaborations I had with Jocelyn Tobias, Tian Rottenveel, and the dramaturgical support and mentorship from Jeanine Durning and Lito Walkey. I'm realizing more and more how important community is."