BAREFOOTNOTES: Celia Ipiotis of "Eye on Dance" and "Eye On The Arts" Joins The Dance Enthusiast as Moving Visions Editor
I think of Celia Ipiotis and Jeff Bush as the original dance communication enthusiasts.
How I wish I had met them earlier in  life. I would have relished  the opportunity to intern on their  EYE ON DANCE television program. They created  a fantastic compendium of dance history by connecting directly with their source material — dancers — and filming the adventure.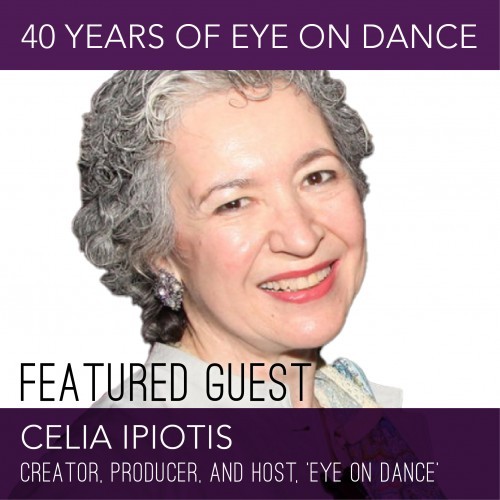 Celia Ipiotis' head shot from our Dance Enthusiastic Panel
EYE ON DANCE was diverse and inclusive before diversity and inclusion was a topic that the entire arts field advocated. Jeff filmed and Celia spoke with dancers across genres, ages, and stages.  Celia, with her warm, convivial interviewing manner and insightful reportage, made dance — great dance and great artists — accessible to the general public, something we as a field continue to struggle with today.  It is my pleasure, to welcome her to The Dance Enthusiast as a MOVING VISIONS editor.
Below, I have highlighted some excerpts of an interview I conducted with Celia in 2021 when The Dance Enthusiast celebrated 40 Years of Eye on Dance with her and Jeff on our site.  I am looking forward to the stories that this OG dance enthusiast will share with us.
Enjoy and #getenthused!
— Christine Jowers, Founding Editor
---
*The following are excerpts from a longer article.
In 1980, video innovator, Jeff Bush and dancer, choreographer, video artist, Celia Ipiotis applied for a New York State Arts Council's new programming grant with their novel idea of creating a weekly television show dedicated to video experiments happening in the dance world. At the time, video dance was cutting edge, and there was no such thing as dance video on TV. 
The state arts council, not knowing what to make of Ipiotis and Bush's unprecedented project, denied it funding. Ironically the next year, MTV exploded onto the world stage, demonstrating how video experimentation with dance, music, and television could launch a new art form.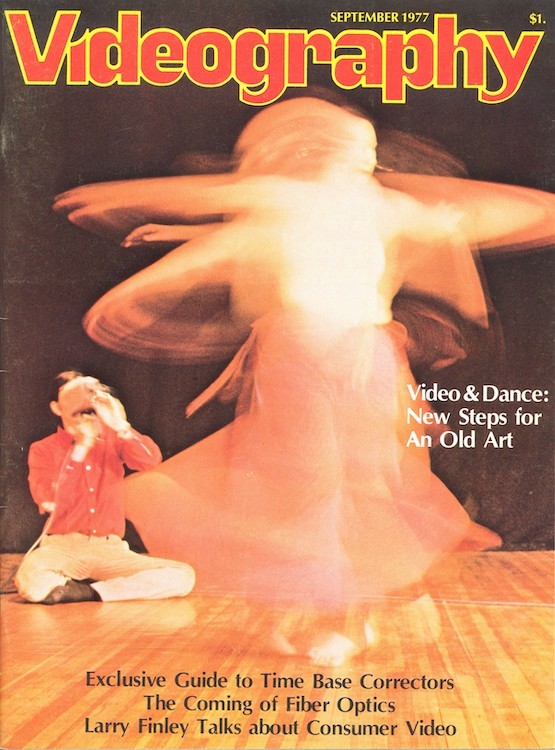 Jeff Bush, seated and filming, Celia Ipiotis dancing, 1977 Videography Magazine; photo courtesy of J. Bush and C. Ipiotis
"We always got caught in that. No one was doing it, so no funding. Not interested," says Ipiotis.
Undeterred, the two continued their mission, finding creative ways to support their work. They partnered with School District 6 in Washington Heights for the use of their state-of-the-art video equipment. They bartered with WNYE, a PBS station then owned by the New York Board of Education, giving videotaping lessons to students along with use of their black box basement studio in exchange for the ability to work on EYE ON DANCE and have the show broadcasted on PBS.
"That's how EYE ON DANCE was launched initially," says Ipiotis.
When in full swing,  on  one week, you might learn about the history of tap by watching Gregory Hines conversing with his mentor, Charles "Honi" Coles. On another, you might be surprised to meet the German immigrant and theatrical dancer, Eugene Von Grona, who created 1934's American Negro Ballet Company in New York. He would be speaking with one of his original company dancers, Lavinia Williams, an artist more recognized for her work with Katherine Dunham and contribution to Haitian dance than as a ballerina. Did you know there was an all-Black ballet company in the United States in the 1930s?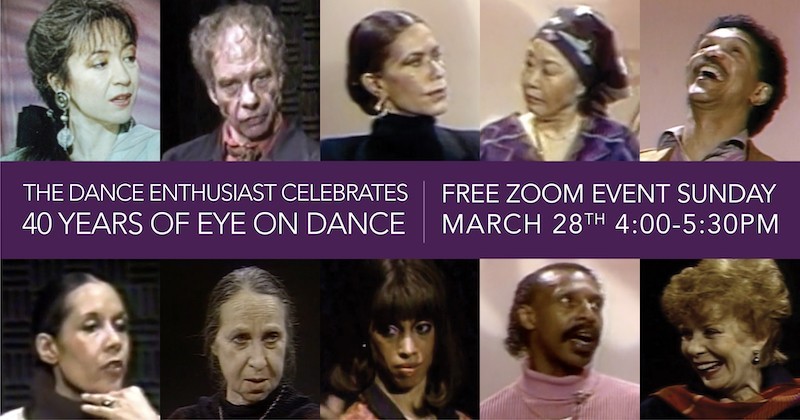 Headshots of Celia Ipiotis, Merce Cunningham, María Benitez, Yuriko, Clive Thompson,
Carmen de Lavallade, Anna Sokolow, Mercedes Ellington, Dudley Williams and Gwen Verdon
Imagine watching two movement artists,  contemporaries both named Bill — the post-modernist Bill T. Jones and the actor, dancer,clown Bill Irwin — talk to each other about relating to audiences?
Ipiotis received a plethora of letters from fans describing the show's effect on them. "I had dancers who had their parents watching so they could understand why their children were dancers; people who watched who had never seen a dance performance before, who as a result of watching EYE ON DANCE went out to see dance; there were people who were die-hard ballet people who wrote to say that, as a result of watching EYE ON DANCE, they actually went downtown to see a performance, someplace that they never conceived they would go."
EYE ON DANCE was the spectacular weekly program that accomplished all this. The show ran on PBS from 1981-2004, with Nielsen ratings revealing that hundreds of thousands of people tuned in to watch.
---
The Dance Enthusiast Enthusiast shares opinions, observations, and calls to action from our editors and special guests in BAREFOOTNOTES. For more BAREFOOTNOTES click here.
Interested in writing a guest editorial? For consideration, contact info@dance-enthusiast.com.
---
The Dance Enthusiast - News, Reviews, Interviews and an Open Invitation for YOU to join the Dance Conversation.