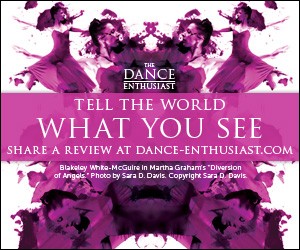 Related Features
Dancers and Artistic Community of New York City, Help the US Virgin Islands Relief Effort After Hurricanes Irma and Maria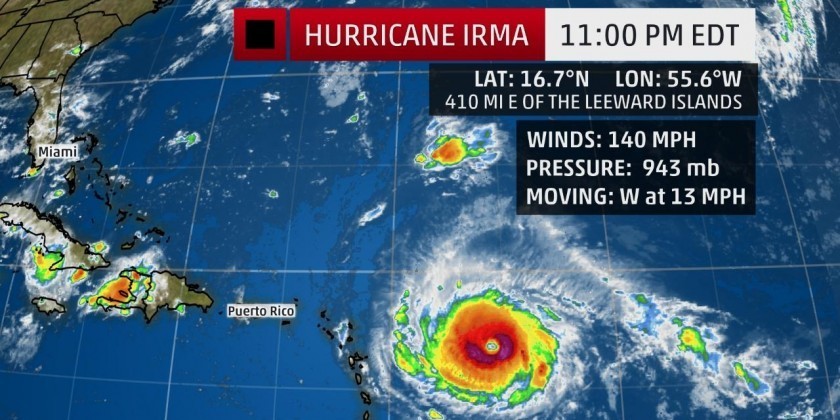 Celebrate The Dance Enthusiast's 10th Anniversary by Assisting the US Virgin Islands Relief Effort.
I assure you that I am well aware there is a fall dance season, but I haven't been writing about it as my mind and energies are preoccupied with the awful hurricanes of the Caribbean, and their effect on my island, family, and loved ones. Fortunately, in the ten years of The Dance Enthusiast I have been blessed to work with talented and able contributors who can cover dance and help run our website, no matter what happens. I am grateful.
At this moment, I hope,  you can indulge me, and later assist me, as I write about my home, hurricanes, and community. I promise it will relate to dance.

An Unretouched View of St. Thomas, USVI May 2017 -From Drakes Seat Looking Outward to Magens Bay and the Island of Hans Lollick- Christine Jowers, photo;
---
During my young life in St. Thomas, US Virgin Islands, I was spared a major hurricane, although there were occasional threats. Every season (way before the cable weather channel) our family would hole up in my grandmother's house, hurricane shutters closed, candles and flashlights lit, mapping out  longitudes and latitudes of approaching storms as they were given over the radio. It was scary, of course, but also an adventure. I was a kid and we got time off from school — like snow days in the States! Once a storm named "Christine" approached and all my friends teased me as I chased them, whirling around the playground. In our dance school, whenever power went out, we held classes by candlelight.
In 1995, long after I left for college and professional dancing life in the States, my childhood home was obliterated by Hurricane Marilyn while my parents were huddled in a tiny hallway near a bedroom. This storm, "only" a Cat 2 ( as opposed to the two Cat 5s Irma and Maria, that just hit) changed our family history. Today what exists of the home where we lived, ate, spent birthdays, and Christmases, lives only in memories. In place of my family's house stands a floor, taken over by wild brush — a ruin. We didn't have the wherewithal to rebuild. The major miracle of that disaster was that my parents weren't crushed or maimed by debris. In a quiet moment, a break in the fury, our neighbors forged through the wreckage and rescued them. I am forever grateful that we didn't live in an isolated, uncaring place. In the Virgin Islands, we have a saying, "All ah We is One," and a majority of the time we live up to that. (A minor miracle of that disaster, by the way, was that my father found his paycheck completely intact in a leafless tree — how 'bout that?)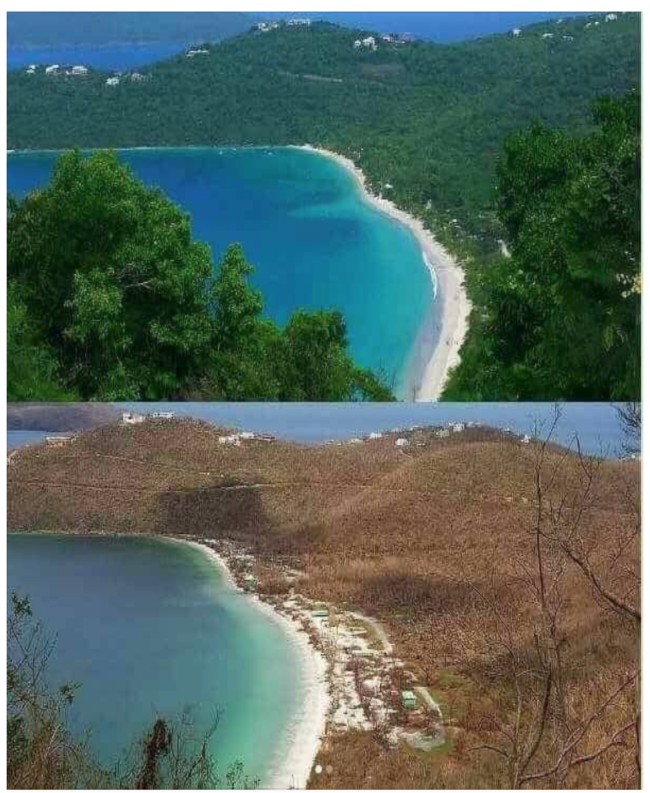 ---
Today, after Irma and Maria, the devastation is more radical. Some neighborhoods are unrecognizable. Certain landmarks will never be the same. People are without power. Without roofs. Without homes. Without basic necessities. The roads we drove everyday have turned into dangerous waterfalls. Infrastructure needs to be rebuilt. The governor of the Virgin Islands, Kenneth Mapp, in an article by Jennifer Griffin on the Fox News Site, "compares going through a hurricane to experiencing a war," and says, "We should have power by December."  Can any of you New Yorkers imagine being without electrical power for so long?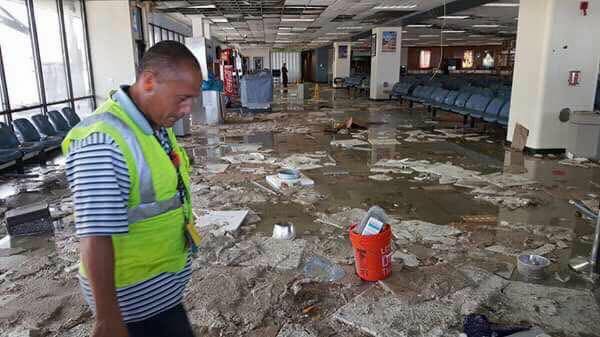 St. Thomas, US Virgin Islands  Airport (from the pages of social media)
Our little islands, normally shining jewels of nature, are dreadfully hurt. I have been working with my brother  to look after family and friends by sending generators and other needed equipment — a frustrating task. The normally bustling airport was heavily damaged and is is not functional to anyone but relief agencies, the military, and mercy flights. The process is too slow for the great need. Even if one is fortunate enough to survive such an storm, let alone two, managing the day to day of clean up and recovery is daunting.The Virgin Islands need friends, neighbors, and family now more than ever.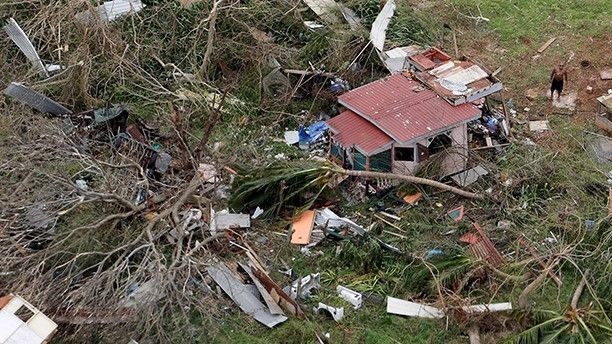 A man stands outside a destroyed home in this aerial photo from a Marine Corps MV-22 Osprey surveying the aftermath from Hurricane Maria in St. Croix, U.S. Virgin Islands, last Thursday.  (REUTERS/Jonathan Drake)
---
All I have ever learned about being a friend and good neighbor, I learned in the Virgin Islands. My great-grandmother took people in and shared food when they were in need. My grandmother volunteered for the Red Cross helping our servicemen and their families at all hours. My father spent thirty years working for the Virgin Islands Council on the Arts supporting and promoting the work of artists of the US Virgin Islands across the Caribbean and nationally.  My mother curated the Virgin Islands Museum at Fort Christian creating youth programs both historical and artistic to celebrate our culture. Ten years ago I saw that with the fading of print journalism, the dance community needed to be written about, and so I created this non-profit publication -- to serve.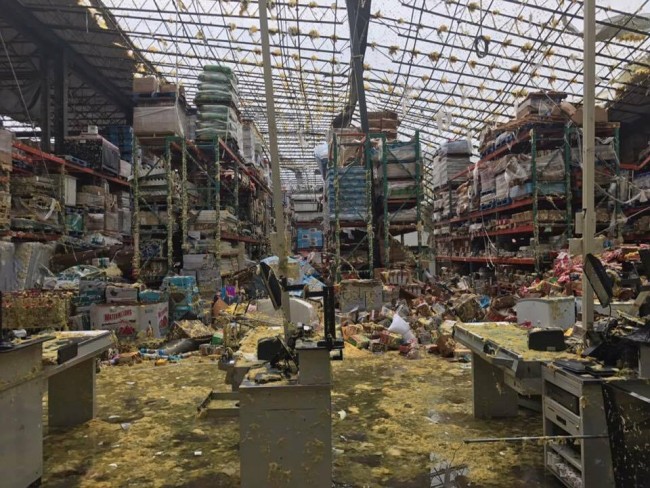 Cost-U-Less Grocery Store in St. Thomas, US Virgin Islands (from the pages of social media)
The dance world of New York reminds me a great deal of the Virgin Islands. Maybe that's why I feel so at home. Dancers, like Virgin Islanders, are a small (but mighty) group of extraordinarily diverse people who, in one way or another, are all related. While rarely materially rich, both dancers and Virgin Islanders are blessed with talent and deep spirit. We share. We look out for one another. Our common culture binds us deeply.
---
Paul M. Pearson Gardens St. Thomas, USVI
Today, I ask you, if we have ever written about you; if you have ever enjoyed an article here; if you are a friend of anyone who writes for this little community; if you believe in what we are trying to do; if you want to congratulate us for our tenth anniversary; would you please consider helping the reliable Virgin Islands organizations that I have listed in this article?  They are assisting my home in this deepest time of need. I truly believe, dancers and Virgin Islanders, that "All ah We is One."
---
Articles: About Hurricanes and Community in the USVI- #DONTFORGETUS, #VIstrong
SEPT 28th Bloomberg News: After Hurricanes Islanders Question Their Futures in Paradise
quoted from the article above: "The Virgin Islands sole representative in Congress, Stacey Plaskett, said she fears that the small islands are being overshadowed by the dire situation in Puerto Rico, and that aid isn't getting through quickly enough."
SEPT 27, New York Times: In the Virgin Islands Hurricane Maria Drowned What Irma Didn't Destroy
quoted from the article above: "The 103,000 people who live in these islands are at the end of a long supply chain of relief that depends heavily on the ports in neighboring Puerto Rico — now crippled by Maria and unable to meet the needs of its own people. And as Virgin Islanders wait for doctors, medicine, fuel and manpower to rebuild the flattened communications and power grid, the economic toll from the storms is only starting to come to light."
SEPT 27, VI DAILY NEWS: Tutu Hi- Rise Residents Surviving Day by Day
quoted from article above: "They cowered together in the bathroom as the outer walls of the apartment blew out around them and water began to rise around their ankles. She told her friend, "tonight we dead. This building start to dance, this building start to go, I say 'Lord father, three already gone, please hold me.'" Sitting in her apartment Monday, she pointed out what used to be her living room wall to the hill where a woman's body lay after being blown out of another building. The woman's son covered her body in a sheet after people started taking photos, and it took two days before she was removed."
US Virgin Islands and the Resilience of Virgin Islanders Who Have Lost Everything
---
The St. John Foundation http://thestjohnfoundation.org 
St John Rescue, Inc. is an all volunteer organization dedicated to saving lives and building a better community through participation, education, and community spirit. It is a 501(c)(3) non-profit organization incorporated in 1996. Active members live and work on St. John and are integral parts of the community. Though every member was personally affected by the storm, it has not stopped the true spirit of St. John from shining through. We are all coming together to help our neighbors. St. John Rescue was the first group to mobilize while the storm was still raging and have been active responders from the onset. Immediately following Hurricane Irma, we utilized trauma kits to help those in need, and provided emergency rescue to St. John residents. This was paramount to saving lives, and the beginning of our large-scale recovery efforts with government agencies and organizations. http://www.stjohnrescue.com/donate  St John Rescue, Inc. is also on FB as @stjohnrescue
The Community Foundation of the Virgin Islands 100% of proceeds go directly to Relief/Recovery.
Kenny Chesney, Love for Love City Fund (love city is the nickname of St. John) This Fund Supports Relief Efforts for the US and British Virgin Islands, Click the following link  Kenny Chesney's message and how to donate to his fund https://kennychesney.com/news/448917/hurricaneirmamessage
My Brothers Workshop: https://www.classy.org/campaign/hurricane-irma-and-hurricane-maria-relief-efforts-mbw-style/c146866 is a non-profit in the USVI working with at-risk youth in job training and job placement. Addressing the devastation that affected the USVI by 2 Category 5 hurricanes in 2 weeks, they turned their training facilities, which had both survived, into places of refuge and healing. They spread awareness and raise money for solutions like converting their cafe into a feeding program and turning their workshop into a plywood distribution center. They have already served over 4,000 meals in 9 days and handed out over 1500 pieces of plywood to board up homes. Also see the group on Facebook
San Antonia Spurs Star and Cruzan, Tim Duncan, Raises Funds for US Virgin Islands Relief : He will match financial donations up to $1,000,000 for relief efforts in the US Virgin Islands. In addition, he hopes  to raise an additional $1,000,000 through this ask in relief supplies for this area.https://www.youcaring.com/21usvirginislandrelieffund-942738
Donate Goods to the USVI from NYC
Goods are being shipped to the USVI and distributed to the people of the USVI through the Family Resource Center, Inc. The Family Resource Center, Inc is on FB as @FRCUSVI. Yamika Young, a Virgin Islander in New York, and friend of The Dance Enthusiast, is collecting goods as part of Operation Rebuild Virgin Islands at 111 East 14th Street, #238, a UPS drop off center.  Call Yamika at 347-395-5276 for more information. Below is a list of what is needed.
List of Supplies Needed
---
Disposable Diapers
Depends
Sanitary Napkins
Baby Food
Baby Wipes
Triple Acting Antibiotic
Toiletries
Sunscreen
Insect Repellent
Bleach
Borax
Pine sol
Clothes
Laundry Detergent
Paper towels and toilet paper
Flip flops ( all sizes)
Batteries ( all sizes)
Flashlights
Bedding- pillows, twin/full sheet sets
Towels
Buckets
Cases of Water
Notebooks for school children
Looseleaf Paper
Crayons
Colored Pencils
Rulers