Related Features
Advertise With Us
Make an impression - place an ad on The Dance Enthusiast. Learn more.
Contribute
Your support helps us cover dance in New York City and beyond! Donate now.
I WISH I COULD CLONE MYSELF, MEMORIES, and LIVING ROOMS IN MODERN DANCE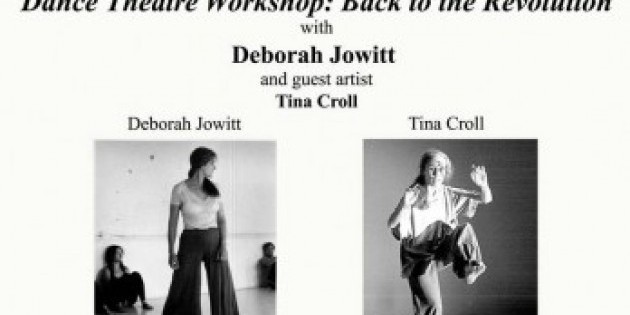 the code word for 50% discount on Parsons Dance is -BLOG-(no discount for Fri or Sat evenings) for Parson video click here
CLONING
I need a clone! If I wasn't already planning to attend The Dance On Camera Festival at the Walter Reade Theater to see Ina Hahn's documentary about the oft unsung modern dance pioneer, Doris Humphrey (click here for our article about the film), well, then I would attend DANCE THEATRE WORKSHOP: BACK TO THE REVOLUTION to be reminded of the roots of that wonderful important place of experimentation( whose name is soon going to change to that of a TV channel... oy vey) The two performances take place at practically the same time this Friday January 28th. Go Go Go.
MEMORIES
As we grab new audiences and engage them in our dance, I think it is vital that we remind ourselves and our younger colleagues where we came from. Memories are short, and the beautiful the stuff of them fades away in seconds before our eyes. We treasure our art form by honoring its' history,carrying it with us and appreciating those who paved the way for us as we go forward. They are part of our legacy. We have our field today because of pioneers like Doris Humphrey and the original founders of Dance Theater Workshop. Thank you.
LIVING ROOMS
Ina Hahn first took classes with Jos Limn in the living room of two sisters on Commonwealth Avenue, Boston ( it shaped her career); later, after Humphrey died, when Hahn was re-setting "Passacaglia", she met Charles Weidman in his living room/dance studio to get tips on how he and Doris danced. The historic home of creativity in dance/theater, Dance Theater Workshop, began in the floor board challenged living room of Jeff Duncan's NYC loft ,(for our article about Duncan click here) and I seem to recall Larry Keigwin's now celebrated "Mattress Suite" being created in someone's bedroom either Keigwin's or Nicole Wolcott's(?) because they couldn't afford rehearsal space. What I am getting at is that our modern dance art form is personal-- coming literally from the heart and homes of individuals who MUST create no matter what.
I love that.
What about you?----Christine Jowers
PS.NEW YORK LIVE ARTS COMMUNITY WELCOME SESSION (must register)
Meet the staff of New York Live Arts and get answers to your questions about the organization.Sat, Feb 19th at 3pm
Dance Theater Workshop
Bessie Schonberg Theater
219 West 19th Street, between 7th and 8th Aves

Panel Discussion with
Jean Davidson, Executive Director, Bill T. Jones/Arnie Zane Dance Company and New York Live Arts
Andrea Scholler, Executive Director, Dance Theater Workshop
Bill T. Jones, Executive Artistic Director, New York Lives Arts
Carla Peterson, Artistic Director, New York Live Arts
Moderator TBA

Followed by open Q & A

Reception to follow in the Dance Theater Workshop Lobby

RSVP required: nyla.eventbrite.com