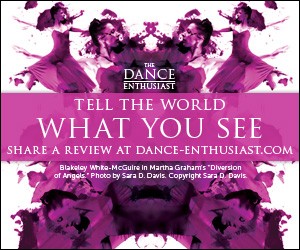 Related Features

MOVING VISIONS: Guest Editor Heidi Latsky on Viewing and Being Viewed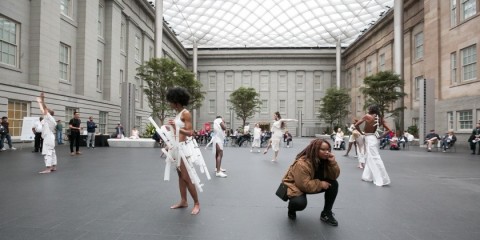 We are taught not to stare, not to look at someone deeply because it might offend them; that if someone "different" catches our eye we've objectified them. This is the life of the viewer. Alternatively, should we possess a birthmark, a glorious height, or an unknown disability, then we risk being too noticeable and often ostracized or worse. This is the life of the viewed.
In both situations, there are harsh limitations. The viewer does not often take the time to see beyond mere appearances, and the viewed often feels overwhelmingly perceived as "other."
Heidi Latsky; photo by Darial Sneed
Can a dynamic space for both the viewer and viewed exist? Is there a place where we can approach one another with interest, curiosity, and empathy?
These ideas and questions sat at the foundation of my work in 2015 when I was invited by the Mayor's Office for People with Disabilities to create ON DISPLAY, a series of site-specific installations in the form of live sculpture courts throughout NYC to commemorate the 25th anniversary of the Americans with Disabilities Act.  Since 2015, ON DISPLAY has grown to include installations around the United States and the world from Southeast Asia to South America.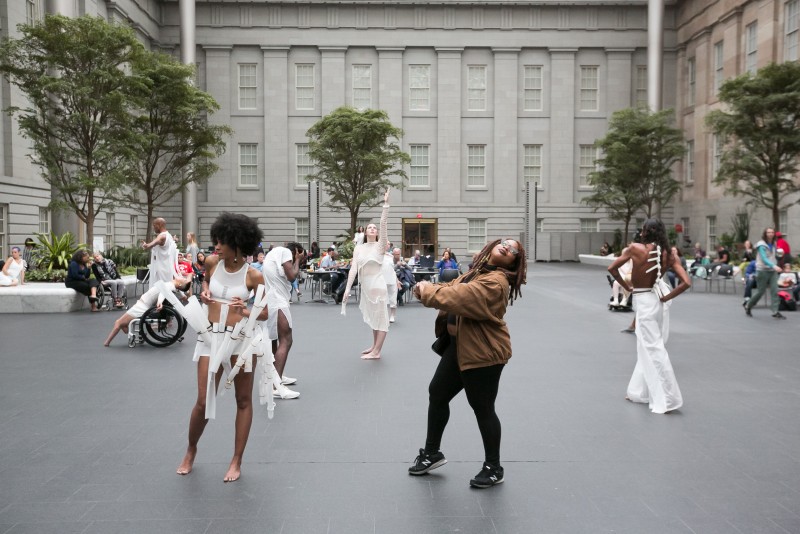 Heidi Latsky Dance's ON DISPLAY; photo by Beowulf Sheehan
But I actually began my exploration of the complex world of disability and collaboration in 2006 when I was commissioned to make a dance for the multi-talented visual artist, former gymnast, go-go dancer, and bilateral amputee, Lisa Bufano.
Lisa, who at twenty-one lost most of her fingers and both of her legs below the knee due to staphylococcus bacterial infection, was my entrée into the complex world of disability and fueled my awareness of my growing non-disabled ally-ship. Together, we made Five Open Mouths, a 25-minute solo. Our implicit contract required me to see the world through her eyes while holding on to my value system and artistic vision.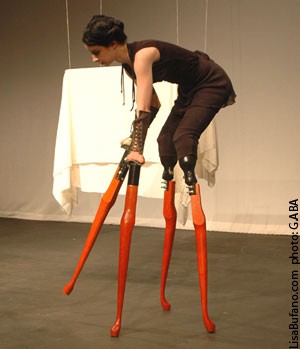 Lisa Bufano; photo by GABA
Initially, Lisa wanted me to make her a solo using her various prosthetics from her high heels to her running "Cheetah" legs. But just before our second rehearsal, I saw her moving around in the studio without prosthetics and immediately recognized the power and beauty of her own body's movement. Although I did add a first section to Five Open Mouths, which utilized Lisa's "running legs," and although I loved her athletic prowess in this, I found that without any assistive devices I was more drawn to "her."  
Lisa's prosthetics were her safety net and my taking them away terrified her — an admission she only made in a talk-back months after we completed our work. Some of the choreography also required her to sway and fall, which was another hurdle, as she had spent so many years refining her ability to control her body. And when I brought in a beautiful but ironic version of "Over the Rainbow," I was confronted with unexpected anger over the implications of that song. She thought it would portray her in a more "inspirational" way and that audiences would think she wanted to be different from who she was. We agreed for me to look for another piece of music and for her to think about why it triggered her so much. Such was the intimate nature of our collaboration and my fast track education into disability. We chose another song.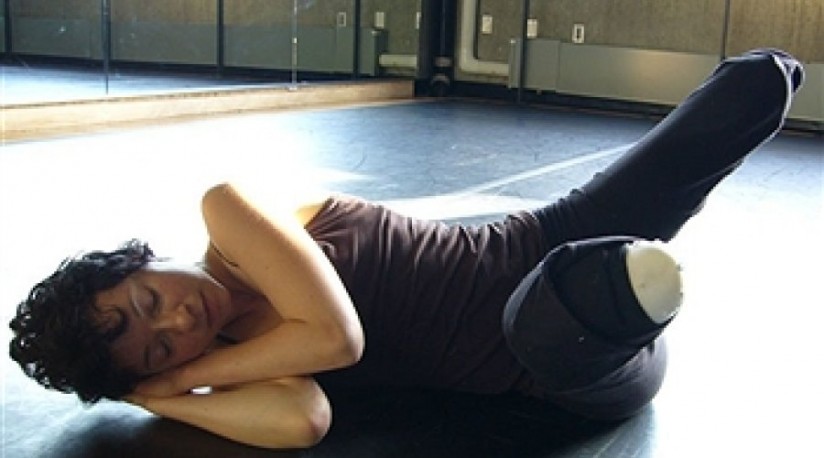 Lisa Bufano; photo from Kontejner
I will never forget, after the premiere at Judson Memorial Church, Lisa beaming, but visibly upset. She questioned me and my producer Jeremy Alliger, who had been curating wheelchair festivals in Boston for years. "Are they giving me a standing ovation because of my disability or because what I did was good?"
I had no idea how to answer, but Jeremy looked her in the eye and said, "Both."
Lisa Bufano in Five Open Mouths by Heidi Latsky; screengrab from video
Andrea Shea of WBUR Radio Boston said of our piece, "I was lucky enough to travel to New York City for Lisa's debut in a world premiere piece choreographed just for her. Its title, Five Open Mouths, referred to the way she sometimes viewed the five stubs on each of her hands. Everyone in the audience was moved. She started the piece with prosthetics but eventually shed them, revealing her physical form — her lithe, beautiful, legless body — as it truly was. I'm not sure I've ever witnessed as brave a display of vulnerability. The amputees in the audience smiled and clapped, some wept."
Laying yourself bare, revealing yourself to others is an act of generosity, grace, and humility. It cannot be superficial or contrived. To resonate with an audience, a performer needs to be authentic. Personal truth carries universal meaning.
Lisa was inherently authentic. I had never before worked with someone who had such a strong, palpable internal life. Her ability to be both fierce and vulnerable created a new standard for my company.
"Despite my own terror and discomfort in being watched (or, maybe, because of it)," Lisa said in her artist statement, "I am finding that being in front of viewers as a performer with deformity can produce a magnetic tension that could be developed into strength."
Heidi Latsky Dance's ON DISPLAY; photo by  Matailong Du
I wonder, now that we cannot be together physically because of COVID-19, can this "magnetic tension" be felt? Can we perform and witness each other with openness in the virtual space when we are at home? How do we create a compelling two-dimensional version of a three-dimensional experience? Will I be able to capture the complexity of each performer in ways that will truly impact the audience?
Since March, these questions have consumed me. The dance world is now intertwined with computers and the internet. The digital world is our creative lifeline should we wish to embrace it.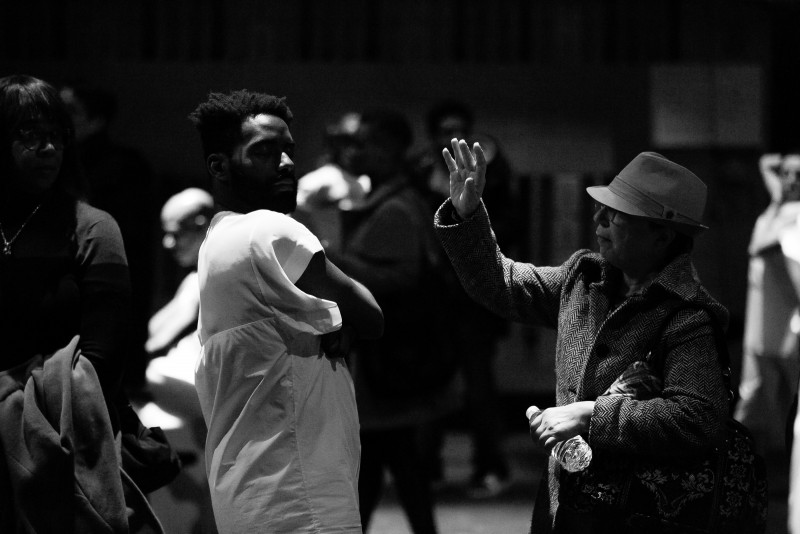 Jerron Herman in Heidi Latsky Dance's ON DISPLAY; photo by Beowulf Sheehan
My perception of the viewer and the viewed has shifted, becoming simultaneously more encompassing and more blurred. My curiosity to communicate the richness and diversity of our humanity in new ways has grown.
With brand new collaborators who feed my creativity, I've been forced outside my comfort zone into alternative forms of expression. Working  with virtual reality, volumetric videos, building an interactive art/tech experience, and a series of ten short films, I am further developing my mission to redefine beauty and virtuosity through diversity, to provoke discourse, but most importantly to evoke empathy. This incredible new trajectory has revitalized my imagination.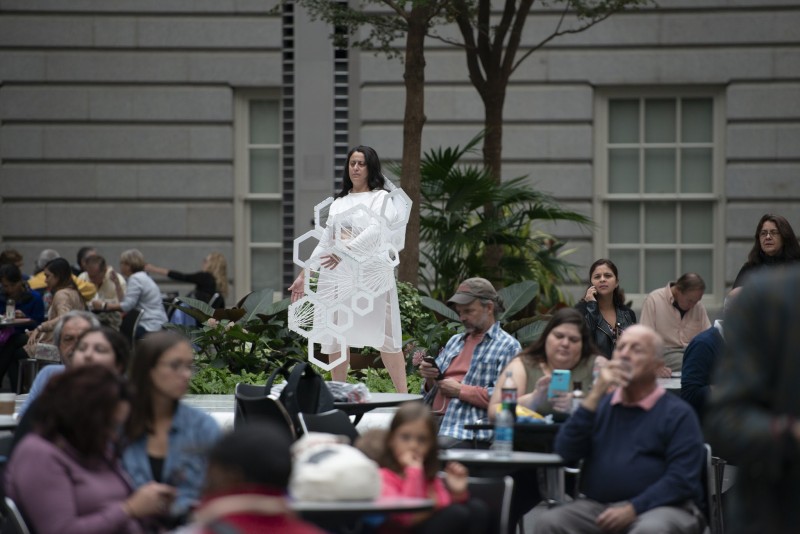 Heidi Latsky Dance's ON DISPLAY; photo by  Matailong Du
  As I sequester in my home deeply experiencing the uncertainty and chaos of this time, I sit with the ongoing uncertainty of the outcomes of my labor. Will I be able to accomplish what I set out to?  Can I capture the complexity of each performer in ways that will move the audience?
This is no different from what I have felt in the past, yet it is completely different. I miss being in the studio, but also do not miss it at all. I feel cut off but more connected because I have more time to be.  It is a troubling period but also a time of great reckoning — a time to listen and question.

My work stems from questions, not answers. The creative process, for me, is the answer.  It is the most powerful tool I have to keep myself hopeful and honest when so much of the world is not. 
---
The 2020 Moving Visions Initiative welcomes artists and enthusiasts to guide The Dance Enthusiast's coverage as guest editors. Our guests share their passion, expertise, and curiosity with us while we celebrate their accomplishments and viewpoints.
---
The Dance Enthusiast Enthusiast shares opinions, observations, and calls to action from our editors and special guests in BAREFOOTNOTES. For more BAREFOOTNOTES click here.
Interested in writing a guest editorial? For consideration, contact info@dance-enthusiast.com.
---
The Dance Enthusiast - News, Reviews, Interviews and an Open Invitation for YOU to join the Dance Conversation.