Marie Taglioni: The Instant Ballerina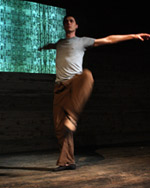 ROBERT BETTMANN-DANCE ENTHUSIAST,
is the Artistic Director of Bettmann Dances, and the editor of the arts magazine Bourgeon. He is also the author of Somatic Ecology: Dance, Nature, Humanity and the Human Body (March 2009, Verlag.) "The Instant Ballerina" was first published in Bourgeon Vol. 2 # 2. Robert Bettmann, 2010. All rights reserved. Re-printed by permission of the author.
2010 ROBERT BETTMANN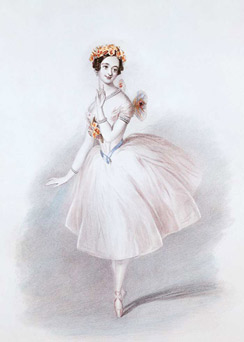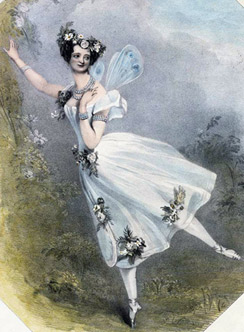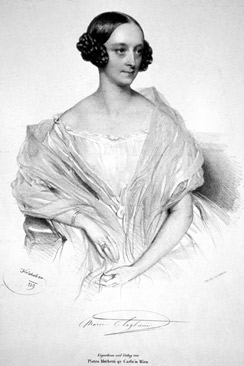 Dance history extends the length of human history. Ballet, however, is a relatively recent phenomenon. As we prepare the next generation of teachers, dance history must be included in their study, because as Theodore Roosevelt wrote, "He who knows only his own generation remains always a child."
The history of ballet can be understood within the lives of a select number of great performers, teachers, and choreographers. Without a doubt, Marie Taglioni (1804-1884) is one of them. Her greatness is not limited to her technical achievements, but her influence is present today through it: Marie was the first to integrate pointe work into performance; the tutu was created to expose her footwork.
Marie Taglioni was born in September 1804 in a small town in northern Italy to Filippo Taglioni and Sophie Karsten. In 1832 Filipo choreographed the seminal ballet of the Romantic Era -- la Sylphide -- for his daughter. But in 1804 he was just a dancer, performing itinerantly. Filippo was committed to providing his children with the opportunity to pursue dance as a career, so when the children were school aged he moved the family to Paris to enable training with his teacher, Coulon Pere (Pere meaning father, to distinguish from his son, who was himself a great performer and teacher.)
Despite the advantage of possibly the best training in the world, at the age of sixteen Marie's ability remained hidden. Coulon, as reported in the Paris Opera Director Louis Veron's
Memoirs
years later, evaluated Marie in 1820 as "la petite bossue" (the little hunchback), in full remarking, "When will that little hunchback ever learn to dance!" And yet just two years later, in 1822, Marie debuted successfully in Vienna. Considering the Taglioni phenomenon is illuminating in part for the understanding she provides of what one has to give – and be given - to transform oneself from hunchback to Sylphide.
The instant creation of a ballerina occurred over the course of the year 1821. During this year Filippo trained Marie privately, in Vienna, guiding her through three classes a day. Sophie Taglioni is critically responsible for her daughter's accomplishment, as it was her actions that necessitated her husband's extreme, and hands on, training of their daughter.
Filippo did not live with the family in Paris. The couple exchanged regular letters, in which Sophie detailed the progress of their progeny in Coulon's classes (her younger brother Paul, who would become her partner for much of her performing career, was also a ballet student at the Opera school.) For years Sophie sent letters to her husband greatly exaggerating Coulon's assessment of Marie. Filippo was finally so motivated by the lies that he arranged for his daughter to debut, in January of 1822 in Vienna. Sophie was grief-stricken upon receipt of her husband's 'debut' letter, knowing full well that her child would be ridiculed, and her husband rebuked. Following receipt of the letter Sophie ran to Coulon for advice and received back: 'You wish for my advice? You have it madame: You should make your daughter an embroidress, for she will never be a dancer!'
Filippo must have suspected that the reports of Marie's progress were artificial, as he arranged for his daughter to travel to Vienna a full year prior to her performance. Upon arrival her father gave her a private class, so that he could assess what needed to be worked on in the months prior to the debut. According to Marie's memoir, after sitting silently for a few moments he informed her that she must be prepared to work harder than anyone had ever worked. All evidence points toward the fact that Monsieur Taglioni was not speaking hyperbolically. With full understanding of the many strengths required of a ballerina, it seems clear that in one year Filippo forced Marie to transform herself from Bossue to Ballerina. Sequestered in apartments at a distance from the theater, Filippo hid Marie – and her dancing - prior to the debut. Somewhat miraculously the reviews were positive, though not glowing. For several years after the debut Marie performed on regional stages, benefiting of the care and continued training from her father.
The prize was always the Paris Opera, where the greatest dancers and dance-makers of the era plied their craft. On July 24th 1827, Marie Taglioni achieved that stage, over the strong reservations of the management. The directors could no longer keep Marie from their audience, which was hearing reports of her unusual graces in rave reviews from less important venues in France, Austria, and Italy. Years later, evaluating her career, historian Alberic Second acknowledged, "that a dancer, thirty years ago, should have been able to bring about a revolution in the art of dancing which is still effective, is in itself, astonishing. That this dancer, this great revolutionary, should have been an ill-made woman, almost hump-backed, without beauty and without any of those striking exterior advantages that command success, amounts to a miracle."
The critics at the time, while overwhelmed by her dancing, were seemingly unconscious of the Taglioni phenomenon as a phenomenon of work, frequently citing her artlessness, and effortlessness. An anonymous Parisian critic of the 1840's declared, "Everywhere one is conscious of effort and labour; Mlle. Elssler perfects her gestures and prepares at leisure her most insignificant pose. Mlle. Noblet had to make two attempts before launching herself in an adventurous pirouette. The art of other dancers is learned like a trade, that of Mlle. Taglioni springs from nature." Filippo's demands that he should never hear Marie dance perhaps carried over into an ability to make silent the difficulties of the work.
The Conservative American politician Newt Gingrich's statement that, "perseverance is the work that one does after one has completed the work that one wants to do" perhaps helps explain the phenomenon of Marie Taglioni. From her tours to England, Russia, Italy, and Sweden, to her marriage and divorce with Gilbert Comte de Voisons, to her training of a single student and that student's terrible death by on-stage fire, examining the life of Marie Taglioni one encounters the gift for perseverance that even when unacknowledged by the press, must be called grace. The unbelievable strength crafted by her father under the pressure of an imminent debut supported the development of an extraordinary human who managed a generous existence as a star, and a significant contribution to the field of ballet.
---
Before Marie Taglioni, dancers had gone on pointe to pose, but not to actually dance.
In this clip from "La Sylphide" the viewer can see the integration of pointe technique into the steps performed by the female lead. In creating the choreography for this ballet on his daughter, Filipo Taglioni broadened the existing dance vocabulary, using pointe work to help express the Sylphide's ethereal character. - R. Bettmann
---
The Dance Enthusiast Enthusiast shares opinions, observations, and calls to action from our editors and special guests in BAREFOOTNOTES. For more BAREFOOTNOTES click here.
Interested in writing a guest editorial? For consideration, contact info@dance-enthusiast.com.
---
The Dance Enthusiast - News, Reviews, Interviews and an Open Invitation for YOU to join the Dance Conversation.