Parallels 2012 and Twenty-Three Things I Learned Last Week About Ishmael Houston-Jones.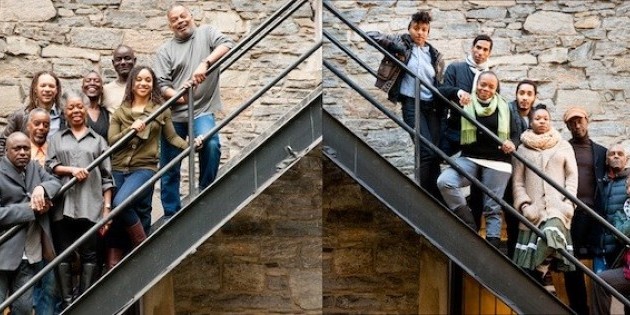 What does 'Black' dance mean to you?
Parallels 2012 and Twenty-Three Things I Learned Last Week About Ishmael Houston-Jones
February 10th, 2012
Christine Jowers for The Dance Enthusiast
---
One of the most important events in the art world ( not just dance world) this season is the Danspace Project Platform, Parallels 2012 curated by Ishmael Houston-Jones. Fortunately it lasts from February until the end of March. Unfortunately, as with most dance performance happenings, it is jam-packed and quick moving, so if you miss one of the weekends, that's it.  No repeats.  There will be eight weeks filled with 20 events and 30 participating artists who will perform, talk and otherwise lead audiences on journeys through movement, film, art, history and questions of racial identity.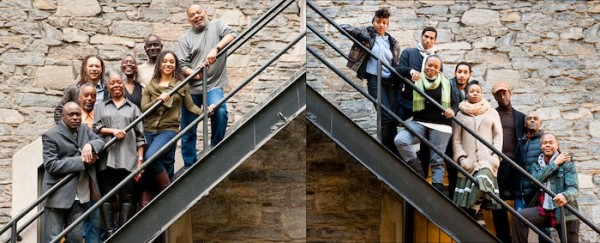 Pictured (Left to Right)Fred Holland, Dean Moss,Thomas F. DeFrantz, Jawole Willa Jo ZollarNora Chipaumire, Souleymane Badolo, Samantha Speis, Ishmael Houston-Jones, Regina Rocke, Stacy Spence, Blondell Cummings, Niall Noel Jones, Marjani A. Forte, David Thomson, Gus Solomons jr., Reggie Wilson. Photo by Ian Douglas, 2011. ,
In 1982 Houston-Jones created the original Parallels asking the question, "What is Black dance?"  He chose to look at artists working outside the mainstream definition of Black dance at that time—the mainstream being Alvin Ailey.  In his original program Houston-Jones said, "While all the choreographers participating are Black and in some ways relate to the rich tradition of Afro-American dance, each has chosen a form outside of that tradition and even outside the tradition of mainstream modern dance." The program, the first ever dedicated to African-American experimentalists, featured Ralph Lemon, Bebe Miller, Blondell Cummings, Fred Holland, Christina Rrata Jones, Gus Solomons, jr., and the late Harry Whittaker Sheppard. In 1987 the group performed at the American Center in Paris adding to the mix choreographer, Jawole Willa Jo Zollar, founder of Urban Bush Women.
 
---
Thirty years later,  in a new century, Houston-Jones still questions our terms and definitions. He wants to tease out what 'Black dance', and 'African-American dance' mean today, if anything.  Are we part of a post-black, post-racial age? Who is the mainstream now?  Houston-Jones points out that while the President of United States is black, his experience of having a Kenyan father and a white mother, and being raised between Kansas, Hawaii and Indonesia, is completely different than many other black Americans.
---
The photo of Ishmael Houston-Jones on the altar at Danspace Project is by Pamela Moore.

Houston-Jones' questions, along with those of his guest curators, are important not only to African-American dance makers, but also to artists of all backgrounds, and anyone who is fascinated by history, the changing world and our relationship to it. Who are we? What and who creates our identity? Who is working to push the limits of definitions or change them? These are essential questions. Parallels 2012 offers the opportunity to contemplate them fully.

If you cannot participate in all the offerings of Parallels 2012, by all means purchase the beautifully made catalogue that documents some of the thought behind the original Parallels and this current construction.



For Calendar of Events and Tickets Click here.
---




Things I learned Last Week about Ishmael Houston -Jones, The Curator of Parallels Dance Space Project's Platform 2012.
Thursday February 2, 2012 at The Studio Museum in Harlem.
This list is from my notes on the evening. Please forgive alert me if I got anything wrong. I didn't include information about the visual artist Wangechi Mutu from Kenya, who was the other featured artist in this conversation.  She should not be missed.
---
Ishmael Houston -Jones
1. He makes theater, not hermetically sealed art.

2. To "consider the audience" is not a dirty word (phrase).
Ishmael Houston Jones In the Garden-Photo by unknown
3. Hasn't done an overtly political piece since 1980, but has never made a piece that didn't come from a deep belief.
4. He improvises.
5. He likes questions.
6. Started out as a theater kid, in Harrisburg, PA. Took dance cause it was free and he liked it because he didn't have to memorize lines and he got to sweat a lot.
7. Worked as a pig farmer in Israel.
8. Went to Nicaragua during the 1983 Civil War and was "jazzed" about taking artwork into the fields with soldiers. Traveled to Nicaragua again the next year and taught. Was surprised that the solider students wore their leotards under their fatigues and brought their rifles to class. (Though the did lay their weapons down during class.)
9. Worked in Philly for seven years developing a voice that was African, and improvisational. He likes text a lot.
10. Not very good at ballet
11.  Moved to New York in 1979.
12. He never sets anything. He has a strong sense of time, space, and choreography.  Once the audience has "their butts on the seats", though he can still work on things, "It's the piece."
13. He doesn't use technology.
14. Props? Yes! From his mom, who he carried over his shoulder like a sack, in Relatives; to a cinderblock (metaphor for death and a lover); to a dead goat in THEM, originally created in 1986, and re-created in 2010 for a new cast. (The re-creation won a Bessie in 2011 for Outstanding Production)
15. Deciding to tackle his own fear of death in THEM he came up with the idea of wrestling the dead goat on a mattress. He wanted the audience to smell the smell of death. This wrestling idea also came about when a friend told Houston-Jones of a terrible dream he had in which he was forced to wrestle in bed with his own dead body.


ISHMAEL HOUSTON-JONES ON RE-CREATING THEM  made in the mid eighties with writer, Dennis Cooper and composer Chris Cochrane ( A skype interview with The Theater Kikker in the Netherlands.)
16. Everything is considered rehearsal, so rehearsals can be anywhere. They happen a lot in bars and clubs with lots of talking and (and the conversation isn't usually about steps.)
17.  Uses pain in his work because pain is a real human response. Began an improvised duet with a fist- fight.
18. His kinesthetic response to seeing himself on video/film? He twitches.
19. For the 10th Anniversary of Contact Improv (in 1982)
 Houston -Jones made a duet with Fred Holland in which their plan was to break all the rules of that "art-sport," as he refers to contact improv. (Rehearsal consisted of lots of drinking at the Pyramid Club, the  "omni-gendered" dance club, on Avenue A)                           

How did they break the rules?
a) By being black. (Contact improv, created by Steve Paxton, is mostly seen as a 'white' endeavor.)
b) By wearing heavy combat boots  (contact improvisers are usually go barefoot)
c) By moving to soundtracks from loud, Kung-Fu movies (instead of moving in silence)
d) By trying not to be in contact
e) By not being gender neutral (as is traditional contact improv) but allowing the contact to get erotic/rough
20. Problems in the creation of a piece? The use of the dead goat in got him into some trouble with the Board of Health and PETA.
21. The past two years Houston-Jones has been focusing on re-creating older works, transferring his pieces on to younger people who were not alive when his original performances were created.
21. He loves to teach.
22. His favorite sandwich is a BLT on rye toast, accompanied by a vanilla milkshake.
---
---
The Dance Enthusiast Enthusiast shares opinions, observations, and calls to action from our editors and special guests in BAREFOOTNOTES. For more BAREFOOTNOTES click here.
Interested in writing a guest editorial? For consideration, contact info@dance-enthusiast.com.
---
The Dance Enthusiast - News, Reviews, Interviews and an Open Invitation for YOU to join the Dance Conversation.