Related Features
Contribute
Your support helps us cover dance in New York City and beyond! Donate now.
SENSEDANSE: Henning Rubsam at The Joyce Soho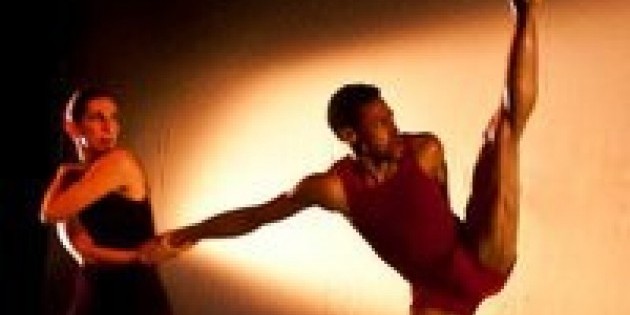 Something Old, Something New
Two Dance Enthusiast Minute Glimpses of SENSEDANCE as they prepare for their 2011 Joyce Soho Show
Video clips and preview article Christine Jowers, 2011 for The Dance Enthusiast
---
Henning Rubsam is showing work from the past, or recycling as he calls it, as well as premiering a new work - Half-Time - for the Joyce Soho this weekend. He will be watching dancer Paul Monaghan perform his signature solo work Gottingen (2006). Rubsam is very generous with his praise and helpful comments as he dances along with Monaghan in the wings-- even in the Joyce Soho where there are no wings. It is hard to just "watch" a dance that has been so much part of your life.

Creating Gottingen was an act of recycling as well, Rbsam tells me. He stole a favorite phrase from a dance piece of his set to music by Brahms. It was originally in 4/4 time. He changed the meter to 6/4. He then isolated the arm gestures and leg movements breaking everything apart to create a short work that is a simple breath of fresh air.

The music by Barbara is peformed beautifully by Daniel Isengart.
---
Half-Life is the new work by Rubsam receiving its studio premiere tonight at The Joyce Soho. It is driving and insistent, keeping the dancers always on the move. Ballet, usually known for its concentration on the vertical access, in Half-LIfe slides, careens, and gobbles stage space with horizontally sliding legs and pelvic thrusts. There is also a lot of running. The pace is persistent, pulsating, and reminiscent of the opening of a James Bond movie or some other such spy adventure -- Mission Impossible on pointe -- POW. The music, by the Slovenian group Laibach, is thrilling and jolts the dancers (and the audience) into a percussive chase.


S E N S E D A N C E
Studio premiere of HALF-LIFE

Joyce SoHo, 155 Mercer Street (between Prince & Houston)

Friday, 6/24 7pm (informal) - pay what you can
Friday, 6/24 8:30pm - suggested admission 5
Saturday, 6/25 5:30pm & 8:00pm - both showings with reception, suggested admission 0 (no one will be turned away)
RSVP: sensedance@gmail.com
 
---
The Dance Enthusiast Enthusiast shares opinions, observations, and calls to action from our editors and special guests in BAREFOOTNOTES. For more BAREFOOTNOTES click here.
Interested in writing a guest editorial? For consideration, contact info@dance-enthusiast.com.
---
The Dance Enthusiast - News, Reviews, Interviews and an Open Invitation for YOU to join the Dance Conversation.