Related Features
Contribute
Your support helps us cover dance in New York City and beyond! Donate now.
Some of The NYC Dance Season in Haiku and Limerick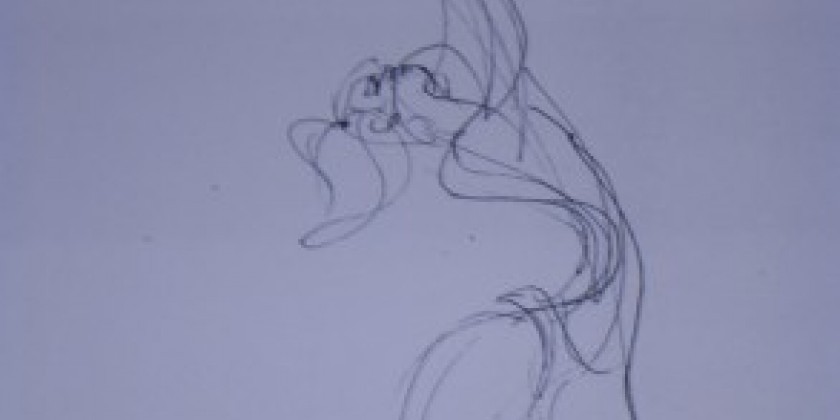 Poetic Expressions of Dancing Impressions
Poetic Expressions of Dancing Impressions-
© Christine Jowers 2010 
Line Drawing of Christine Jowers Dancing
by Madeline Meehan circa 1993
---
In The Audience
Here, waiting for you...
Shock me out of my seat,
even with beauty.
 
Dark, Titillating
Cool guy mixing music live
Not enough TERROR.

But, The Redemption:
Open falling free magic.
Bodies dance heaven.
 
We're wanting so much to engage
For dancin' should be all the rage
and yet, it is not
'cause sometimes we're snots
and "down to earth" is a NEW page
 
There once was a fellow named Dav id
Fine rhythms and tapping he crave  ed
He curated a show
And I didn't go
Alas, the dates I did not save   ed.
 
To go to a new artists show
An experience that one should not blow
The talent is eager
The efforts not meager
Like seedlings just starting to grow

For Cristina Jasen
Young new dancemakers
Take note! To dance confusion
one needs clear focus

The BEST part was when
Alone,she circled her hips.
Each curve told a tale.

For Gillian Vinton
Girl is talented
TOO much time in arts admin
Get work on stage, please.
 
About Katie's Solo (world premiere) Choreography: Gillian Vinton, Performance :Katie Daniels
speak dance speak turn speak
solo gal in jeans with words
must be seen again
 

I want to say, that
review by Macaulay sucked.
He didn't get it.
On Robert Wilson's SNOW ON THE MESA
A complex woman
Painted with light and symbols
Reflections and dreams

Frenzied witch dances
wolves, bones, breasts, shattered glasses
Deathly passion

To Gamelan sounds
Her lover floats her in space
She skitters away

Creative spirit
a wild black snake emerges
from out of her mouth

Her peace seemed too brief
Conflict creates great stories...
but to live that way?
On Cave of The Heart -Choreography by Martha Graham
I was thinking in Cave of the Heart
that Jason was not really smart
He had a great wife
was set up for life
He just had to sleep with that tart

I want that wire cage
created by Noguchi
to hang my coat on

Jason
Conceited ,cocksure
muscle upon more muscles.
You know he is doomed.

The other woman
The little princess
swoons over his machismo.
Naiive to the truth

Medea
Her moves shatter space.
She has been stabbed many times.
We will not forget.

The Chorus
No one will listen!
Blind to the worlds you see,
suffering doesn't stop.
 
On Deaths and Entrances Choreographed by Martha Graham
Silk Ball Gowns, Smart Suits
Hold us upright and proper
As we fall inside.
 
On Chasing by Bulareyaung Pagarlava ( commissioned as a companion piece to Deaths and Entrances)
Episodes of life
fleeting,flashing right past us
until NOTHING hurts.
Will Shakespeare, his work can be "new"
Jane Austen's books find new life views
Ballet does Giselle, Swan Lake
What the hell?
Now, why can't our classics play too?

Dance critics hate rep
Unless, a known "masterpiece".
Old work called dusty.
 
Oh, repeat that last haiku from the section before.

Of her dancing and choreography:
Janis Brenner's work
Particular and subtle
Quiet surprises...
 
Of her premiere The Mind-Stuff Variations
Her piece points this out:
the irony that cruelty
is used to shape dance.

It fascinates here,
the connection of thoughts to acts
and... the disconnect

Her dancers were close to the ground
the movements and music  profound
intention was clear
but i couldn't hear
They just need to work on the sound.
 
Imperceptibly
becoming with shifts of focus
polar opposites.

Chesire Cat grinning,
No, an east coast business snarl.
Then, a matador.

A delicate bird
growls with red ferocious eyes
Her neck is broken.

Unique Performers
One time, I veged (the slow pace)
Still, I was awestruck
 
---
The Dance Enthusiast Shares IMPRESSIONS/our brand of review, and creates conversation.
For more IMPRESSIONS, click here.
Share your #AudienceReview of performances. Write one today!
---
The Dance Enthusiast - News, Reviews, Interviews and an Open Invitation for YOU to join the Dance Conversation.