Related Features
Contribute
Your support helps us cover dance in New York City and beyond! Donate now.
Special Dance Enthusiast Feature: MUSCLE MEMORIES
(The first in series of short essays by Stuart Hodes)
---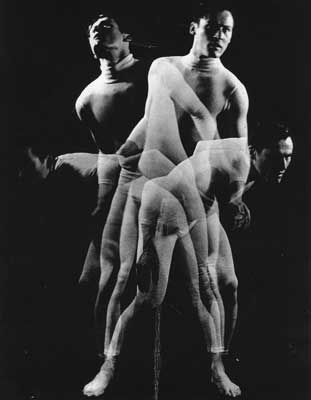 © Stuart Hodes 2009
Stuart Hodes piloted bombers in WWII, and wrote for an unofficial army newspaper. He was Martha Graham's partner, danced in a dozen Broadway musicals, taught on four continents, made some 100 dances, and had a young-audience troupe, The Ballet Team. He and his wife, Elizabeth, toured in their "Dancing on Air with Fred Astaire." His book about choreography, "A Map of Making Dances," (Ardsley House, 1996) is available from him, and his webzine, www.ChorusGypsy.com, tells true theater stories. He is completing a novel, "Chorus Gypsy," drawn from the NYC dance world, 1948-1960.
---
"I wondered if walking was not a form of dancing."
Rory Stewart
My first memory of body language is the joyful swagger of heavyweight boxing champ, Max Baer, after he'd knocked out Max Schmeling. It was 1933, I was eight and allowed to see one cowboy movie a month. A newsreel showed Baer strutting beside a swimming pool, chest proudly expanded, elbows flying, knees lifting high. After the movie I tried to imitate that strut.
I admire comics who can speak a kind of gibberish that sounds like a foreign language: Sid Caesar's "German," John Belushi's "Japanese," Peter Ustinov's "Arabic," also the ability to capture body language: Nathan Lane doing a John Wayne walk in The Birdcage, John Cleese's zany walks in his Ministry of Silly Walks skit. 
Walks occupy 15 to 30 minutes of most every class in Graham Technique, from heel-first, a forthright "walking to school" walk taught by Marjorie Mazia in my first class, to toes first, gliding, stealthy or ceremonial, done slowly, fast, and faster, in plié, on tiptoe, or as a surging stride, forward, zigzag, backward and in countless other ways.  
Once when Martha was teaching walks she stopped us, glared, slumped, poked out her abdomen, thrust her head forward and said, "You're walking like babies, selfish little babies!"  
Martha was the first one I heard to say, "Movement never lies." After six months of dance lessons my walks projected a new confidence both in and out of dance class, and it was no lie because I was more confident.
---
The Dance Enthusiast's DAY IN THE LIFE covers the stories behind dance/performance and creates conversation. For more behind-the-scenes stories from NYC and beyond, click here.
---
The Dance Enthusiast - News, Reviews, Interviews and an Open Invitation for YOU to join the Dance Conversation.