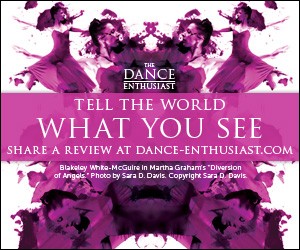 Related Features
The Dance Enthusiast, What We Stand For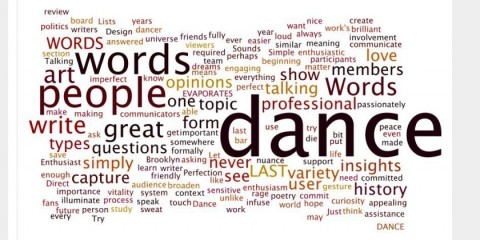 Celebrating 12 Years of Dance Enthusiasm, Positivity, Conversation, and Inclusion
On the occasion of our 12th birthday ( I never thought this idea could last for 12 years)  I wanted to remind our  readers about the values this organization stands for, and  to thank you for being dance enthusiasts. 
All my best wishes, Christine Jowers -Founder, Editor-in-Chief of The Dance Enthusiast
Don't forget  to #getenthused and support dance, share your #AudienceReview with us
---
The Dance Enthusiast is a site for dance journalism populated by  a variety of authors from a variety of backgrounds who believe passionately in the power of the arts and artists. 
The Dance Enthusiast supports and respects dancers, writers, and  ANY BODY who cares to speak, write,  and share their thoughts and truth.
The Dance Enthusiast is premised on inclusion -- all  dance, all people -- whomever would like to come to the party. 
We support freedom of expression,  speech, and thought.
We respect and support clarity, honesty,  difference, and the dignity of all people. 
We believe in POSITIVITY.
We believe in OPINION.
We believe in EDUCATION.
We believe in DISAGREEMENT.
We welcome EVERY BODY.
(to find out how  all the ways YOU can lend your voice to the conversation on The Dance Enthusiast , click here.)
---
---
Why Enthusiasm?
Christine Jowers, founder, Statement to the Community Upon Dreaming up The Dance Enthusiast 12 years ago
"When I was a little girl, I was very fortunate that my father was the the Director of The Virgin Islands Council on the Arts. His job not only involved supporting the artists in our community, but also hosting and greeting visiting artists to our islands. My brother and I were very lucky to meet many dynamic artists - people who radiated positive energy and beauty.
In the late 1960's throughout the 1970's, (when Merce Cunningham and his company started touring in a VW bus and the Dance Theatre of Harlem was formed by Arthur Mitchell), I was introducing my Barbie dolls to artists from: the American Ballet Theater, The Royal Danish Ballet, George Faison's Universal Experience Dance Company, Eleo Pomare's company, and The Dance Theatre of Harlem.
While I loved the dance performances I experienced,what particularly caught me, was the attitude of the dancers ; their hard work, their commitment,  and their vibrancy.
I knew, even as a seven year old, that THAT is what I wanted in my life.
These fascinating people are the reason I connected to the art of dance, went on to study dance history and criticism in college, and became a professional dancer, teacher, and producer of dance projects, now a writer on the field.
It is the moving artists' manner of putting enthusiasm into action, that I would like to share with my children, friends  and the community at large.
I believe this positive energy is crucial to our lives.
I started the The Dance Enthusiast project with the dream of connecting others to the stories of this important, ephemeral art - the stories beyond reviews and critiques - the stories of artists who continue to inspire me today just as they did when I was a child.
I would like The Dance Enthusiast to inspire and welcome conversation, a conversation between writers, dancers, and audiences.
It is no fun to be talked at.
Please join me and my wonderful co-editors and contributors in this positive movement of dance communication.
---
Please read our other links to find out more:
Read Our Mission Statement: https://www.dance-enthusiast.com/about/what-we-do -
Find Out Who We Are: https://www.dance-enthusiast.com/about/who-we-are/
To Write Letters to the Editor or speak directly to the Editor: https://www.dance-enthusiast.com/contact
To Submit a Postcard (your story with pictures/video to share what you are up to, thinking of, dreaming for in the field of dance/performance ) or a Guest Editorial for Consideration:  https://www.dance-enthusiast.com/contact
To Share Your Thoughts on Performance in Audience Reviews: https://www.dance-enthusiast.com/get-involved/reviews
We also have comment sections under each one of our articles  and welcome your opinions there.
And Why Audience Reviews?  Click the Links below.
---
The Dance Enthusiast Enthusiast shares opinions, observations, and calls to action from our editors and special guests in BAREFOOTNOTES. For more BAREFOOTNOTES click here.
Interested in writing a guest editorial? For consideration, contact info@dance-enthusiast.com.
---
The Dance Enthusiast - News, Reviews, Interviews and an Open Invitation for YOU to join the Dance Conversation.