BAREFOOTNOTES: Things I Am Learning About The Dance Enthusiast at Age Fifteen, a Letter from the Editor, Christine Jowers
Happy New Year.

2022 was a wonderful year for The Dance Enthusiast. We celebrated our fifteenth birthday in September — an amazing accomplishment for any group, but especially for one dedicated to dance journalism. Times haven't been kind to writers of the dance. Just last year,  Sarah Kaufman, the Pulitzer Prize winning dance critic at The Washington Post was laid off. One of the major papers in our country —the one representing our nation's capital, home of The Kennedy Center and the Smithsonian Institution— decided that the art of dance is not worthy of a permanent place on its pages.  Not only was this an insult to dedicated dancers and choreographers the world over, but it was also a punch in the gut to the dwindling lot of dance reviewers who've seen their careers turn into a hobby that might be financially compensated if they are lucky.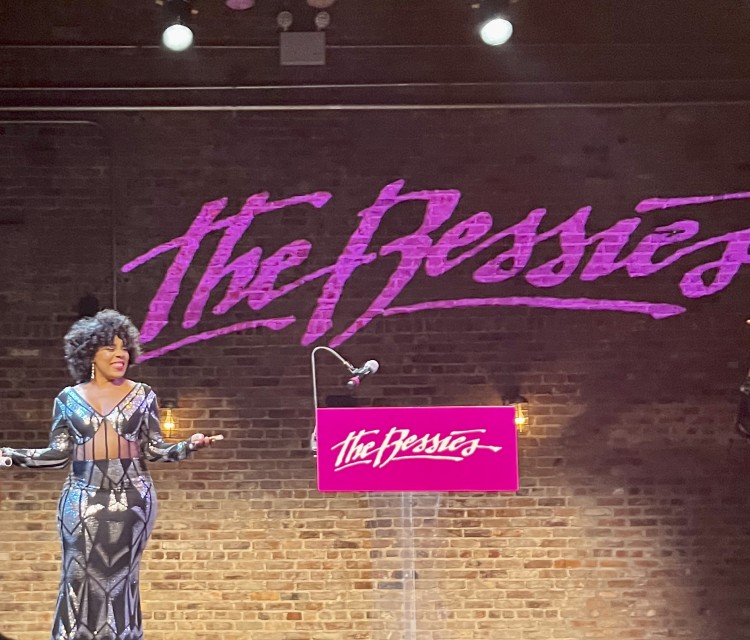 The Hostess with the Mostest, Porshia A. Derival, at the first live Bessies since COVID; Photo: Christine Jowers
The Dance Enthusiast felt the appreciation of NYC's dance community for our efforts to keep dance coverage alive when I was honored by the American Dance Guild  for Achievement in Dance and The New York Dance and Performance Awards/Bessies  for Service to the Field last year.
I was bowled over. I wasn't fully aware of our impact. Staying busy over the years working at my computer, I have been fixated, not on the good we do, but rather, on how much needs to be done to cover the breadth and diversity of the dance community, AND to encourage young people with different points of view to write. Being honored, gave me a minute to pause and consider what's been accomplished and where we can possibly go.
Fifteen years ago I was a new voice in dance journalism. The table where I was trying to take a seat was not bursting with welcome, AND it was small. Dance criticism was on death's door even then, yet the often unspoken attitude was to keep people out of the game rather than let new energy in. When words were spoken, I heard: "Why call yourself THE Dance Enthusiast?  Aren't we all dance enthusiasts? You're not a scholar.  It's dangerous to give the audience a platform. I believe in gatekeepers, not in what you do."

Fortunately,  I started out as a dancer which, for anyone who does not speak dance, translates  into, "I work."
For fifteen years, I have had the privilege of working in the dance community and learning from artists either by speaking with them directly, writing about their performances, or matching performances to writers that cover dance. I am forever enriched for this experience and extremely grateful to all the people who have let me into their studios, homes, and performances. I'm especially thankful for  the writers who have believed in this project and who continue to write for what amounts to a small stipend. I wouldn't trade these fifteen years for the world. All this is from a woman who graduated from college with a major in dance history and criticism while shouting at the top of her lungs, "I refuse to ever become a critic. Never, ever will I write a review. I am an artist first." I have always been uncomfortable with the the role of critic as "judge" of dance where only their opinion matters because it's in print. The thought of my opinion possibly making or breaking an artist's spirit horrifies me.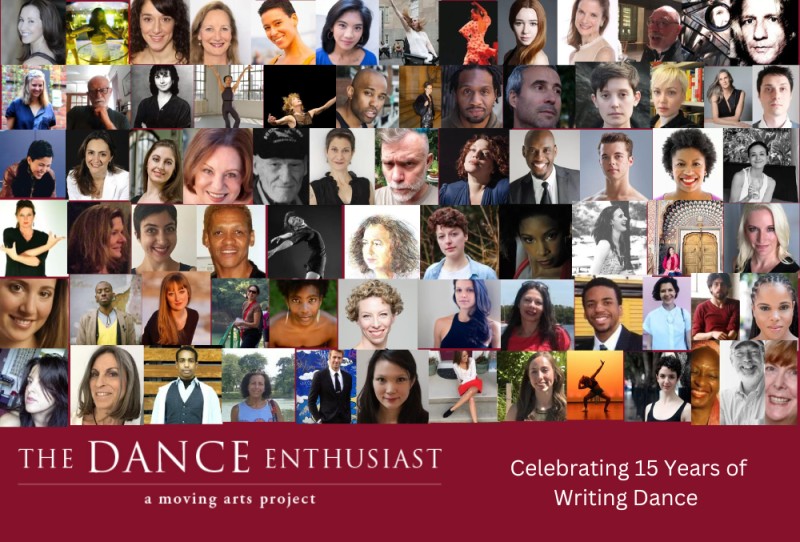 Fifteen Years of  Contributors with Bylines on The Dance Enthusiast ( and there are more who didn't send pictures)
The dance community is vast, filled with color, excitement, questions, and passionate searches for meaning. We are a multi-generational, multi-genre, multi-racial, multi-cultured, gendered, gender fluid, disabled and non-disabled group that deserves coverage and writers that come from more than a few of the magnificent rooms of our dance house. The question is how can this be done? The answer? Well… that's not up to me.

If writing about our dance world, thoughtfully covering the efforts of artists working in our time is truly crucial as many of you tell me, then the independent producing of it cannot be a solo show. Figuring out ways to to welcome and lift up new voices in dance communication, while respecting fine work that was done previously, requires more than any any one enthusiast's efforts. Cooperation, innovation, partnership, figuring out funding, sustainability, that's the work. Are you with me?

 
---
The Dance Enthusiast Enthusiast shares opinions, observations, and calls to action from our editors and special guests in BAREFOOTNOTES. For more BAREFOOTNOTES click here.
Interested in writing a guest editorial? For consideration, contact info@dance-enthusiast.com.
---
The Dance Enthusiast - News, Reviews, Interviews and an Open Invitation for YOU to join the Dance Conversation.