Anabella Lenzu on Self-Knowledge and Being An Eternal Student in the Time of Social Distancing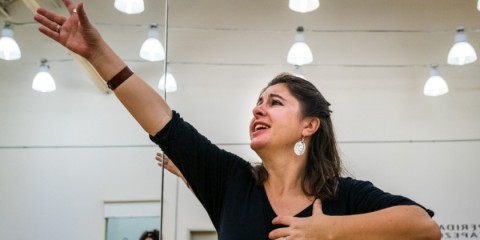 An Excerpt from her book, "Unveiling Motion and Emotion"
Dear Friends, Dancers, and Students:
As a little gift for you, I want to share one of my chapters from my book Unveiling Motion and Emotion  that I published in 2013.
It may help with these times of social distancing.

Enjoy and use this quiet time to deepen in your practice, art, and research.
Much love and Gratitude from Brooklyn!
Anabella
---
I WANT TO BE THE ETERNAL STUDENT
The period of my greatest creative and technical growth as a dancer came over the course of four years (1995-1999) in my home city of Bahia Blanca, Argentina, where I directed my own school, "L'Atelier" Centro Creativo de Danza.
Every morning I would teach with my assistant Soledad Gutierrez, and I gave myself a class from 10 a.m. to 2 p.m. Yes, I taught myself! It was a matter of self-discipline, self-knowledge, and self-respect.

Without self-discipline, conscience, and maturity, nothing in life bears fruit – and that is especially true in a dancer's career.

Why was that period so significant for me?

Because even when I felt tired or lazy, I knew that without work, growth was impossible, and a voice from my subconscious urged me to believe in myself.

Even when I wasn't at 100 percent, I would get up, drink a cup of tea, and leave for my studio. My routine: one hour of stretching and physical preparation; one hour at the barre; one hour in the center; then I rehearsed.

How hard it is to have the discipline and commitment to work with yourself day after day! But oh the beauty…

Why is it so hard for us to take the time to connect with ourselves through movement, even though we know it always makes us feel better? Laziness, distractions, fear of failure, and fear of our own limitations are just some of the monsters to be vanquished.
Now why, after so many years of taking a class from other teachers, was this period so valuable for me?
Because I am both my best student and my best teacher. That time teaching myself is and was my best gift: the chance to dedicate time to listen to myself and, in a way, re-create myself.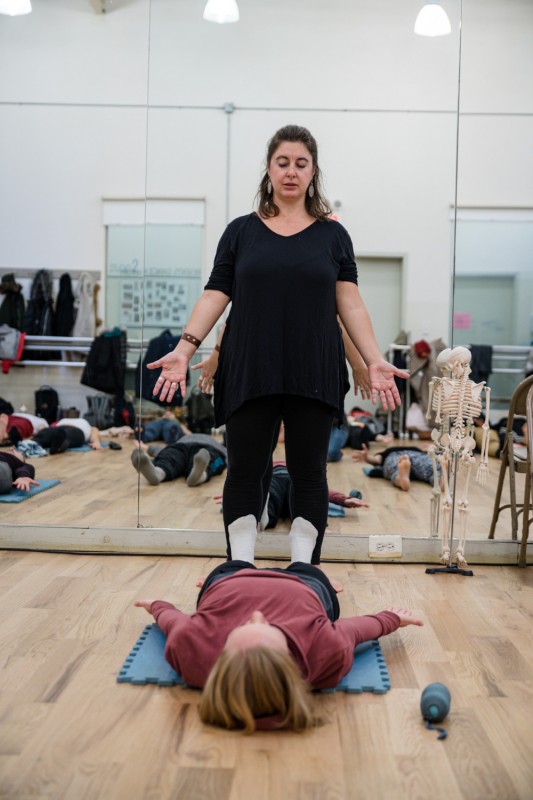 Anabella Lenzu Teaching ;photo by Todd Carroll

Today, living in New York, a mother and wife, a professor at two universities, and the director of my own dance company, I feel distractions gnawing at me constantly, trying to keep me from listening to myself again.

The life of a dancer is a constant fight interspersed with bursts of development, full of work, filled with distractions and procrastination. The conscience and self-discipline that I acquired in that time accompany me to this day, helping me face life each day because inside I know who I am.

One puts oneself to the test looking in the mirror every day, trying to decipher one's reflection. Many times we don't want to see the truth; we'd rather turn a blind eye or come up with a false self-image.

I was bulimic but with my family's – and especially my mother Graciela's – patience and guidance, I overcame it. Many times I reached my physical and mental limits. I suffered panic attacks and felt I couldn't control my life, and thank God I overcame those as well.

I overcame them by listening to myself, confronting myself in the mirror, closing my eyes and cultivating an internal self- image. This is my dance training, and I apply it to all areas of my life.

Our perception develops. As dancers (after years of training), we know how we appear externally, how the audience sees and perceives us. We have built our internal framework, the skeleton of our artistic selves, and just as we built the house, we must furnish the interiors.

When we close our eyes, monsters appear fear, insecurity, perfectionism, self-repression, censorship. When we close our eyes, we can't lie to ourselves, we are forced to exist in the here and now, without taking flight or letting our imaginations transport us elsewhere. Through years of constant, persistent work, we form an umbilical cord – a connection – between the darkness and the light.
I invite you to submerge yourself and pursue self-knowledge because without that, we are lost in life. When we remain strangers to ourselves, we are deprived of the pleasure of growing, transforming, and finally discovering an inner balance.
That period in Argentina was my creative and pedagogical laboratory, a place everyone should build for themselves so they can enter it daily and when needed.
---
The Dance Enthusiast Enthusiast shares opinions, observations, and calls to action from our editors and special guests in BAREFOOTNOTES. For more BAREFOOTNOTES click here.
Interested in writing a guest editorial? For consideration, contact info@dance-enthusiast.com.
---
The Dance Enthusiast - News, Reviews, Interviews and an Open Invitation for YOU to join the Dance Conversation.