Dance At The 2017 River To River Festival From June 14-25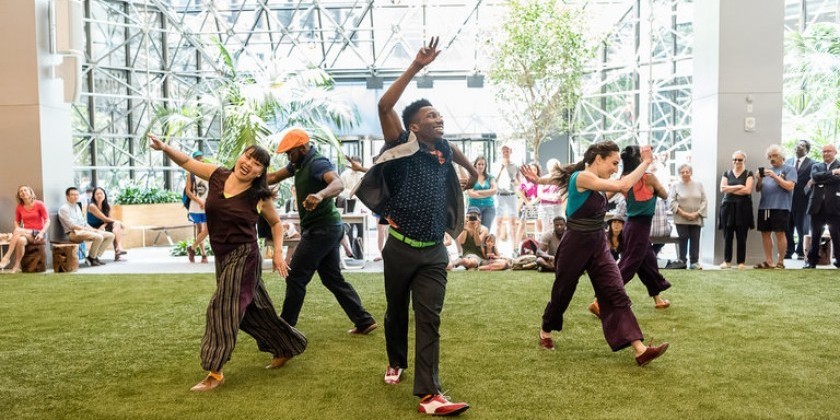 Staring Wally Cardona & Jennifer Lacey, The Dance Cartel, Faye Driscoll, Marjani Forté-Saunders, Beth Gill, Maria Hassabi, Jodi Melnick, Netta Yerushalmy and More
Lower Manhattan Cultural Council (LMCC) presents the 16th annual River To River Festival, Downtown New York City's completely free summer arts festival, June 14–25. The 2017 edition presents an array of performances and events exploring and celebrating diversity in all its forms—often blurring the lines between genres including dance, music, theater and the visual arts— over the course of 100+ performances and events spanning 17 projects at 31 unique sites across Lower Manhattan and Governors Island. The Festival also offers opportunities for audiences to interact with artists, socialize and experience multiple facets of artists' work and the creative process.
River to River 2017 will commemorate dance maven Trisha Brown. Photo © Marc Ginot.
River To River 2017 celebrates New York City's status as a cultural capital of the world and a crossroads for residents and visitors of diverse origins, traditions and perspectives. It embraces the values of an interdependent, global city in which all are welcome and encouraged to participate in the free exchange of ideas. This year, LMCC dedicates the Festival to the memories of two shining examples of such principles: Trisha Brown and David Rockefeller. Brown was a pioneering artist and choreographer whose influence on contemporary art and performance cannot be overstated. LMCC first presented Trisha Brown Dance Company in 2000 and worked closely with the company again from 2013–2016 on an exhibition and in the River To River Festival. Rockefeller was a co-founder of LMCC in 1973 with Flory Barnett and with support from Chase Manhattan Bank and NYSCA. Under his guidance, LMCC was born with the premise that "artists are pillars of resilience and inspiration and therefore are vital to New York City"—as was Rockefeller himself, a beloved LMCC colleague and trusted mentor. The organization would not be what it is today without these two resounding figures.
"River To River is a platform for diverse voices and untold stories," says LMCC President Andrew D. Hamingson. "The Festival explores Lower Manhattan and nearby Governors Island with forward-thinking, boundary-blurring artists across all disciplines to reveal both new and existing—but often overshadowed—contemporary narratives about the waterfront, the built environment and the past, present and future of our neighborhood. LMCC and the Festival are identifying and illuminating local, pressing artistic and social issues in the global context of New York City. With the Festival, we carry on an ever-important legacy of artists making work in and for the public sphere, particularly in Lower Manhattan, and we are committed to continuing to offer this free programming to all audiences!"

River To River 2017 presents multiple points of view exploring these ideals, including:
Kamau Ware's Black Gotham Experience in the Seaport District, a Festival-spanning interactive, visual storytelling project celebrating the impact of the African Diaspora on New York City, incorporating walking tours, graphic novels, art installations and a continuously programmed hub that will feature art, music, performances and events;
Joshua Frankel, Judd Greenstein, Will Rawls and Tracy K. Smith's multimedia opera about the battle between Robert Moses and Jane Jacobs, A MARVELOUS ORDER, presented as site-specific selections in the Fulton Center retail and transit hub where the dramatic 360-degree video screens will display Frankel's animations while singers and musicians perform live in the space;
Animation from A MARVELOUS ORDER takes over Times Square in May 2017.river
Kameelah Janan Rasheed's A Supple Perimeter at LMCC's Arts Center at Governors Island, a solo show focusing on Rasheed's research-based practice which spans installation, photography, performance, publications and printmaking, and engages with figurative and literal language to interrogate how we read, write, consume and distribute histories of Black folks. The exhibition will change over time, inviting audiences to both experience the evolution of the space in person and encounter a new installation upon multiple visits;
THE SET UP: ISLAND GHOST SLEEP PRINCESS TIME STORY SHOW, a new performance retrospective of Wally Cardona and Jennifer Lacey's six-year project made in collaboration with international master artists I Nyoman Catra (Balinese Topeng), Proeung Chhieng (Cambodian), Junko Fisher (Okinawan), Saya Lei (Mandalay-style, classical Burmese), Jean-Christophe Paré (French baroque), Heni Winahyuningsih (Javanese refined) and Kapila Venu (Indian Kutiyattam) and composers Jonathan Bepler, Reiko Fueting and Megan Schubert. Part reclamation and part reimagining, it gathers together seven dances, installation rooms of project memories and artifacts, public talks and special performances by master artist Heni Winahyuningsih;
En Garde Arts' world premiere site-specific theater, music and dance spectacle, HARBORED, co-commissioned by the by Lower Manhattan Cultural Council and Arts Brookfield for the Winter Garden at Brookfield Place, weaves together stories from the last two centuries of immigration in the U.S.—a stone's throw from Ellis Island and the Statue of Liberty. Written and directed by Jimmy Maize with music by Heather Christian sung by the Downtown Voices choir, a cast of 50+ performers tell the stories of twentieth-century author Willa Cather and her character Ántonia, Lewis and Clark pursuing their dream of the American West, and everyday citizens who came through Ellis Island. Immigration stories will also be gathered each day from passersby at Brookfield Place and integrated into the script that evening;
The Dance Cartel. Photo © Maddy Talias.
R2R Living Rooms by The Dance Cartel at Pier A Harbor House, featuring performances by the Cartel and special guests, plus DJ sets, dance parties and opportunities for River To River audiences and artists to come together and socialize;
Acclaimed composer and trumpeter Amir ElSaffar and his Rivers of Sound orchestra in the Plaza at 28 Liberty, bringing together 17 musicians from a broad range of traditions and incorporating elements of maqam modal music of the Middle East with jazz and other contemporary musical practices for a concert celebrating the release of their album Not Two with New Amsterdam Presents;
A broad range of both new and recent dance pieces—in unexpected locations—from a host of notable choreographers and dancers: Faye Driscoll, Marjani Forté-Saunders, Beth Gill, Maria Hassabi, Jodi Melnickand Netta Yerushalmy;
Plus, Open Studios with LMCC artists-in-residence in the Arts Center at Governors Island, part of LMCC's ongoing effort to provide "behind the scenes" access to artists and the creative process.
Maria Hassabi's PREMIERE at Bowling Green, R2R 2014. Photo © Darial Sneed.
River To River seeks to provide world-class free summer entertainment and to inspire residents, workers and visitors in the neighborhoods south of Chambers Street and at Governors Island by connecting them to the best of the arts, the creative process, unique places and each other. For audiences of one to crowds of thousands, River To River provides an intense and rewarding way to experience and discover Lower Manhattan and Governors Island's waterfronts, parks, plazas and history.
Much more than just a series of free events, River To River also serves as a platform for the arts sector in both nurturing new ideas and extending the life of existing work by inviting artists to create new site-specific works as well as site-responsive versions of premiere performances. The spectrum of work presented represents all stages of the creative process and audiences are encouraged to get closer to artists and their practices through open studios, artist talks and social events.
"At LMCC, we are committed to providing space, time and other resources for artists to develop their overall creative practices and nurture specific projects in the heart of New York City," says Melissa Levin, Vice President, Cultural Programs. "Many of the artists in the 2017 River To River Festival have started or developed their presented projects in one of LMCC's artist residency or artist empowerment programs. In these programs, artists are constantly and necessarily experimenting, redefining and advancing artistic forms. It is nothing short of thrilling to see these beautiful, complex projects unfold over time and then to see artists' visions realized in the Festival where audiences can experience the profundity and exuberance of their explorations of form, content, and site."