6 Dance Events To Attend in Conjunction with Pride Month 2019!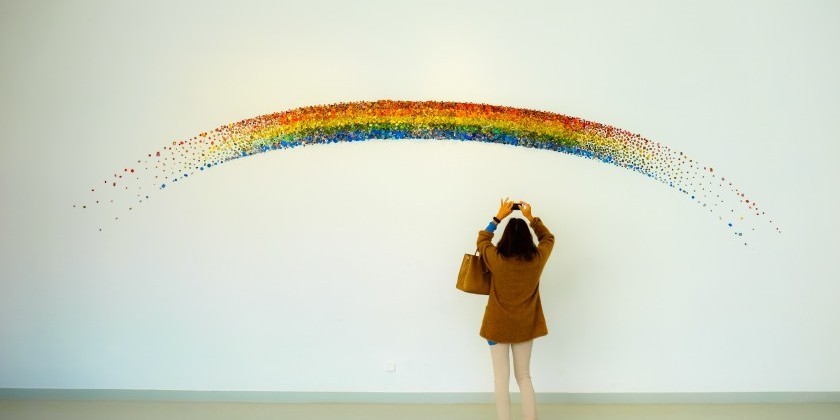 [Film Screening]
OUT ON FILM!
Where: BAAD! The Bronx Academy of Arts and Dance, 2474 Westchester Ave, The Bronx, NY
When: Sunday, June 9, 2019 @ 7pm
Tickets: http://www.baadbronx.org/out-like-that--2019.html
OUT LIKE THAT, the Bronx's only LGBTQ performing arts festival, includes a free indoor screening of LGBTQ-themed dance films. Catch thought-provoking and sexy/sensual dance films curated by Shawn Bible and Marty Buhler by the Dance Films Association in collaboration with BAAD's own Arthur Aviles and Joseph Hall. Audiences will also get to meet and greet filmmakers including the inimitable Marta Renzi during a screening of "Red Dirt."
---
[Historical Drag Musical]
13 FRUITCAKES by Byungkoo Ahn
Where: Ellen Stewart Theater, 66 E. 4 St. Manhattan, NY
When: Thursday-Saturday, June 13-15, 2019 @ 7pm; Sunday, June 16, 2019 @ 3pm
Tickets: http://lamama.org/13_fruitcakes/

'MOre' Zimin from 13 Fruitcakes. Photo by: Ki Seok Cho.
Presented as part of La MaMa's Stonewall 50 Celebration, 13 Fruitcakes is a series of 13 staged musical vignettes about 13 significant LGBTQ figures that influence humanity, whether it was through the arts, politics, philosophy, or science. Picture the lives of Harmodius and Aristogeiton, Dong Xian (董賢), King Hyegong, Leonardo da Vinci, Hans Christian Andersen, Pyotr Ilyich Tchaikovsky, Gertrude Stein, Virginia Woolf, Alan Turing, Frida Kahlo, Josephine Baker and Eleanor Roosevelt staged to a beautiful song cycle inspired by poems by queer poets such as Wilde, Mew, Whitman, Rimbaud and Lorca. The production features the Singing Actors Repertory Company from Korea, Los Angeles Lap Top Collective directed by Martin Herman, and 'MOre' Zimin, one of the most important pioneers of Korean drag performance.
---
[Contemporary Dance]
Labyrinth Dance Theater presents Come Back Once More So I Can Say Goodbye
Where: The Alvin Ailey Citigroup Theater, 405 W 55th St, New York, NY
When: Friday-Saturday, June 14-15, 2019 @ 8pm; Sunday-Monday, June 16-17, 2019 @ 7pm
Tickets: http://www.labyrinthdancetheater.org/
Photo © Labyrinth Dance Theater, Sasha Spielvogel, Artistic Director.
Come Back Once More So I Can Say Goodbye, an evening-length theatrical dance concert, is Artistic Director Sasha Spielvogel's landmark piece that tells the story of the gay community in New York City from 1965-1995: from the early Gay Rights Movement to the uprising at Stonewall. Come Back Once More reflects the historic resilience, compassion and heart of the LGBTQ community.
*Proceeds from the performances will benefit the Ali Forney Center, Broadway Cares/Equity Fights AIDS, GMHC and Live Out Loud.
---
[Day-Long Performance Party]
PRIDE 2019: The House Party - Celebrating The 50th Anniversary of Stonewall
Where: 219 W 19th St, New York, NY
When: Sunday, June 30, 2019 @ 2pm
Tickets: https://newyorklivearts.org/event/live-arts-pride-2019/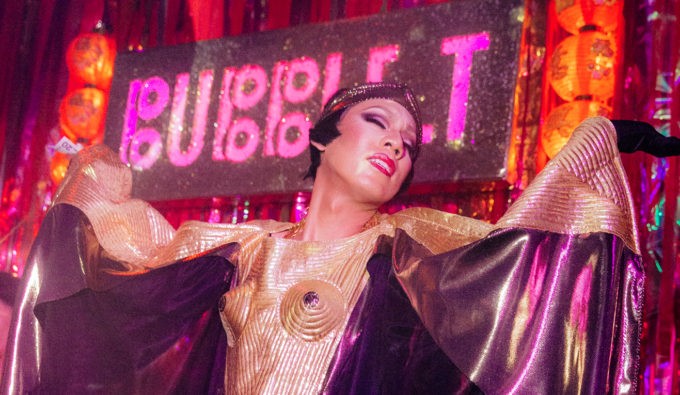 Bubble_T. Photo by Minu Han.
New York Live Arts' day-long performance party features the Legendary House of LaBeija, the oldest and most revered house in New York's drag and ballroom scene, queer Carribean collective RAGGA, and inclusive artist collectives Bubble_T, Papi Juice, and Switch n' Play. The Live Arts lobby will transform into a queer marketplace featuring local artists and designers. Brooklyn drag queen Ragamuffin will host POZLUCK, a potluck social for queer people living with HIV. Stay for complimentary drinks graciously provided by Tito's Handmade Vodka!
*Dedicated to the late Arnie Zane, a portion of all ticket sales is donated to Callen-Lorde Community Health Center, the global leader in LGBTQ healthcare.
---
[Dance Workshop]
"Love is Love" Cardio Dance Party with Matthew Johnson Harris at The Ailey Extension
Where: The Joan Weill Center for Dance, 405 W 55th Street, New York, NY
When: Saturday, June 15, 2019 @ 12:30pm
Tickets: www.aileyextension.com/classes/love-love-dance-cardio-party-matthew-johnson-harris
Photo by Kyle Froman.
The gay liberation movement started exactly 50 years ago in New York City at Stonewall. Celebrate by dancing to music by the biggest Gay Pop Icons from the past 50 Years, escalating from the 1960s to the 2000s. Feel free to dress up and represent your favorite era! Beginners with absolutely no dance experience are welcome! Get your heart rate up by switching from dynamic to slow controlled movements. So get ready to pop, lock, and tone up!
*Workshop fee includes an Ailey Extension Souvenir and free class giveaway.
---
[Dance Workshop]
All Styles Vogue Workshop with Cesar Valentino at The Ailey Extension
Where: The Joan Weill Center for Dance, 405 W 55th Street, New York, NY
When: Saturday, June 22, 2019 @ 5pm
Tickets: https://www.aileyextension.com/classes/all-style-vogue-workshop-cesar-valentino
Photo by Kyle Froman.
 
Vogue icon Cesar Valentino will lead an all-level workshop that will get you popping, dipping, and spinning with grace and precision. After a jazz warm-up, participants will strut their stuff and learn the fundamentals of runway modeling. A Mini Ball allows students to put their new skills to the test. Ball categories include: Best Vogue Performance, Best Runway Performance, and Best Dancewear, and winners will receive trophies and other prizes exclusively designed by Cesar Valentino! So slip into your heels, don your pride colors, and hit the dance floor to become your most confident, fabulous self in this inclusive workshop!
---
The Dance Enthusiast Shares News From The Dance World And Creates Conversation!
For more FROM THE PRESS pieces, click here.
If you have important news to share, please send an announcement or press release to info@dance-enthusiast.com!