8 Dance Events Happening This Summer 2019!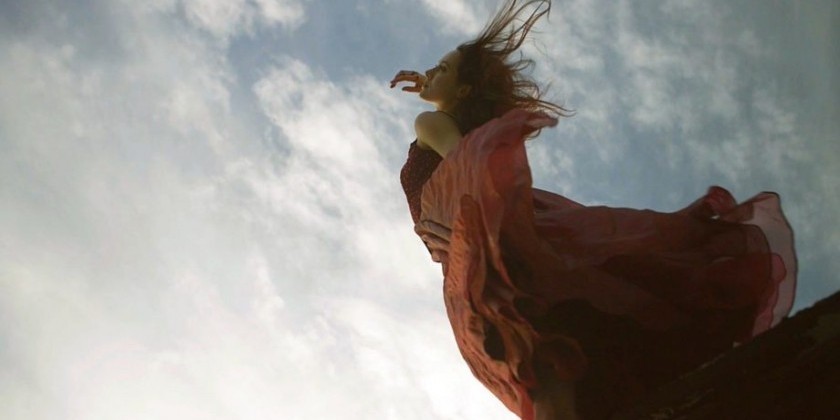 "Grace" and "Mercy"
Who: Evidence: A Dance Company
Where: Bard SummerScape @ Fisher Center on Bard College's Hudson River campus
When: Friday-Sunday, July 5-7
Tickets: https://fishercenter.bard.edu/events/grace-and-mercy/
This electrifying double bill, from choreographer Ronald K. Brown and a host of world-class musicians, includes the premiere of Mercy, with soul-and-rock legend Meshell Ndegeocello performing her specially commissioned score for the first time. The program also features a newly conceived, 20th-anniversary presentation of Brown's soulful masterpiece Grace, originally created in 1999 for the Alvin Ailey American Dance Theater. Mixing modern and West African dance idioms to depict a spiritual journey to the promised land, Grace is presented for the first time with entirely live music, including performances by R&B virtuoso Peven Everett.
---
SummerFest 2019 at Triskelion Arts!
Who: Jessica Gaynor Dance, Hannah Wendel - The Warrior Poets, Olivia Picard, MATHETA Danc3, Talia Putrino, Dorchel Haqq, Laurel Snyder, Amanda Edwards, Holly Ledbetter, Maggie McBrien, Sarazina Stein + Emily LaRochelle, Patricia Suarez, Bailey Anglin, caroline ayn zoë nelson, DEPTH DANCE, Dale Ratcliff, Brit-Chardé Sellers, Hannah Weber, Suzie Rzecznik, Trina Mannino, Mallory Galarz, Sung-Eun Cho, Polly Jacobs, Stephanie Saywell, Dava Huesca
Where: Muriel Schulman Theater, Triskelion Arts, New York, NY
When: Every Wednesday, July 10, 17, 24, 31
Tickets: https://www.eventbrite.com/e/summerfest-july-2019-at-triskelion-arts-tickets-62873522398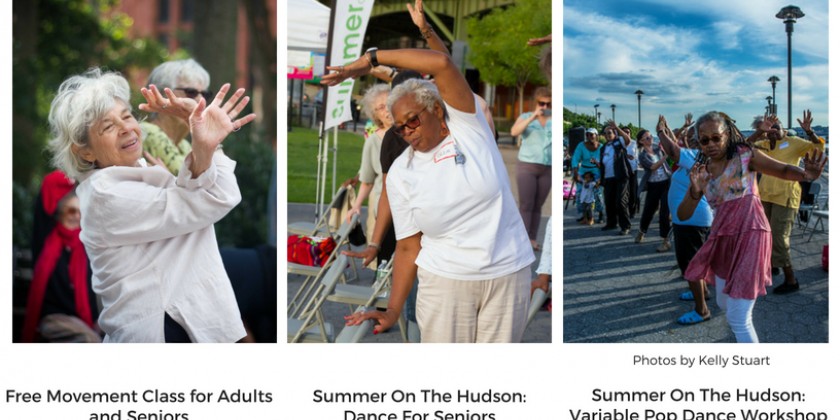 Suzie Rzecznik. Photo by Mallory Pettee.
SummerFest is a series of mixed-bill performances highlighting contemporary performance works. This year has been curated by our friends and fellow art organizations: The Craft, Dance in Bushwick, and Hannah Wendel. Each bringing a unique perspective to the Fest. Join for the performances and then chat with the artists post-show in our lovely courtyards.
---
The 47th Dance on Camera 2019 Festival
Who: Dance Films Association and Film at Lincoln Center
Where: All screenings held at the Walter Reade Theater (165 West 65th Street) unless otherwise noted
When: Friday-Monday, July 12-15
Tickets: https://www.filmlinc.org/daily/lineup-announced-for-47th-edition-of-dance-on-camera-festival/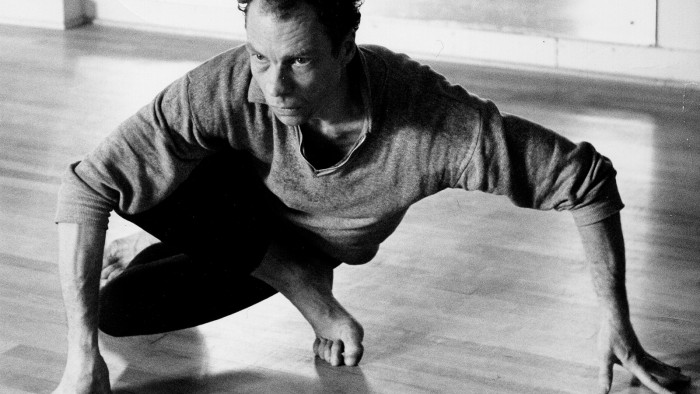 With Merce. Photograph by Vytas Valaitis.
Film at Lincoln Center and Dance Films Association announce the 47th edition of the Dance on Camera Festival, July 12-15. With an inspiring selection of films that explore dance from a variety of perspectives, the festival offers groundbreaking dance adventures along with honoring classic interpretation. From dancing off a rocky cliff in Greenland, to the stories from India and Spain presenting dance fashioning destiny and healing, these films bear witness to its power to ignite humanity.
---
TAP CITY, The NYC Tap Festival
Who: American Tap Dance Foundation
Where: Various locations
When: July 6-12
Tickets: https://atdf.org/
Tap Treasures 2016 at the Apollo, onstage doing the Coles Stroll. Photo by Wallace Flores.
Tap dance workshops, performances and special events herald the return of the American Tap Dance Foundation's Tap City, the NYC Tap Festival, the week long tap dance festival celebrating its 19th year in tap's hometown, New York City. The 2019 festival week, Saturday, July 6 through Friday July 12, will feature Tap Treasures, a walking tour of the Broadway Theater District and Radio City Music Hall; Tap Ellington, a tribute to the jazz legend and his contribution to the art of tap dance; Rhythm in Motion, a boundary breaking take on tap by NYC's finest tappers & choreographers; the ATDF Tap Dance Awards and a Tap City cruise around Manhattan with a live band and tap jam performances. *Full lineup here.
---
The 38th Battery Dance Festival
Who: Ashlé Dawson-Breaking Conformity Productions, Ballet Boy Productions, Battery Dance, B-E (Lithuania), Buglisi Dance Theatre, Emma Evelien Dance (Netherlands), Escuela de Danza IMA (Paraguay), Jon Ole Olstad, Keerati Jinakunwiphat // DIVE, Konverjdans, Laboration Art Company (France), Leah Barsky and Cristian Correa (Argentina), Mari Meade Dance Collective / MMDC, Mathetha Dance, Music from the Sole, SEAD's Bodhi Project (Austria), Socharart Ensemble (Ghana), Vanaver Caravan, Water Street Dance Milwaukee, YYDC
Where: Robert F. Wagner, Jr. Park in Battery Park City, New York, NY
When: August 11-17, 2019
Tickets: http://batterydance.org/battery-dance-festival/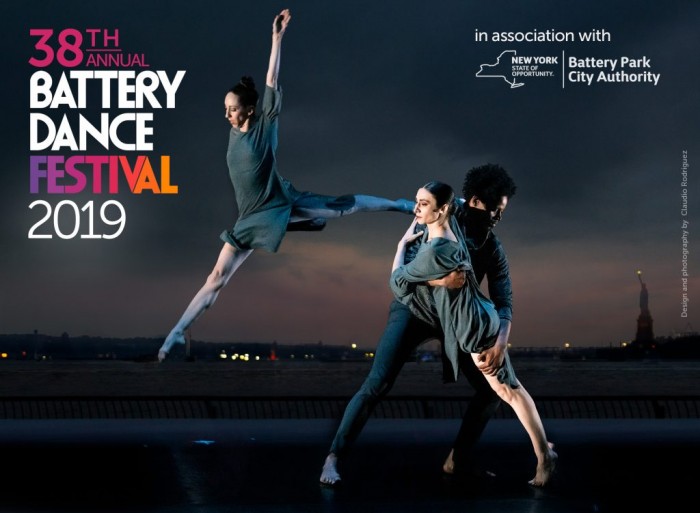 Battery Dance, in association with Battery Park City Authority, announces the 38th Annual Battery Dance Festival with free performances against the backdrop of New York Harbor at Robert F. Wagner, Jr. Park in Battery Park City. NYC's longest-running free public dance festival attracts a combined audience of over 12,000 people. The Battery Dance Festival provides a unique opportunity for established and emerging dance companies to present original works of high artistic merit in a free public forum. American choreographers such as Robert Battle, Michelle Dorrance and Jacqulyn Buglisi have all presented their works alongside pre-eminent companies from Asia, Europe, South America, Africa and the Caribbean.
---
The 87th Jacob's Pillow Festival
Who: Jacob's Pillow
Where: 358 George Carter Road, Becket, MA
When: June 19-August 25
Tickets: https://www.jacobspillow.org/festival/
Following the record-breaking Festival 2018, Jacob's Pillow gears up for its 87th consecutive summer. Festival 2019 highlights include world premieres, new commissions, anniversary celebrations, Pillow-exclusive engagements, U.S. debuts, work developed at the Pillow Lab, and international artists from Cuba, Australia, France, and Canada. Check out the season calendar here and grab your tickets!
---
Clark Center NYC's 60th Anniversary
Who: Clark Center for the Performing Arts
Where: Various locations
When: August 14-October 16
Tickets: http://www.clarkcenternyc.org/
Clark Center NYC presents a series of events celebrating the 60th anniversary of the initial founding of the Clark Center for the Performing Arts. For 30 years Clark Center trained dancers, encouraged emerging companies, provided opportunities for dancers of color and identified and developed new choreographic talent under the inspired leadership of Louise Roberts and Kathy Grant. Sadly, the center became the victim of gentrification and was forced to officially close its doors in 1989. Clark Center NYC, now a 501c3 nonprofit, was created in 2013 by a handful of dancers to preserve the history and legacy of the beloved Center.
---
The 2019 DANCE NOW Festival
Who: The Bang Group, Sarah Chien, Brendan Drake, Melanie Greene, LajaMartin, Loni Landon Dance Project, Tiffany Mills Company, Dmitri Peskov, Alice Sheppard, Amber Sloan, BAIRA, Adam Barruch, Isa&Eila, Sara Juli, LMnO3, Claire Porter / PORTABLES, Ruckus Dance, Yoshito Sakuraba / Abarukas, Gus Solomons jr, Maleek Washington, Kimberly Bartosik / daela, binbinFactory / Satoshi Haga & Rie Fukuzawa, Blue Wyatt Project, Doug Elkins, Orlando Hernández, TAKE Dance, Tiny Trip, Kate Weare Company, Nicole Wolcott, Tsiambwom M. Akuchu, HUMA, Cleo Mack, The People Movers x The RAD Lab, Joshua L. Peugh, Subject: Matter, Caleb Teicher & Company, Nicole Vaughan-Diaz, Megan Williams Dance Projects, Zvi Dance
Where: Joe's Pub, 425 Lafayette Street (between East 4th Street and Astor Place), New York, NY
When: September 4–7
Tickets: https://joespub.com/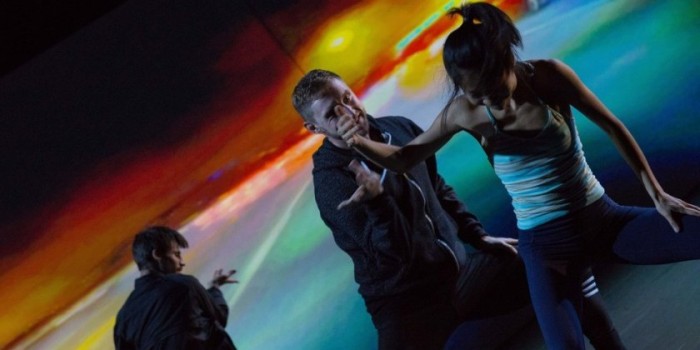 Photo credit: ZviDance
Acclaimed for its signature short-takes format, the DANCE NOW Festival presents a diverse range of works from some of today's most innovative and dynamic dance makers. The 24th season of this lively fall festival will feature 40 emerging and established choreographers, including DANCE NOW veterans and festival newcomers. Every show features Emcee TruDee (aka Deborah Lohse). 
---
The Dance Enthusiast Shares News From The Dance World And Creates Conversation!
For more FROM THE PRESS pieces, click here.
If you have important news to share, please send an announcement or press release to info@dance-enthusiast.com!