Related Features
Contribute
Your support helps us cover dance in New York City and beyond! Donate now.
A Holiday Gift Guide For Dance Enthusiasts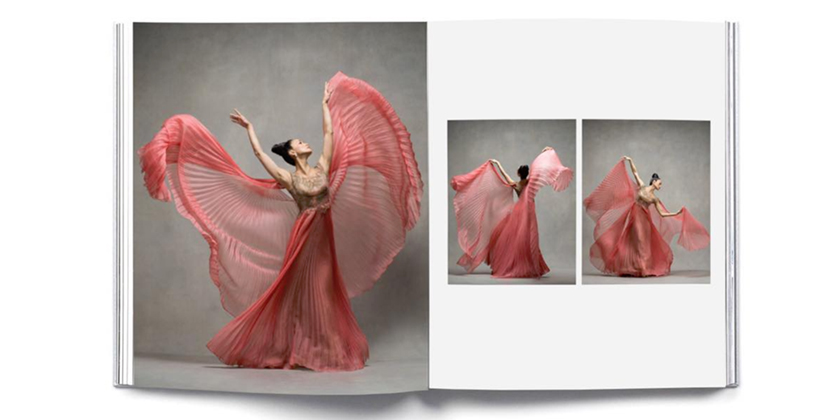 For Young Dancers
Front cover of Bomba Puertorriqueña.
Bomba Puertorriqueña, The First Bilingual (Spanish & English) Bomba Children's Book
This colorful book chronicles the history of Puerto Rico's oldest musical & dance genre. Originally danced by the enslaved people of color at sugar cane and coffee plantations along the coast in the 7th century, Bomba is song, drum and dance passed down through generations of black families like the Ayalas in Loiza, the Cepedas in Santurce and the Albizu from Ponce. Today Bomba has resurged with a growing interest of connecting to Puerto Rico's African ancestry. "This book is for all generations, to maintain our cultural history told by us for future generations," says author Milteri Tucker Concepcion, also founder of Bombazo Dance Co, Inc., a nonprofit organization preserving, educating, advocating and performing Bomba Puertorriquena. The book for children ages 2 and up was illustrated by Mia Roman, an internationally recognized mixed media artist, curator, and arts facilitator whose work (spiritual & cultural) has been exhibited throughout the U.S. Find out more.
For The Bright & Bushy-Tailed Dance Student
 
Front cover of A Life in Dance by Rebecca Stenn and Fran Kirmser.
A Life In Dance: A Practical Guide
This practical guide is a must-have resource for dancers. The first half of the book delivers informative and personal narratives from approximately 40 dancers from all generations and genres including Concert Dance, Broadway, Film, and Television. The second half offers a resource guide for dancers including outlets that can help answer questions and provide direction for: Financial Planning; Studio Space Rentals; Auditions and Classes; Funding Resources; Student Loan Debt; Legal Advice; Health Insurance; Self Care; and much more. Learn more.
For Fashionistas, Foodies & Fans Of Interior Design
 
Photo credit: FAD Market
Stocking-Fillers Such As Jewelry, Snacks & More
FAD Market is bringing the holiday spirit to The Invisible Dog Art Center this December with its festive holiday markets on December 14-15.  Expect a rotating roster of over 50 of the region's most talented makers, designers and artisanal food brands offering a highly curated selection of impeccably crafted jewelry, apparel, bath and body care, tableware, handmade food items, home furnishings and more. Swing by from 11am until 5pm on both days. Further details.
Happy Holidays! Yo Ho Ho and a Barrel of Rumba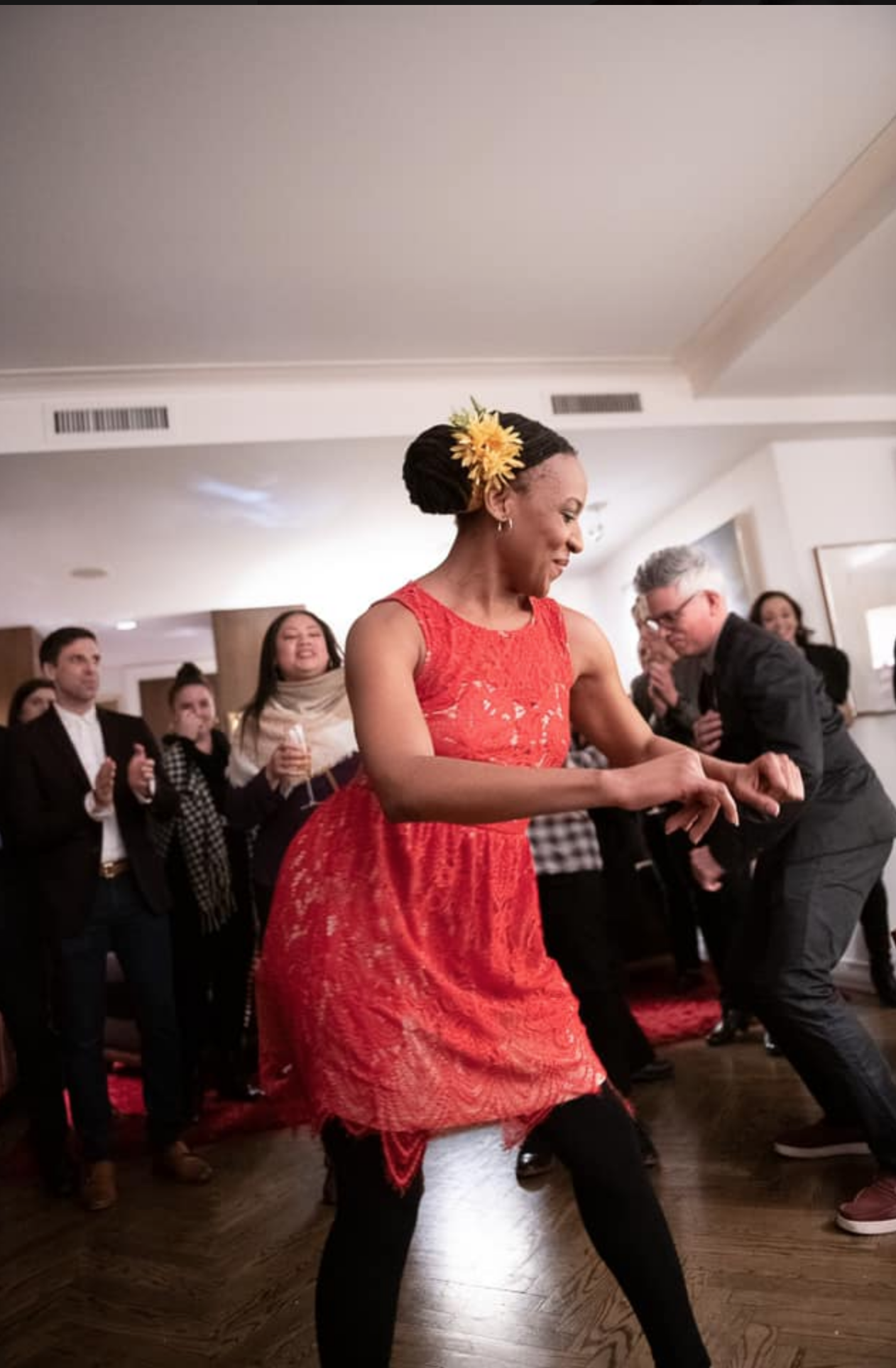 Beatrice Capote mid-Rumba
Rumba with Beatrice Capote
In this fundamental 4 week training session, students will be developing movement language with Rhythm Analysis, Individuality, Communication & Expression. We will be focusing on the coordination of torso, hips, shoulders, and basic Cuban Rumba steps. Each week, the level increases.
FIRST CLASS: Dec.14th 2-3pm at Ripley Grier Studios!!
4 Full weeks: $100
2 Full week: $50
Drop-Ins: $30
Info at :  https://facebook.com/events/546964836145232/?ti=ia
For the Lover of Gems, Earrings, Necklaces, and Magic
Photo by Annmaria Mazzini
Dancing Amulets created by the incredible dancer/choreographer, Annmaria Mazzini
 Dancing Amulets are meant to connect you to your spirit and passion, to evoke euphoric feelings, and to create an atmosphere of magic in every room you inhabit.
They are spellcrafted gemstone jewels, made by hand, enchanted with magical intention.
Each Dancing Amulet comes in a one of a kind spellbound and papercrafted box, ready for gifting, along with a parchment detailing its magical properties.
Dance Enthusiast readers are welcome to use DANCE15 code at checkout for 15% off through December 31.
For more styles www.DANCINGAMULETS.com
Custom made amulets, created with stones and colors to empower your special intention, are also available.
For Dance Enthusiasts Who Can't Make the Live Performance ...
Paris Opera Ballet in Swan Lake: Photo Courtesy of MarqueeTV
Looking for bespoke gift ideas for dance, theater, and opera fans who can't make a performance?
Marquee TV is an on-demand streaming platform for performing arts, featuring the best of Dance, Opera and Theatre and guaranteeing the best seats in the house, every time across every screen. Featuring the hand-selected catalogue of world-class beautiful, challenging and provocative performances  - a subscription to Marquee TV is the perfect gift for the arts-curious audience and it can be purchased and scheduled simply, through the "Gift Cards" option on the Marquee TV website. 
For Fans Of Dance Photography
this is a photo credit
The Style of Movement: Fashion and Dance by NYC Dance Project
This 304 page photography book celebrates the relationship between fashion and dance by featuring the world's top dancers in stunning couture (current and vintage) by the world's top designers. Over 60 dancers including Misty Copeland, Gillian Murphy, and Daniil Simkin are photographed in clothing by Oscar de la Renta, Issey Miyake, Dior, Iris Van Herpen, and more. Mr. Valentino himself wrote the foreword and New York City Ballet Principal Tiler Peck is featured in one of his vintage dresses on the cover. This book is the sequel to NYC Dance Project's first book The Art of Movement, and both books have won an International Photography Award. Get your hands on it.
For Fans Of Man's Best Friend
2020 Calendar by Dancers & Dogs.
Dancers & Dogs, A Hardcover Book & 2020 Calendar
Remember our interview with Kelly Pratt and Ian Kreidich, the dynamic duo behind the widely loved project Dancers & Dogs? The last time we spoke to them, a coffeetable book was still in the works, but it's now available—just in time for Christmas! The final hardcover book contains over 200 pages of photographs, their favorite behind-the-scenes stories, and some of the featured dancers and dogs. A portion of the book's proceeds will go to Stray Rescue, a St. Louis based non-profit that is currently at capacity and is eager to find homes for loving pets ahead of the holiday season. That's not all: Dancers & Dogs has also released high-quality 2020 calendars, which make great additions to one's home, office, or dance studio! Get yours now.
For Dance Enthusiasts With An Artistic Hand
 

Wreath Workshop with Fleur Elise Bkln
Fleur Elise Bkln is hosting a special workshop at SAM! If you're interested in creating a one-of-a-kind wreath for the holiday season, this class is for you. You too can have a beautiful, not-your-usual holiday wreath AND become a happy wreath maker. Customize a wreath with a little pizzazz that also smells amazing and reflects your unique style. This class takes place at The Invisible Dog in Brooklyn on two dates: December 15 & 22 at 3pm. More info.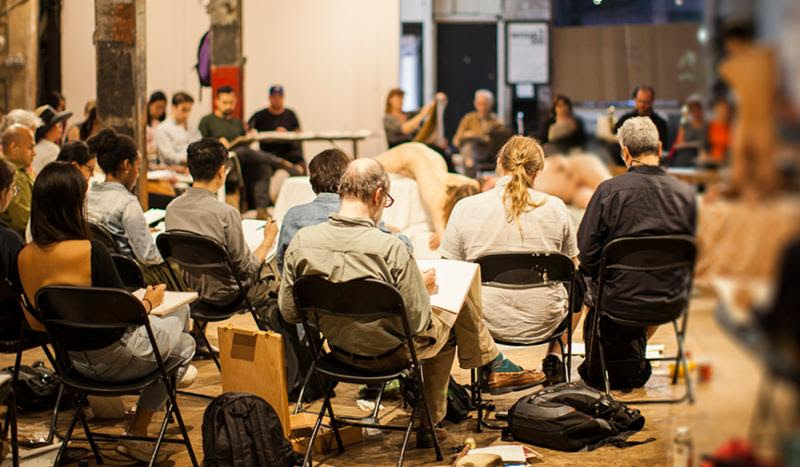 Photo credit: The Invisible Dog
Figure Drawing Workshop With Live Model
This figure drawing workshop with a live model is suitable for both seasoned and amateur artists. Sign a friend up or accompany him/her on Tuesday, December 17 at 7pm. Participants are expected to bring their own drawing board, paper, charcoal, and/or other art supplies. Chairs will also be provided. Find out more.
---
The Dance Enthusiast Shares news from the dance world and creates conversation.
For more Dance News pieces, click here.
If you have important news to share, please send announcements or press release to info@dance-enthusiast.com!
---
The Dance Enthusiast - News, Reviews, Interviews and an Open Invitation for YOU to join the Dance Conversation.