"Bare Feet with Mickela Mallozzi" Wins Third NY Emmy® Award
Stay Tuned in July as Season Two of The Popular Travel Dance Series On National Public Television Highlights NYC's Ethnic Neighborhoods
New York Emmy® Award-winning travel dance series Bare Feet with Mickela Mallozzi received its third NY Emmy® win for Best Entertainment Program/Special for the "Bright Lights of Broadway" episode – this is in anticipation of the release of Season 2 of the series, Bare Feet in NYC with Mickela Mallozzi, on national public television this July.  
The show follows executive producer, dancer, and host Mickela Mallozzi as she highlights the ethnic neighborhoods of New York City, discovering the dance and music traditions of local New Yorkers in Mallozzi's own adoptive city.  Bare Feet in NYC with Mickela Mallozzi is an official co-production with NYC Media, which is part of the NYC Mayor's Office of Media and Entertainment.
In the Bare Feet in NYC season 2 premiere, Mallozzi heads to Manhattan's Chinatown to dig deeper into one of New York's oldest and most iconic ethnic neighborhoods.  In preparation for the Chinese Lunar New Year celebrations, Mallozzi learns the sacred lion dance, along with getting a taste of the various martial arts and classical music offerings in the neighborhood.  

"I love to travel the world," says Mallozzi, "but for this new season, I want to show how easy it is to get a taste of the world's cultures in all five boroughs of New York City."  She adds, "New York is my home, and our city's diversity is one of our greatest assets."  Mallozzi herself comes from a family of immigrants, and her goal with Bare Feet Season 2 is to share similar American immigrant stories through the presentation and preservation of these culturally diverse dance forms and styles. "I really want that to shine in Bare Feet in NYC!" says Mallozzi.
Highlights of Mallozzi's dance encounters from the upcoming 13 episodes in the new season include:
Dancing the Kolo with Opancici, the Serbian folklore dance group in Ridgewood, Queens.
Learning the basic rhythms of samba from Brazilian dancer, Quenia Ribeiro.
Joining cross-generational Bolivian family members dance the Tinkus in the Fraternidad Cultural Incallajta NY folklore group in Queens.
Jumping on stage in Broadway's CHICAGO (2017 NY Emmy®-winning episode).
Trying some improvisational tap dancing with Harlem tap legend, Jason Samuels-Smith.
Celebrating Indian traditions at South Street Seaport's Deepawali Festival.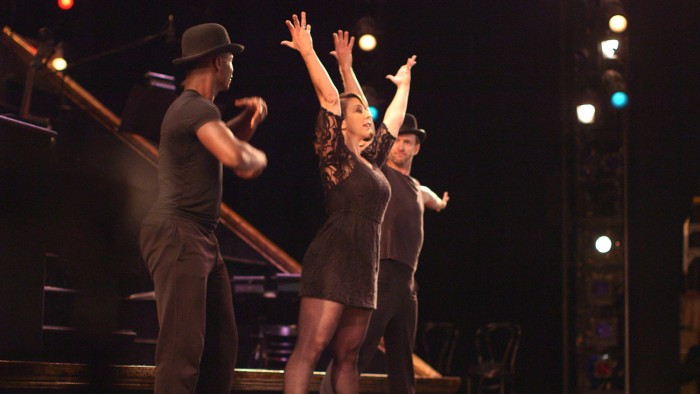 Mickela jumps on stage with cast members of CHICAGO The Musical.

Bare Feet in NYC with Mickela Mallozzi is co-produced by Sauce & Liver Productions, LLC and NYC Media; presented by Nashville Public Television (NPT) and distributed to public television stations by American Public Television (APT).  Critically acclaimed filmmaker, Lina Plioplyte, is the Director of Photography for all 13 episodes of Bare Feet in NYC.  Underwriting is provided in part by TodayTIX; the executive producer/creator of the series is Mickela Mallozzi.
---
The Dance Enthusiast Shares News From The Dance World And Creates Conversation!
If you have important news  to share, please send an announcement or press release to info@dance-enthusiast.com!