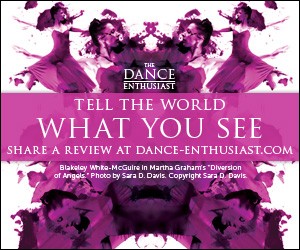 Related Features
DANCE NEWS: Be Part of MIT Music and Theater Arts' COLLISION SHOP aka THE POSSIBILITY OF JOY, Facilitated by Dan Safer
A crowdsourced virtual performance geared toward connecting people all over the world — enter through April 24
Massachusetts Institute of Technology (MIT) Music and Theater Arts (MTA) presents the Spring Theater Arts production of COLLISION SHOP – an online multimedia exhibit capturing the human beings on the planet right now. Brought to life by a diverse multidisciplinary team of students and professionals and facilitated by New York dance artist and MIT lecturer Dan Safer, the production emerged in response to a call for intimate video self-portraits and is a meditation on the need for human connection and search for joy.
The initial submission round has been extended thru April 24, with rolling submissions still highly encouraged thereafter – for instructions, click here. The final show, scored and edited by the lead artists, will be available for viewing free-of-charge at collisionshop.org, starting May 4, 2021. Live on-site projections to follow May 4–11, 2021 on MIT's campus (Cambridge, MA); The  Invisible Dog (Brooklyn, NY); Art Lords Gallery (Kabul, Afghanistan); Art Spaces-Dance (Katowice, Poland) – with more venues to be announced.
Graphic courtesy COLLISION SHOP
An MIT Theater Arts Spring Production COLLISION SHOP is a globally-crowdsourced multidisciplinary online exhibit, open to performers and non-performers alike. Its goal is to bring joy to people by inviting them to both take part in it and watch it. This collaborative project is based on and driven by ideas contributed by a diverse 13-member group of MIT students from various fields (from artists through computer engineers and chemists to cognitive scientists) whose unique sensibility and understanding of the world brought a new perspective to this performance-based work. COLLISION SHOP emerged through a series of Zoom workshops in which the MIT team was joined by four attendees of The Norwegian Theater Academy and a renegade dancer from Poland who was under lockdown in London. The work was facilitated by dance artist and MIT lecturer Dan Safer, in collaboration with performer and storyteller Wil Petre and dramaturg Ogemdi Ude.
In March 2021, the collective sent out a set of audio instructions, asking people to document themselves performing an unconventional 6-minute performance. The voice on the recording encourages one to "show us what a CELEBRATION looks like," "find something very tiny," or simply "sit like a boss" – opening a possibility for the enjoyment of simple tasks. The resulting clips will be viewed side by side, allowing the audience to compare how different people interpreted the same instructions. Original scores by over 20 international composers, selected randomly for each playback, will ensure that the performance is never the same. Viewers will also be able to watch the clips in a "choose-your-own-adventure" style, selecting two or more videos and playing them simultaneously with the music score of their choice: for example, a clip by an amazing ballet dancer next to a 10-year-old child's, or a 60-year-old business executive in Dubai next to a college student in NYC, etc.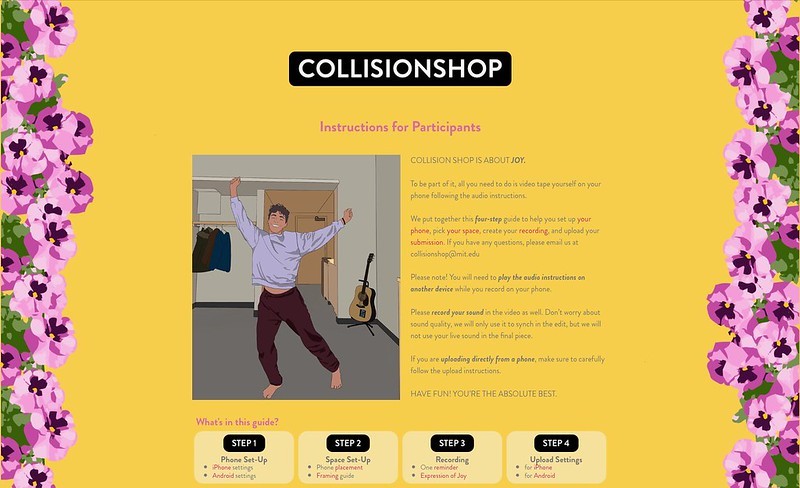 Graphic courtesy COLLISION SHOP
"As the pandemic destroyed the traditional ways of interaction and interpersonal communion, I began to ask myself: How do we make something that responds holistically to the moment we are in? To our current reality? This is when the concept of COLLISION SHOP was born. It had to be very different from a typical pre-pandemic work, extremely collaborative, open to the broadest possible group of participants and it had to play with and take advantage of the constraints imposed by the current state of affairs," says Dan Safer. "I brought this idea to the MIT students who have re-thought and re-imagined what a performance can be in response to the rapidly changing pandemic world. After fourteen months of isolation and displacement, everyone felt strongly that activating and connecting people makes more sense than doing another Zoom show. We wanted it to be funny and profound, spontaneous, accessible, and unpretentious but substantial. We open the virtual "stage" to those who rarely get to stand on it and this way, give the participants a reason to feel joy and connection. We invite them to reveal something personal and unique that will contribute to a broader understanding of where we are as people in this strange time," he further explains.
---
---
COLLISION SHOP is a collaborative project, produced and presented by MIT Music and Theater Arts, created by the cohort of students from the departments of Electrical Engineering and Computer Science (Elaheh Ahmadi, Cecilia Esterman, Kellie Everett, Victoria Longe, Pranav Murugan, and Shannen Wu), Brain And Cognitive Sciences (Daniel Estandian, Fiercé Tianyu Luo), Chemistry (Aniket Dehadrai, Madeline Holtz), Chemical Engineering (Mat Medina), Mechanical Engineering (Luisa Fernanda Apolaya Torres), Health Sciences and Technology (Claudia Varela), and Music and Theater Arts (Peter Tone). The international contributors came from Art Spaces-Dance, Poland: (Daniel Leżoń) and Norwegian Theater Academy (Albert Greve Rasmussen, Anna Rauhala, Clara Random, Karol Broski.) The production was facilitated by Dan Safer, with co-deviser Wil Petre and dramaturg Ogemdi Ude. The instructions soundtrack is by the award-winning composer Christian Frederickson. Aniket "Ani" Dehadrai is the Assistant Director. The production features design by Sara Brown and video installation design by Joshua Higgason. Video editing and the website design are by GLITCH | Attilio Rigotti and Orsi Szantho; WikiHow design by Tolu Akinbo. Miguel Flores is the Production Manager for the project. Presented in association with October Octopus.
---
The Dance Enthusiast Shares news from the dance world and creates conversation.
For more Dance News pieces, click here.
If you have important news to share, please send announcements or press release to info@dance-enthusiast.com!
---
The Dance Enthusiast - News, Reviews, Interviews and an Open Invitation for YOU to join the Dance Conversation.