#Getenthused for the Bessies at BAM! Congrats to the Nominees and Awardees This Year.
See You at The Bessies '16-October 18th, 7:30 PM at BAM's Howard Gilman Opera House
The NY Dance and Performance Awards, The Bessies, New York City's premier dance awards honoring outstanding creative work in the field, announced the nominees for the 2015−16 season at a press conference on July 13, 2016. The 38 nominees were selected by the Bessie Awards Selection Committee, an independent committee of 40 dance industry professionals. Produced in partnership with Dance/NYC, Bessie Award categories include Outstanding Production, Outstanding Revival, Outstanding Performer, Outstanding Music Composition or Sound Design, and Outstanding Visual Design. The list of nominations follows.
The 32nd annual Bessie Awards, presented in association with the Brooklyn Academy of Music, will take place on Tuesday, October 18, 2016, at 7:30pm, at BAM Howard Gilman Opera House. "After five glorious years at the Apollo, we are thrilled to be bringing the awards to BAM's historic opera house," says Lucy Sexton, Executive Director of the Bessies. "It is in some sense a homecoming—BAM hosted the awards from 1985 to 1990—and it is especially meaningful as Brooklyn is home to so many artists."
Pat Graney's Girl Gods, featuring Jody Kuehner, Sara Jinks, Sruti Desai, Jenny Peterson, Michelle de la Vega, and Cheryl Delostrinos, is a nominee for Outstanding Production.
Three 2016 awards were presented at the press conference. The Outstanding Emerging Choreographer Award was presented to Joya Powell for her passionate choreographic engagement with issues of justice and race in our communities and our country; for connecting with the audience in ways that make it clear that these concerns belong to all of us—and action is required. 
The award for Outstanding Revival was given to Rainbow 'Round My Shoulder, choreographed by Donald McKayle. Rainbow 'Round My Shoulder was recognized for giving a classic modern dance new and powerful life, transforming the midcentury portrayal of an African American prison chain gang into a searingly resonant cry for our current times, performed with humanity, craft, and beauty by the Dayton Contemporary Dance Company, produced by Paul Taylor's American Modern Dance as part of its 2016 season at the David H. Koch Theater.
The 2016 Bessie Nominations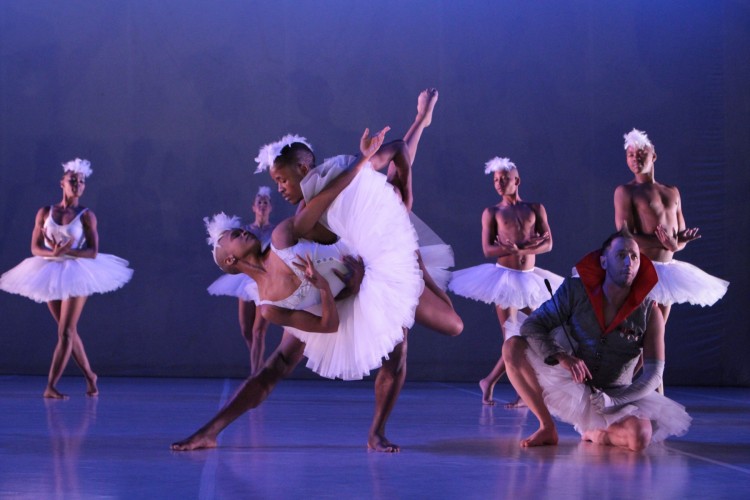 Dada Masilo's Swan Lake is a nominee for Outstanding Production. Photo by John Hogg.
Outstanding Production:
luciana achugar
An Epilogue for OTRO TEATRO: True Love
Gibney Dance: Agnes Varis Performing Arts Center
Souleymane Badolo
Yimbégré: Replanting roots in the name of freedom
BAM Fishman Space
Camille A. Brown
Black Girl: Linguistic Play
The Joyce Theater
Jack Ferver and Marc Swanson
Chambre
The New Museum co-presented by FIAF
Pat Graney
Girl Gods
Alexander Kasser Theater at Montclair State University
Maria Hassabi
PLASTIC
MoMA
Heather Kravas
dead, disappears
American Realness at Abrons Arts Center
Ralph Lemon
Scaffold Room
The Kitchen
Dada Masilo
Swan Lake
The Joyce Theater
Justin Peck
Heatscape
Miami City Ballet
David H. Koch Theater
Liz Santoro & Pierre Godard
For Claude Shannon
The Kitchen
Safi A. Thomas with H+ | The Hip-Hop Dance Conservatory
Sleeping Beauty
Flamboyán Theater
Dayton Contemporary Dance Company performing Donald McKayle's Rainbow 'Round My Shoulder during the Paul Taylor American Modern Dance 2016 Season. Photo by Paul B. Goode.
Outstanding Revival (* indicates award recipient):
get dancing
By Andy de Groat & Catherine Galasso
Danspace Project
Rainbow 'Round My Shoulder  *
Choreographed by Donald McKayle
Performed by Dayton Contemporary Dance Company
Produced by Paul Taylor American Modern Dance
David H. Koch Theater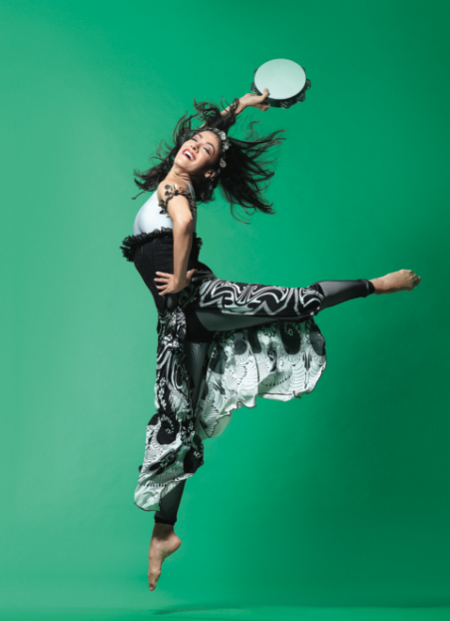 Parisa Knobdeh, a nominee for Outstanding Performer, in Paul Taylor's Also Playing. Costume by Santo Loquasto; photo by Matthew Karas.
 
Outstanding Performer:
Ephrat Asherie
Sustained Achievement with Dorrance Dance, Doug Elkins, Bill Irwin, Gus Solomon jr., Rennie Harris, Cori Olinghouse, and many others
Nicolas Bruder
In Custodians of Beauty by Pavel Zuštiak
New York Live Arts
Omar Edwards
In FLY
New Victory Theater
Paul Hamilton
For his body of work including Ralph Lemon's Scaffold Room and the work of Jane Comfort, Keeley Garfield, and others
Parisa Khobdeh
For her body of work with Paul Taylor Dance Company
Kazunori Kumagai
For his body of work including Live at the Blue Note Late Night Groove Series
Jennifer Lafferty
In Catacomb by Beth Gill
The Chocolate Factory
Molly Lieber
For her body of work with several artists including luciana achugar, Maria Hassabi, and Donna Uchizono
Aaron Mattocks
In Big Dance: Short Form by Big Dance Theater
The Kitchen
Gillian Murphy
Sustained Achievement with American Ballet Theatre
Aakash Odedra
In Rising 
Skirball Center for the Performing Arts
Jamar Roberts
Sustained Achievement with Alvin Ailey American Dance Theater
Joya Powell, Founding Artistic Director of Movement of the People Dance Company.
 
Outstanding Emerging Choreographer (* indicates award recipient):
John Heginbotham
Jillian Peña
Joya Powell *
Larissa Velez-Jackson
Outstanding Music Composition/Sound Design:
Admanda Kobilka
For Clap Hands by Jen Rosenblit
Invisible Dog Art Center / New York Live Arts
Jeremy Toussaint-Baptiste
For #negrophobia by Jaamil Olawale Kosoko | anonymous bodies
Gibney Dance: Agnes Varis Performing Arts Center
Dan Trueman, Sō Percussion, and Mobius Percussion
For There Might Be Others by Rebecca Lazier
New York Live Arts
Ustatshakirt Plus
For Dream'd in a Dream by Seán Curran
BAM Harvey Theater
 
Outstanding Visual Design:
Holly Batt
For the visual and set design of Girl Gods by Pat Graney
Alexander Kasser Theater at Montclair State University
Design Team: F. Randy deCelle, Ralph Lemon, Roderick Murray, Naoko Nagata, R. Eric Stone, Mike Taylor, and Philip White
For the visual design of Scaffold Room by Ralph Lemon
The Kitchen
DD Dorvillier and Thomas Dunn
For the lighting and visual design of Extra Shapes by DD Dorvillier
The Kitchen
Eamonn Farrell
For the new media scenography of Forgiveness by Emily Berry | B3W Performance Group
BMCC Tribeca Performing Arts Center