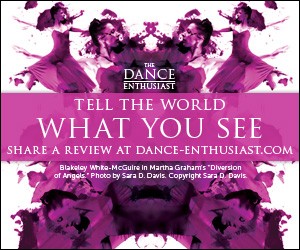 Related Features
The Bessie Awards Announce The 2015 Nominees and Winners of Emerging Choreographer and Juried Bessie Award
Get Ready, Get Set, #GetEnthused for The Bessies 2015
The New York Dance and Performance Awards (The Bessies), New York City's premier dance awards honoring outstanding creative work in the field,  announced the nominees for the 2014−15 season at its annual press conference on July 15th, 2015.
Thirty-seven nominees were selected by the Bessies Selection Committee, an independent committee of 39 dance industry professionals. Produced in partnership with Dance/NYC, Bessie Award categories include Outstanding Production, Outstanding Revival, Outstanding Performer, Outstanding Music Composition or Sound Design, and Outstanding Visual Design. The list of nominations follows.  
The 31st Annual Bessie Awards will take place on Monday, October 19, 2015, at 7:30pm, at the legendary Apollo Theater in New York City. The 2015 ceremony will mark the Bessie Awards' fifth year at this historic venue.
---
Two 2015 awards were presented at the press conference. The Outstanding Emerging Choreographer Award was presented to Storyboard P for fusing various styles of Hip-Hop with elements of modern and jazz dance, creating a cinematic choreographic vision for new dance narratives and abstract movement-based works. ( see Dance Enthusiast Article about Storyboard P)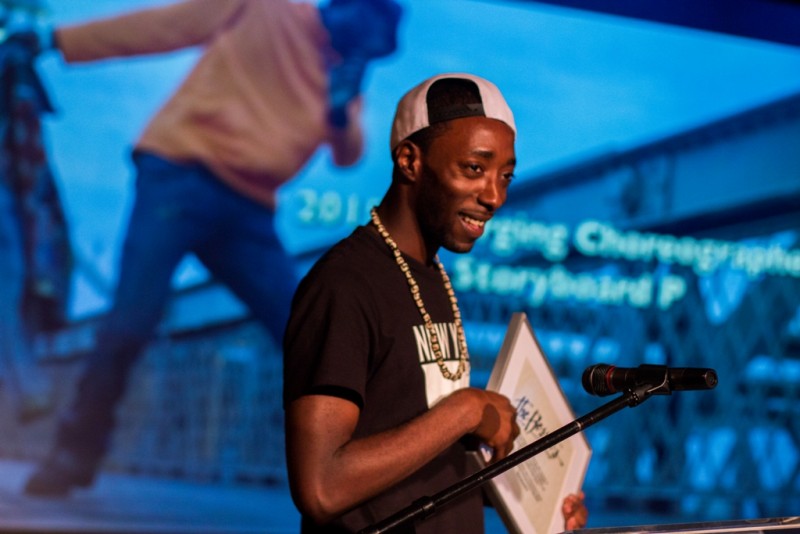 Storyboard P.  Winner of The Outstanding Emerging Choreographer Award at The 2015 Bessies Press Conference at Gibney Dance Center
All photos by Anna Kuzmina
This year's Bessies Jury—Susan Marshall, Shen Wei, and Reggie Wilson—named Pavel Zuštiak as the recipient of the 2015 Juried Bessie Award. Zuštiak was recognized for his poetic layering of movement and visual imagery, conceiving the stage space as a decentralized world in which the corporeal body is the focus and canvas for a wide range of human expression. (see Dance Enthusiast article re Pavel Zuštiak)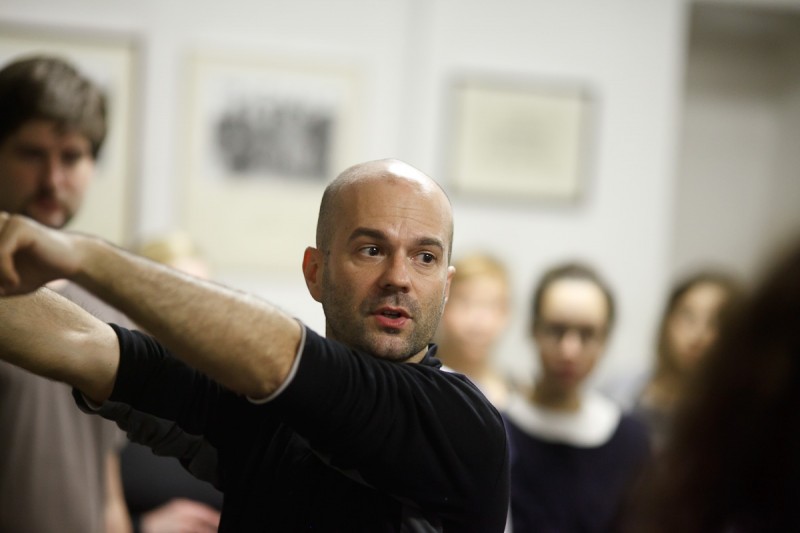 Pavel Zuštiak Recipient of the 2015 Juried Bessie Award; Photo Princeton University
The jury of three acclaimed choreographers, appointed each year by the Bessies Steering Committee, is responsible for choosing a choreographer who exhibits some of the most interesting and exciting ideas in dance in New York City today. The award provides the honored dance maker with touring and residency opportunities outside of New York City through a partnership with the New York State DanceForce, a statewide network of arts organizers and presenters.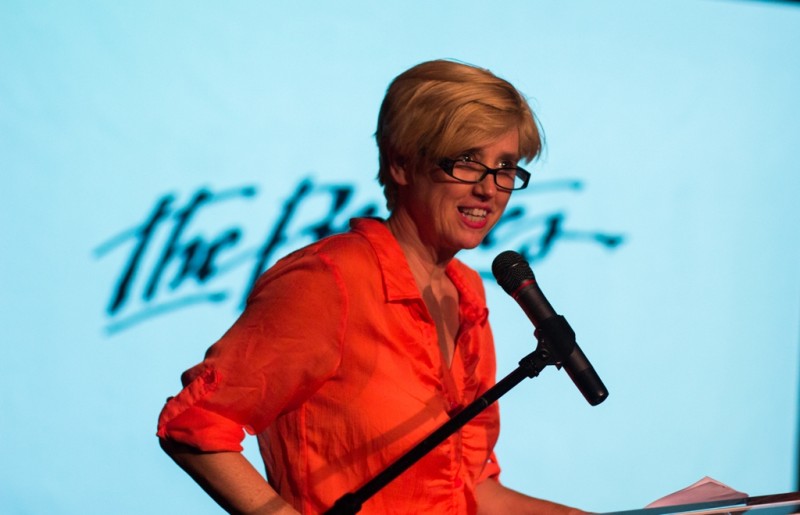 Lucy SextonDirector, The Bessies at The 2015 Bessies Press Conference at Gibney Dance Center
All photos by Anna Kuzmina
The 2015 Bessie Awards Steering Committee, responsible for setting policy and providing oversight of the Bessie Awards throughout the year, is comprised of Cora Cahan, Beverly D'Anne,Lane Harwell, Judy Hussie-Taylor, Stanford Makishi, Carla Peterson, Laurie Uprichard, and Martin Wechsler.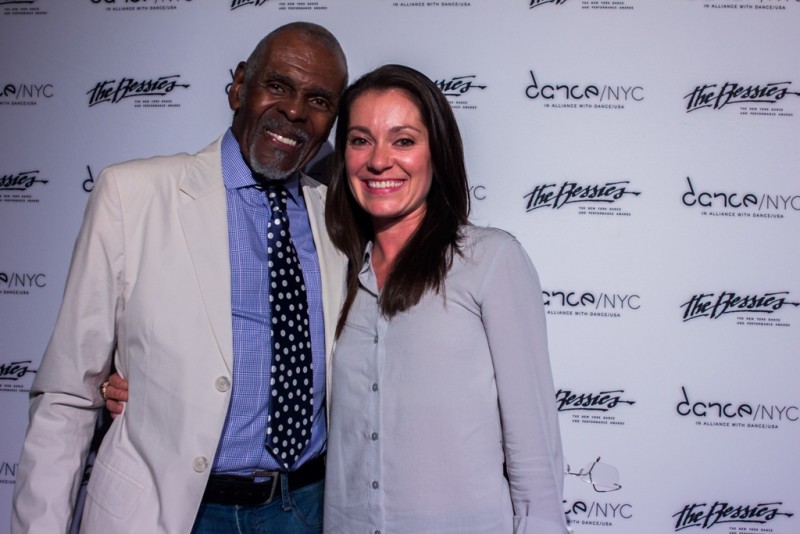 Bessie  Awards Selection Committee member, Gus Solomons Jr, and Outstanding Performer nominee Melissa Toogood at The 2015 Bessies Press Conference at Gibney Dance Center /All photos by Anna Kuzmina
---
The 2014−2015 Bessie Awards Selection Committee consists of Nolini Barretto, Diana Byer, Kim Chan, H.T. Chen, Blondell Cummings, Nancy Dalva, Andrew Dinwiddie, Maura Donohue, Simon Dove, Boo Froebel, Laurel George, Caleb Hammons, Zhenesse Heinemann, Iréne Hultman, Robert LaFosse, Matthew Lyons, Nicole Macotsis, Caridad Martinez, Harold Norris, Nicky Paraiso, Mathew Pokoik, Susan Reiter, Rokafella, Walter Rutledge, Sue Samuels, Philip Sandstrom, Gus Solomons Jr., Sally Sommer, Risa Steinberg, Carrie Stern, Kay Takeda, David Thomson, Muna Tseng, Kay Turner, Tony Waag, Edisa Weeks, Ryan Wenzel, Adrienne Westwood, and Elizabeth Zimmer.

The 2015 Bessie Nominations
Outstanding Production:
600 HIGHWAYMEN
Employee of the Year
FIAF/Crossing the Line
Soledad Barrio and Noche Flamenca
Antigona
The Joyce Theater
---
Dorrance Dance with Toshi Reagon and BIGLOVELY
The Blues Project
The Joyce Theater
---
Neil Greenberg
This
New York Live Arts
see Dance Enthusiast Article re "This"
Roger Guenveur Smith
Rodney King
BRIC
Xavier LeRoy
Retrospective
MoMA PS1 and Crossing the Line
Music and Dance from Myanmar
Asia Society
David Neumann/Advanced Beginner Group
I Understand Everything Better
Abrons Arts Center co-presented by The Chocolate Factory
See Dance Enthusiast Article Re: " I Understand Everything Better"
---
Justin Peck
Rōdē,ō: Four Dance Episodes New York City Ballet
Lincoln Center
---
Lemi Ponifasio/MAU
Birds with Skymirrors
Next Wave Festival, Brooklyn Academy of Music
See Dance Enthusiast "Birds with Skymirrors"
---
Pam Tanowitz
Broken Story (wherein there is no ecstasy)
The Guggenheim's Works & Process
See Dance Enthusiast re Pam Tanowitz
---
Vuyani Dance Theatre Project
Umnikelo
Fall for Dance, New York City Center

Outstanding Revival:
Alexei Ratmansky The Sleeping Beauty American Ballet Theatre
Alexandra Albrecht and Andrew Champlin
in Polly Pocket: Expansion Pack by Jillian Peña
Danspace Project
Michelle Boulé   
For her body of work with Miguel Gutierrez
Lawrence Casella
Sustained Achievement in the work of Ivy Baldwin
Talya Epstein
in Star Crap Method by Larissa Velez-Jackson
The Chocolate Factory   
Robert Fairchild
in An American in Paris
The Palace Theater
Ellen Fisher
For Sustained Achievement in Performance in the work of Meredith Monk
Lauren Grant
For her overall body of work with Mark Morris    
Ryan Haskett, Daniel Price, and Lil Buck
Live Performance following NYC premiere of Pharaohs of Memphis
DAMN! Film Series
TheaterLab Annex
Juan Ogalla  
in Antigona by Soledad Barrio and Noche Flamenca
The Joyce Theater
Amar Ramasar
New York City Ballet
Ryoji Sasamoto
in OQ by Kota Yamazaki
Japan Society
Melissa Toogood
For her body of work during the 2014−15 season in the work of Kimberly Bartosik, Merce Cunningham, Rashaun Mitchell, Stephen Petronio, Sally Silvers, Pam Tanowitz, among others.

Outstanding Emerging Choreographer (*indicates award recipient):
Yve Laris Cohen
Moriah Evans
For Social Dance 1-8: Index at Issue Project Room
Troy Schumacher
Storyboard P *
See Dance Enthusiast on Storyboard P

Outstanding Music Composition/Sound Design:
Tei Blow
for I Understand Everything Better by David Neumann/Advanced Beginner Group
Abrons Arts Center co-presented by The Chocolate Factory
Robyn Orlin | Compagnie Jant-Bi
At the same time we were pointing a finger at you, we realized we were pointing three at ourselves… by Robyn Orlin | Compagnie Jant-Bi
Peak Performances at Montclair State University
Ublado Perez Conde
for CAMBUYÓN by Enlace S.C.
The New Victory Theater
Kate Valk, Bobby McElver and Max Bernstein for Early Shaker Spirituals by The Wooster Group St. Ann's Warehouse

Outstanding Visual Design:
Reid Bartelme in collaboration with Harriet Jung
For body of work
Reid Bartelme on Dance Enthusiast
Kathy Kaufmann
for Bloowst windku by Rebecca Davis
HERE Art Center
Lemi Ponifasio and Helen Todd
for Birds with Skymirrors
Next Wave Festival, Brooklyn Academy of Music
Design Team: Geoff Sobelle (Creator), Steven Dufala (Scenic Installation Designer)  
Christopher Kuhl (Lighting Designer), Nick Kourtides (Sound Designer), Jamie Boyle (Integrated Archive Designer), Rachel McIntosh (Specialty Props Designer)
for The Object Lesson by Geoff Sobelle
BAM Fisher