The Bessies Announce Nominees for Outstanding Emerging Choreographer and Outstanding Revival
For more Bessies 2016 Join the New York Dance Community on July 13th for the Bessies Awards Cocktail Party and Press Conference
Join the New York dance community at The Bessies Awards Cocktail Party and Press Conference on July 13 from 5-7pm to celebrate the 2016 New York Dance and Performance Awards.
In addition to hors d'oeuvres, libations, and special guest performances by Melissa Toogood (2015 Outstanding Performer Awardee) and Pavel Zuštiak/Palissimo (2015 Juried Bessie Award recipient), the event will see the official announcement of the 2016 nominees for Outstanding Performer, Outstanding Production, Outstanding Visual Design, and Outstanding Music Composition or Sound Design; and present the 2016 Juried Bessie Award, selected by choreographers Yoshiko Chuma, Liz Gerring, and Bill T. Jones, and awards for Emerging Choreographer and Outstanding Revival.
Established in 1984, the New York Dance and Performance Awards, also known as The Bessies, was produced in partnership with Dance/NYC to honor outstanding work in the field of dance in New York City, to gather New York's wide-ranging dance communities, and to advocate on a national and international level for the extraordinary breadth of dance being performed in New York.
Outstanding Emerging Choreographer Nominees: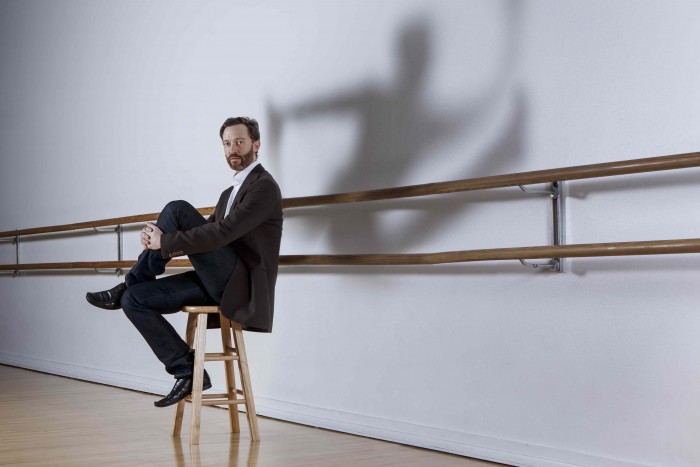 John Heginbotham. Photo: Bud Lammers.
Originally from Anchorage, Alaska, John Heginbotham graduated from The Juilliard School in 1993, and was a member of Mark Morris Dance Group from 1998 to 2012.  In 2011 he founded Dance Heginbotham (DH), which has been presented by institutions including Baryshnikov Arts Center, Brooklyn Academy of Music, Jacob's Pillow Dance Festival, The Kennedy Center, and The Joyce Theater, among others. In 2016, DH toured to Indonesia, Laos, and the Philippines with DanceMotion USA, a cultural diplomacy initiative of the U.S. Department of State, produced by the Brooklyn Academy of Music. Heginbotham's recent independent projects include creating Fantasque (2016) with puppeteer Amy Trompetter and choreographing Daniel Fish's Oklahoma! (2015), both commissioned and produced by Bard Summerscape; Angels' Share, a new ballet for Atlanta Ballet (2014); Isaac Mizrahi's The Magic Flute at Opera Theatre of Saint Louis (2014); and Peter and the Wolf for the Guggenheim Works and Process Series (2013-2015). He is the recipient of the 2014 Jacob's Pillow Dance Award.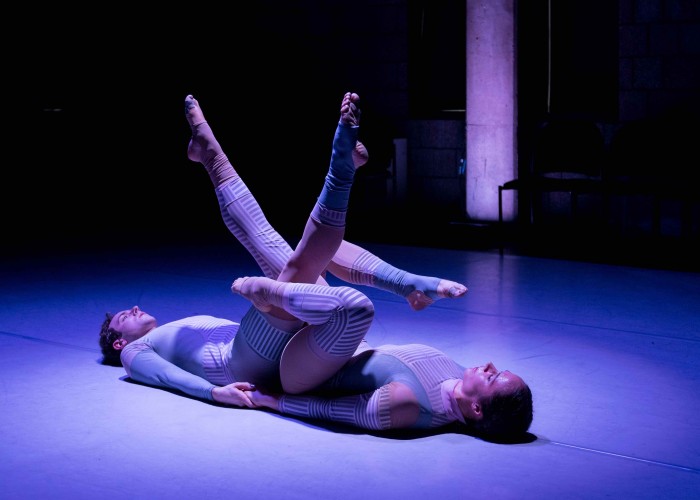 Jillian Peña's "Panopticon." Pictured: Alexandra Albrecht and Andrew Champlin. Photo by Ian Douglas.
Jillian Peña is a dance and video artist whose work seeks to make visible the confusion and desire of the self in relationship to itself and others. Her work is in dialogue with psychoanalysis, queer theory, pop media, and spirituality. Peña was awarded the Prix Jardin d'Europe 2014 at ImpulsTanz Dance Festival in Vienna. She has been presented internationally at Danspace Project, The Chocolate Factory, Dance Theater Workshop, and The Kitchen in New York, and at American Dance Institute, ImPulsTanz Vienna, Sophiensaele Berlin, Modern Art Oxford, and the International Festival of Contemporary Art Slovenia. She has created work for American Ballet Theater and the University of the Arts. Peña has been in residence at LMCC, PS 122, Brooklyn Arts Exchange, Movement Research, the National Dance Center of Bucharest, and Archauz Denmark. She was a Jack Kent Cooke Graduate Scholar during which she was awarded an MFA from the Art Institute of Chicago, where she was a fellowship recipient, and a practice-based MPhil at Goldsmiths University.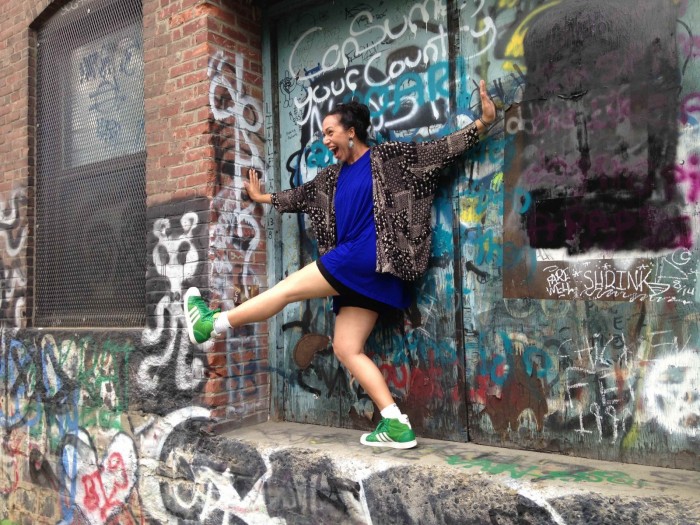 Joya Powell. Photo: Candace Powell Tabbs.
A native New Yorker, Joya Powell is a choreographer and educator passionate about community, activism, and dances of the African Diaspora. Hailed by The New York Times as a "radiant performer;" throughout her career she has danced with choreographers such as Katiti King and Neta Pulvermacher. In 2005 she founded Movement of the People Dance Company, dedicated to building community and social awareness through socially conscious choreography. Her work has been performed at national and international venues such as: Lincoln Center, SummerStage, FLICfest (AIR 2016), Casita Maria (AIR 2015), The Performance Project @ University Settlement (AIR 2013), Symphony Space, The Bronx Museum of Arts, Dance on the Greenway (commission), The Bronx Academy of Arts and Dance (BAAD!), York University in Toronto, among others. Powell has been a guest artist at Penn State (commission), ACDF, Hobart Williams-Smith Colleges, Columbia University, and Queens College to name a few. She has taught and studied internationally in Brazil, Puerto Rico, Cuba, and Israel. Powell is currently an Adjunct Lecturer of Dance at SUNY Old Westbury. She received her M.A. in Dance Education from NYU, and her B.A. in Latin American Studies and Creative Writing from Columbia University.
Larissa Velez-Jackson. Photo: Judith Bressler.
Larissa Velez-Jackson is a choreographer and hybrid artist who uses improvisation as a main tool for research and creation, focusing on personhood and the dancing/sound-making body. She employs a deep humor to grant audiences universal access to contemporary art's critical discourse. She has presented work at numerous New York City venues such as: Roulette, New Museum of Contemporary Art, Museum of Art and Design, (former) Dance Theater Workshop, Danspace Project, American Realness Festival at Abrons Arts Center, and the Chocolate Factory Theater. In 2011 she launched a song-and-dance collaboration with her husband Jon Velez-Jackson called Yackez. Velez-Jackson was a Movement Research Artist-in-Residence (2012-2013), a Seniors Partnering with Artists Citywide artist-in-residence with the Lower Manhattan Cultural Council (2013), an El Museo Del Barrio Artist in Residence (2014-2015) and most recently a Live Feed artist-in-residence at New York Live Arts (2015-2016). In 2012 she attended the danceWEB Scholarship Program of Impulstanz Festival with the support of a Jerome Foundation Travel and Study Grant. She will premiere a full-length commission at New York Live Arts in 2016 that incorporates her multimedia collaborative, Yackez with her older adult aerobics students. Velez-Jackson was recently awarded the Foundation for Contemporary Arts Grant to Artists for 2016, on her tenth year anniversary of professionally showing work.
Outstanding Revival Nominees:
 get dancing
by
Andy de Groat & Catherine Galasso
at Danspace Project
&
Rainbow 'Round My Shoulder
Choreographed by Donald McKayle
Performed by Dayton Contemporary Dance Company
Produced by Paul Taylor American Modern Dance
at David H. Koch Theater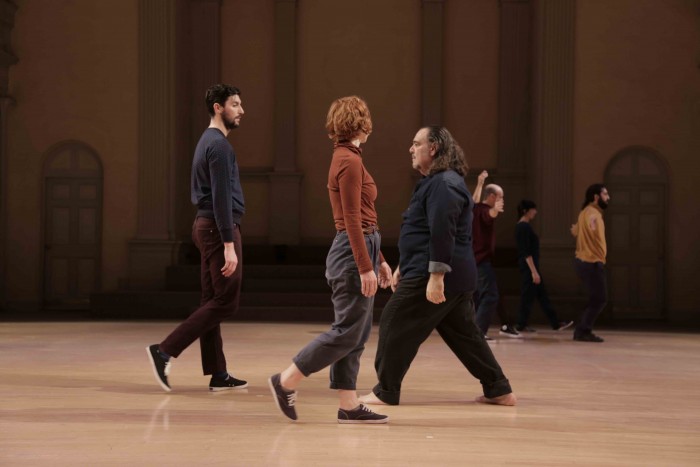 Andy de Groat & Catherine Galasso's "get dancing." Photo: Victoria Sendra.
Andy de Groat was born in 1947 in the United States into a family of Dutch, Italian, French, German and English origins. While studying at the New York School of Visual Arts in 1967, he met the director Robert Wilson, joined his troupe as a performer, then dancer and choreographer for all productions from Deafman Glance in 1971 and A Letter for Queen Victoria in 1974 to Einstein on the Beach in 1976, created for the Avignon Festival. In 1981 he received a grant from the Guggenheim Foundation in New York for his choreographic research. He created new works in succession for his company red notes, including several for Jean Guizerix, Wilfride Piollet, Jean-Christophe Paré, the Choreographic Research Group of the Paris Opera (GRCOP), the Scala in Milan, the Ballet du Nord (Roubaix), all five French national dance conservatories, innumerable workshops, and creations and repertory for Wah Loo Tin Tin Co., a Montauban-based company of young performers. Today, his work totals over sixty creations that have been presented in twenty countries and periodically goes back to questioning the repertory and heritage of dance. His company has worked regularly on lyrical productions since 1988, in particular on The Magic Flute (Mozart) with Robert Wilson at the Opera Bastille, Paris, The Rake's Progress (Stravinsky) with Alfredo Arias for the Aix-en-Provence Festival of Lyric Art and at the Operas of Lyon, Genoa and Montpellier, Aïda (Verdi) with Klaus Michael Grüber for the Amsterdam Opera. He was nominated Officer in the Order of Arts and Letters in '85, and Commander in 2000.
Catherine Galasso creates live performance at the intersection of dance, theater, and installation. Since 2006 she has created seven evening-length, cross-disciplinary, cast-specific works and numerous shorter performances, presented by places like Joyce SoHo, SFMoMA, Bibliotheque National in Paris, Harvard University's Carpenter Center, Museum of Contemporary Art Santa Barbara, and the International Theater Festival Pristina, Kosovo. Her Bring On The Lumière! (2011), nominated for an Isadora Duncan Dance Award, is featured in the Oxford Handbook of Screendance Studies, and her revival with co-director Keith McDermott of Jim Neu's The Floatones at La MaMa was a New York Times "Critics' Pick." Residencies include The Watermill Center, Headlands Center for the Arts, Kaatsbaan, ODC Theater (San Francisco), and ZonaD Studio (Bucharest). Galasso received 2015 commissions from Danspace and The River To River Festival, is a 2015-16 Resident Artist with LMCC's Extended Life Program, and a 2016/17 BAX AIR.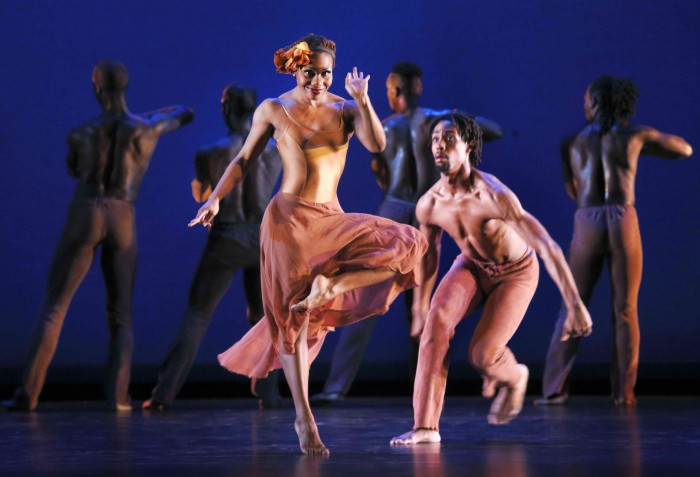 Donald McKayle's "Rainbow 'Round My Shoulder." Performed by Dayton Contemporary Dance Company and produced by Paul Taylor American Modern Dance. Photo by Paul B. Goode.
Donald McKayle has created more than 250 concert works, television, film and theater works, and has held the position of Professor of Dance at University of California, Irvine for 36 years. He was named by the Dance Heritage Coalition "One of America's Irreplaceable Dance Treasures: the first 100." His modern dance classics, including Games, Rainbow 'Round My Shoulder, District Storyville, and Songs of the Disinherited, are performed worldwide. He is Artistic Mentor for the Limón Dance Company. In 2005 he was honored at the Kennedy Center as a Master of African American Choreography. Among his many other honors, McKayle has received the Capezio Award, the Samuel H. Scripps/American Dance Festival Award, the American Dance Guild Award, a Living Legend Award from the National Black Arts Festival, the Heritage Award from the California Dance Educators Association, two Choreographer's Fellowships from the National Endowment for the Arts, and the Dance/USA Honors.
Dayton Cotemporary Dance Company (DCDC), founded in 1968 by Jeraldyne Blunden, is the oldest modern dance company in Ohio and one of the few American dance companies of international reputation located outside a major American metropolitan area. It is known for its extraordinary artistic execution, dance precision, and storytelling through dance art of international standard. DCDC boasts the world's largest repertoire of classic works by African-American choreographers. Artistic Director Debbie Blunden-Diggs continues the company's legacy with new works by such choreographers as Donald Byrd, Ronen Koresh and Kiesha Lalama while maintaining its volume of repertoire with works by Donald McKayle, Talley Beatty, Bill T. Jones, Alvin Ailey, Dianne McIntyre, and José Limón. The company has partnerships with the University of Dayton, Central State University and Wright State University among others, and delivers extensive education and outreach programs and services to elementary, middle and high schools locally and while on tour.
Paul Taylor American Modern Dance, established in 2015 by Paul Taylor, presents at Lincoln Center the greatest works of modern dance past and present by the art's leading choreographers alongside Taylor's new and classic works. In addition, Taylor commissions the next generation of choreographers to create works on his dancers. These dances are performed with live musical accompaniment whenever so intended by the choreographer. In its first two seasons PTAMD presented dances by Doris Humphrey (performed by Limón Dance Company), Donald McKayle (performed by Dayton Contemporary Dance Company) and Shen Wei (performed by Shen Wei Dance Arts) in addition to works by Martha Graham and commissioned dances by Doug Elkins and Larry Keigwin performed by the Paul Taylor Dance Company. In addition to Taylor premieres, the 2017 Season will include a commission by Taylor alumna Lila York, and a classic by Merce Cunningham, performed by Lyon Opera Ballet.