DANCE NEWS: Brooklyn Academy of Music (BAM)'s 2023 BAMkids Winter and Spring Programming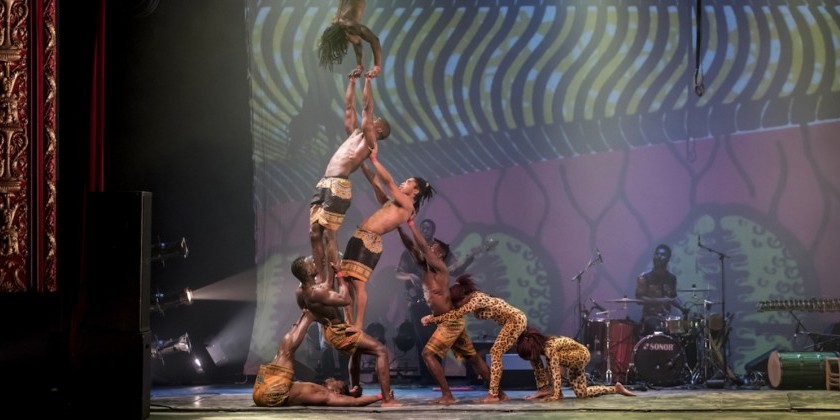 Highlights Include the 25th Annual BAMkids Film Festival, Circus Theater, Dance, and Music From Around the World
Brooklyn Academy of Music (BAM) has announced the 2023 BAMkids winter and spring programming—a full line-up of international theater, cirque, music, and film for kids and families.
This season's kid and family-friendly programming across the BAM campus include the return of the 25th annual BAMkids Film Festival returns with a line-up of shorts and features in association with Northwest Film Forum and Melbourne International Animation Festival; breathtaking acrobatics of Montréal-based Cirque Kalabanté; and the family-friendly show celebrating music and spoken word with Get Up, Stand Up!.
Vaivén Circo in Esencial; photo by Juan José Palenzuela
Acclaimed Spanish cirque company Vaivén Circo invites young minds to join them on an adventure of imagination with Esencial. BAMkids' commitment to creating a friendly and inclusive audience experience for theatergoers extends to relaxed performances of Esencial designed for kids and families who may benefit from a more relaxed and supportive theatergoing experience.
The season also includes previously announced complementary BAMkids Celebrates MLK Day program — Courage Takes Creativity — featuring music, dance, and crafts centered around social justice. The activities are co-curated by the BAMkids Parent Advisory Circle, composed of BIPOC Brooklyn-based parents and guardians committed to curating new experiences and programs for families and kids.
"We are thrilled to bring you a season of extraordinary experiences, from activities designed to spark compassion, joy, and equality to magical tales told on film and the awe-inspiring Vaivén Circo. And that's just the winter! We also bring the amazing circus spectacle of Cirque Kalabanté and powerful hip-hop performances to the stage," said BAM Director of Family Programming, Steven McIntosh. "This season not only offers a variety of artistic expressions but also is a part of our commitment to honor and celebrate the perspectives of the global majority by working with our BAMkids Parent Advisory Circle. We can't wait to have you here. Come all!"
Tickets for BAMkids programming have been on sale since January 10 for the general public (January 5 for Members). Visit BAM.org/kids for tickets and more details.
BAMkids 2023 winter/spring program:
Jan 16: BAMkids Celebrates MLK Day: Courage Takes Creativity (Over)
Feb 4 & 5: BAMkids Film Festival 2023 (in person) (Over)
Feb 4—12: BAMkids Film Festival 2023 (on demand) (Over)
Mar 25 & 26: Esencial
Apr 1: Get Up, Stand Up! Workshop
Apr 1: Get Up, Stand Up!
Apr 21 & 22: Cirque Kalabanté
Newly Announced BAMkids programming details:
Vaivén Circo in Esencial; photo by Juan José Palenzuela
Esencial
Vaivén Circo (Spain)
BAM Fisher (Fishman Space, 321 Ashland Pl) Sat Mar 25 & 26 at 10:30a & 2pm
(Relaxed performance, Mar 26 at 2pm)
Ages 6+
Tickets: $18
Acclaimed Spanish cirque company Vaivén Circo returns to BAM following the success of Do Not Disturb (2017 BAMkids Winter/Spring). This new circus show is based on the concept of transitions. Five characters play and dream on an adventure trip that will take us to remote places where the big decision will be to take the simplest path. It's a staging Waldorf's Rainbow," a toy for children with arches and pillars, with a scenography of changing architecture and poetic tints. The audience is the witness to a changing and inventive architecture, in the same way as a human being who always wants to evolve. Directed by Vaivén Circo and Javi Parra. In collaboration with Jokin Oregui. Featuring Manolo Carambolas, Raquel Pretel / Celia Sako, Chema Martín, Irene de Paz, and Miguel Moreno "Bolo." Musical composition by Iván Monje.
Vaivén Circo was created in 2008 by Raquel Pretel Ferrándiz and Miguel Moreno (Bolo) while they were working with the Catalan company "Els Comediants." Vaivén Circo was born, merging Ferrándiz's dance and Moreno's circus artistry backgrounds. The company produced four shows that have played at major festivals around the world— La Felicidad en un Dos por Dos, Cayuco, Do Not Disturb, and Des-Habitat.
To better support the needs and enjoyment of neurodiverse audience members, the Mar 26 (2pm) performance of Esencial will be a relaxed performance. Modifications will include enhancing multi-sensory elements of the show, eliminating blackouts and sudden theatrical cues, maintaining moderate house lighting through the performance, lowering the overall volume of sound elements, allowing for audience vocalization and movement, and allowing for patron exits and entrances whenever needed. 
Get Up, Stand Up! Workshop
Sat, Apr 1 at 1pm
The Adam Space (BAMcafé, 30 Lafayette Ave.) Ages 8+
Tickets: Pay-what-you-wish $5, $7, $10
Kids are invited to explore the art of hip-hop in this playful pre-show workshop for budding emcees and their families. A BAM teaching artist introduces the rhythmic, poetic, and performance skills that make a great emcee through games and playful demonstrations.
Get Up, Stand Up!
Sat, Apr 1 at 2pm
The Adam Space (BAMcafé, 30 Lafayette Ave.) Ages 8+
Tickets: Pay-what-you-wish $8 $10; $12
Voices will rise in this family-friendly concert celebrating the power of music and song. Created for children ages eight and up, Get Up, Stand Up! presents a hip-hop exploration of rhymes, beats, and cultural infusions.
Isaac Sawyers, a one-person hip-hop extravaganza, offers an interactive, joyful, and spontaneous environment as he beatboxes, raps, and engages kids in the art of freestyle and improvised rap. Join the group as they glide and groove to Isaac as he magically transforms beats and rhymes, and spontaneously brings them to life.
Cirque Kalabanté; photo courtesy of the company
Cirque Kalabanté
Fri, Apr 21 at 7pm
Sat, Apr 22 at 2pm & 7pm
Harvey Theater at BAM Strong (651 Fulton Street) Ages 6+
Tickets: $17, $22, $27
Cirque Kalabanté is a highly colorful creation featuring incredible acrobats performing authentic choreography to the frantic rhythms of native instruments of Guinea. Montréal- based Cirque Kalabanté combines breathtaking acrobatics with live music played on the traditional instruments of their native Guinea, including kora, djembe, and various kinds of percussion. This beautiful presentation of dazzling circus arts and cultural exploration will amaze the whole family.
Kalabanté Productions was created in 2007 by Yamoussa Bangoura, a multi-disciplinary artist born in Guinea, West Africa, who always dreamed of founding a circus school specializing in African arts. Now living in Montreal as artistic director of the company, Bangoura shares his passion through teaching and choreographing circus arts, African dance, and the traditional music of West Africa.
Visit BAM.org/kids for more information.
---
The Dance Enthusiast Shares news from the dance world and creates conversation.
For more Dance News pieces, click here.
If you have important news to share, please send announcements or press release to info@dance-enthusiast.com!
---
The Dance Enthusiast - News, Reviews, Interviews and an Open Invitation for YOU to join the Dance Conversation.