Center for Performance Research (CPR) Announces New Technical Development Residency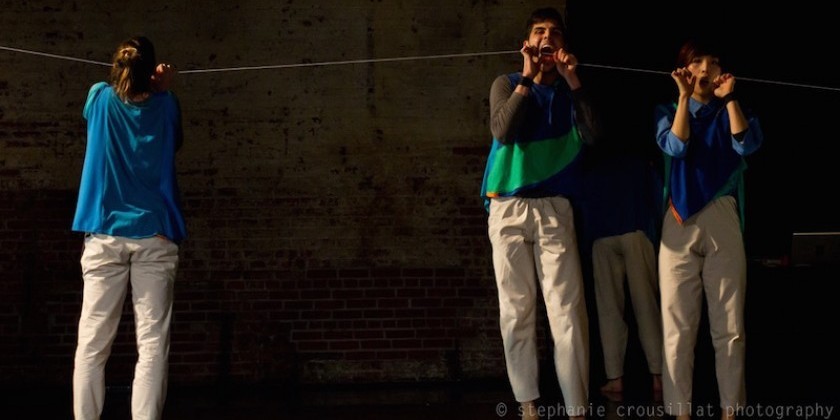 Inaugural Artist in Residence is The Median Movement
Center for Performance Research (CPR), an artist- driven organization co-founded by Jonah Bokaer & Chez Bushwick and John Jasperse & Thin Man Dance, Inc. to support the development of new works in contemporary dance, announced today its first ever fully supported technical residency offering artists access to a completely customizable performance space and laboratory.
CPRs 1,845 sq ft theater features a LED lighting system; making it one the most technically advanced venues of its size offering technical residencies within the five boroughs. The inaugural residency, generously supported by the National Endowment for the Arts, will support the work of artist collective The Median Movement comprised of choreographers Xan Burley and Alex Springer, sound designer Will Owen, movement artist Hsiao-Jou Tang, and lighting designer Andy Dickerson. The Median Movement will be in residence at CPR from May 1-7, 2016.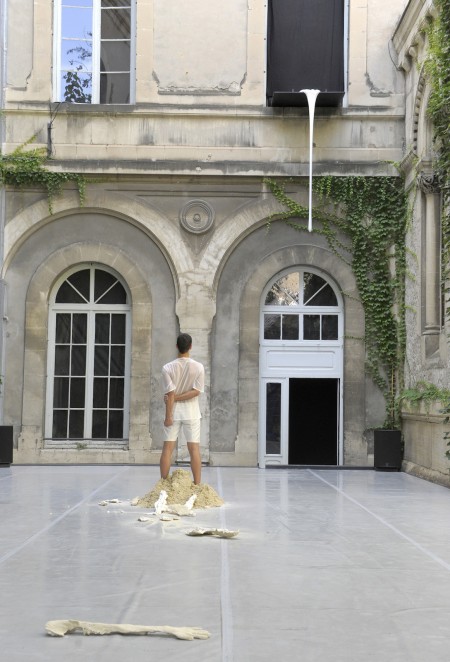 "Curtain," 2012 by Jonah Bokaer. Photo courtesy of the artist.
While many dance spaces in New York City function as both presenting venues and studio spaces, artists are often limited to technical support just prior to production. CPR's program seeks to address the need for advance technical support by providing New York City based artists with at least one week of unrestricted access to its theater and technical resources during the development of new work. CPR hopes these residences will function as a tool for choreographers as they create new pieces in collaboration with designers, especially those working with sophisticated and complex elements. Currently, application is by invitation and reviewed by a panel of CPR staff and advisors.
"As working artists, Jonah and I fully understand the importance of access to technical resources well in advance of premiering a work," said John Jaspers. "When we founded CPR in 2007 we hoped it would become a stable home for the dance community and by launching this technical residency program we hope to better serve artists and to offer them the much needed time, space and resources to explore their ideas in a theatrical setting."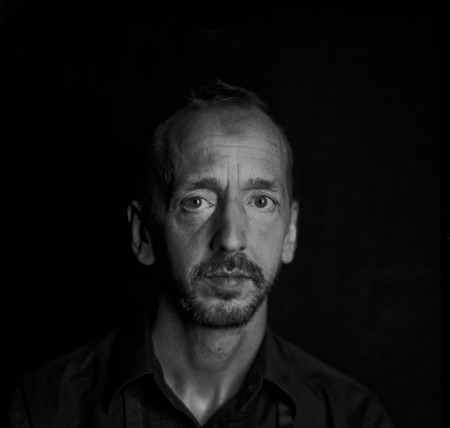 Dance artist John Jasperse. Image courtesy of the artist.
The CPR technical residency is a natural extension of preexisting programs that underscore the organizations commitment to providing services that support the creation of new work at all stages of development, and ensures NYC is a sustainable place to live and work for artists. Its largest and longest running program is its Rehearsal Rental Program that provides deeply subsidized rehearsal space to artists, the majority of whom live and work in New York City. Since opening its doors CPR has provided more than 30,000 subsidized rehearsal hours, supporting dance companies such as Trisha Brown Dance Company and Urban Bush Women to prominent independent artists like Luciana Achugar, Rashaun Mitchell, and Gwen Welliver as well as a wealth of younger artists that represent the future of New York dance.
In 2011, CPR established a residency program, supported by the Andrew W. Mellon Foundation, which is tailored to each artist's needs and provides space at even further subsidized rates. Resident artists (AIRs) receive up to 100 hours of low -cost rentals, storage space, and the ability to work uninterrupted in the same space for an extended period of time. CPRs current AIRs include Moriah Evans, Mariana Valencia, Kim Brandt, Lauren Bakst, The Median Movement, Emily Wexler, Kimberly Bartosik, Jillian Peña, Elisabeth Motley and Sidra Bell.
The Performance Studio Open House series provides opportunities for renters and AIRs to share works in progress with an audience and engages the public in the process of developing new dance and movement-based works, inspiring discussion around both the work and the process of creation. These open rehearsals are free to the public, and include works representing a broad constituency of artists who use CPR. The next Performance Studio Open House will be April 26, 2016 at 8pm, curated and moderated by Jen McGinn.
In addition to rehearsal and residency support, CPR presents new and innovative dance works. CPR's curatorial program, New Voices in Live Performance (NViLP), which began in 2009 and has supported 200+ artists over 40 evenings, provides a platform from which CPR's community can experiment with presentation models. Selected curators are given full access to CPR's spaces for a weekend to shape a series of performances and events that highlight creative practices in dance, theater, and performance art. In its inaugural year, 2010, CPR's NViLP presented "up and coming" artists Miguel Guiterrez and Kyle Abraham as part of Earl Dax's Queer Conscience. More recently CPR invited Joshua Lubin Levy and NYU's Woman and Performance Journal to take over the space for a series of events that included work by Mariana Valencia, Effie Bowen and Jack Ferver and students.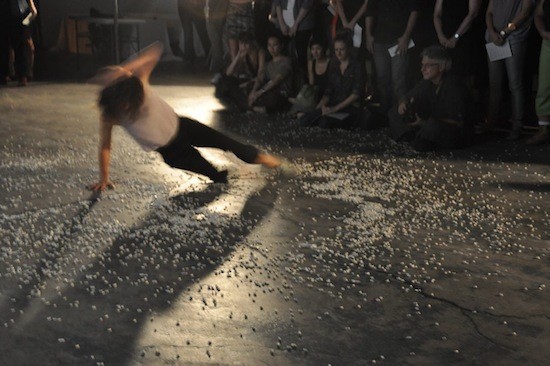 Motley Dance, a past participant of CPR's New Voices in Live Performance program.
Much like NViLP, CPR's biannual festivals of dance, Spring and Fall Movement, provide an opportunity for audiences to experience a range of work engaged in contemporary performance practice. Participants are selected from an open call by a panel of artists, and are given two hours of technical rehearsal and additional rehearsal space. CPR has paid over $125,000 in artists' fees since opening and continues to prioritize artists' economic stability. Spring Movement 2016 will be held April 14-16, 2016 and include the work of Sarah Konner and Austin Selden Dance, Millie Kapp, Leigh Lotocki, Hannah Verrill and Dana Florin-Weiss, Rock Bottom Movement, Beth Graczyk, Ashley Yergens, Diana Crum, Lacey Moore, James Gardella, Liz McAuliffe and Daniela Tenhamm Tejos.
CPR's presenting program began before its doors officially open with "Displacement @ Greenbelt" in 2008, a show that included work by Ann Liv Young, Amanda Loulaki, Kayvon Pourazar, Matija Ferlin and Mr. Bokaer in collaboration with Michael Cole. Today CPR hosts over 60 evenings of performance annually which include its presenting programs as well as a subsidized performance rental program that offers independent producers a highly flexible and well- equipped performance facility at affordable rates. On April 30, 2016 at 7:30pm performance artist and choreographer Naomi Elena Ramirez will host Beaver a multi -disciplinary exhibition, performance, and panel discussion delving into contemporary feminist perspectives.