The Children's Museum of Manhattan's First "Dance Your Way Through December" Festival
Performances Run From December 10-31, 2016
The Children's Museum of Manhattan today announced its first "Dance Your Way Through December" festival. As part of the Museum's programming for the month, children and families are welcome to enjoy workshops with, and performances by, some of New York City's most well-known dancers and dance companies. The festival is part of the Children's Museum's ongoing Gateway to the Arts program which combines first museum experiences with learning about the importance of the arts.
The Children's Museum of Manhattan.
"For many of our little visitors, this may be the first time they've visited a museum," said David Rios, the Children's Museum Director of Public Programs. "It is our hope that this December dance festival will inspire a deeper interest in dance and its various forms among our audience members and that some will go on to seek out these artists at their dance schools and home institutions."
A wide variety of dance traditions and styles are scheduled throughout the month. "Dance Your Way Through December" programming includes:
Ailey Arts in Education – Ailey Teaching artists create shapes and rhythms through imaginations and movement. Saturday, Dec. 10 at 2pm and 3pm.
American Ballet Theatre Jacqueline Kennedy Onassis School Children's Division –  Performance and dance workshop. Saturday, Dec. 17 at 2pm and 3pm.
West African Dance with Sidiki Conde and Tokounou – Celebrate the traditional arts of Guinea and Conde's journey as a person with a disability. Monday, Dec. 26 at 2pm and 3pm.
Songs from Central Asia with Tamara Katayeva — in collaboration with the Center for Traditional Music and Dance – Bukharian Jewish singer and dancer Katayeva shares folk songs and dances from her native Uzbekistan. Tuesday, Dec. 27 at 2pm and 3pm.
Around the World with Irene Koloseus and Féraba African Rhythm Tap – This high-energy ensemble fuses tap and African dance with percussive music. Wednesday, Dec. 28 at 2pm and 3pm.
Caribbean Holiday Performance with Jose Obando – The salsa instrument consultant of the Musical Instruments Department of The Metropolitan Museum of Art leads an interactive musical performance. Thursday, Dec. 29 at 2pm and 3pm.
These performances are free with Museum admission. Due to space limitations, however, tickets are required for entry and may be picked up in the Museum lobby one hour before the event.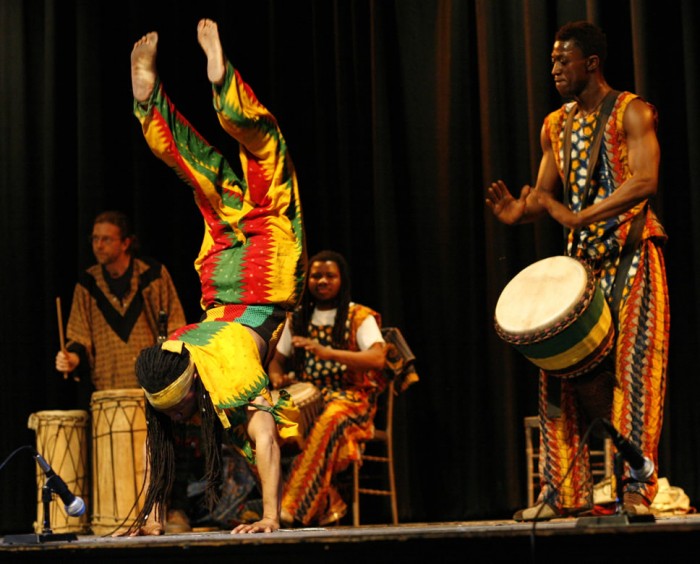 Féraba African Rhythm Tap.
On Saturday, Dec. 31, from 2:30 - 4pm, the Festival will wrap up with a New Year's Eve Dance Party featuring DJ Chela, who will create a kid-friendly, dynamic mix of world rhythms to celebrate the arrival of 2017. This event is open to all museum visitors.
"At the Children's Museum we're committed to serving the whole child," noted Andrew Ackerman the Children's Museum's executive director. "Dance is a glorious art form that is essential to a child's development. It engages them physically, mentally, and spiritually. We are honored to host these extraordinary dancers and musicians."
Funding for "Dance Your Way Through December" was provided by the New York City Department of Cultural Affairs and the Institute of Museum and Library Services.