Related Features
Contribute
Your support helps us cover dance in New York City and beyond! Donate now.
Costa Mesa, CA: Segerstrom Center for the Arts to Realize Bold New Vision for the Future
World-Renowned Cultural Destination Reimagines Itself with Three Transformational Complementary Initiatives
* Editor's note: Wonderful news for Costa Mesa, CA and American Ballet Theatre. Looking forward to learning about the innovation in transforming the cultural landscape with community at its core. Already asked if there will be any innovative dance writing/communication  initiatives-- waiting for a response. 
---
Building on decades of accomplishments that have established it as one of the nation's most renowned cultural institutions celebrated for its extraordinary performances and impactful education programs, Segerstrom Center for the Arts announced a bold plan to reinvent itself as a more inclusive, vital force throughout the community while maintaining its recognized commitment to artistic excellence.
This institutional evolution, driven by the integration of world-class programming, educational outreach and a new level of public engagement, is supported by a $68 million Next Act Campaign, co-chaired by Stephen T. Fry and Lawrence M. Higby, which has secured more than $42 million to date. Instrumental to this dramatic fundraising progress is the commitment of an extraordinary $13.5 million lead gift from Julianne and George Argyros.
Segerstrom Center - Campus Plan Rendered by Michael Maltzan Architecture
---
Three transformative projects, complemented by existing programming, will move the Center toward becoming a catalyst for positive change throughout Southern California's diverse and rapidly changing communities:
Center for Dance and Innovation- To support Segerstrom Center's flagship artistic programs, while acting as a catalyst for initiatives that celebrate innovation and creativity.  In addition to the American Ballet Theatre William J. Gillespie School, the Center's programs will include the commissioning of new ballets, dance training in multiple genres, Center partnerships with the high-tech, bio-tech/entrepreneur community  and others, offering the community new ways of engaging with the performing arts through a broad array of on-site, off-campus and online programs.
 Center Without Boundaries-An innovative model for civic engagement that will focus on responding to needs of individual and diverse communities by forging strategic partnerships between the Center and non-cultural groups throughout the county,       
Julianne and George Argyros Plaza -Designed by the renowned firm of Michael Maltzan Architecture, reimagines the existing Arts Plaza as a welcoming public gathering place and dynamic town square deeply engrained in the community offering a host of new guest amenities, a public stage and free events and performances

---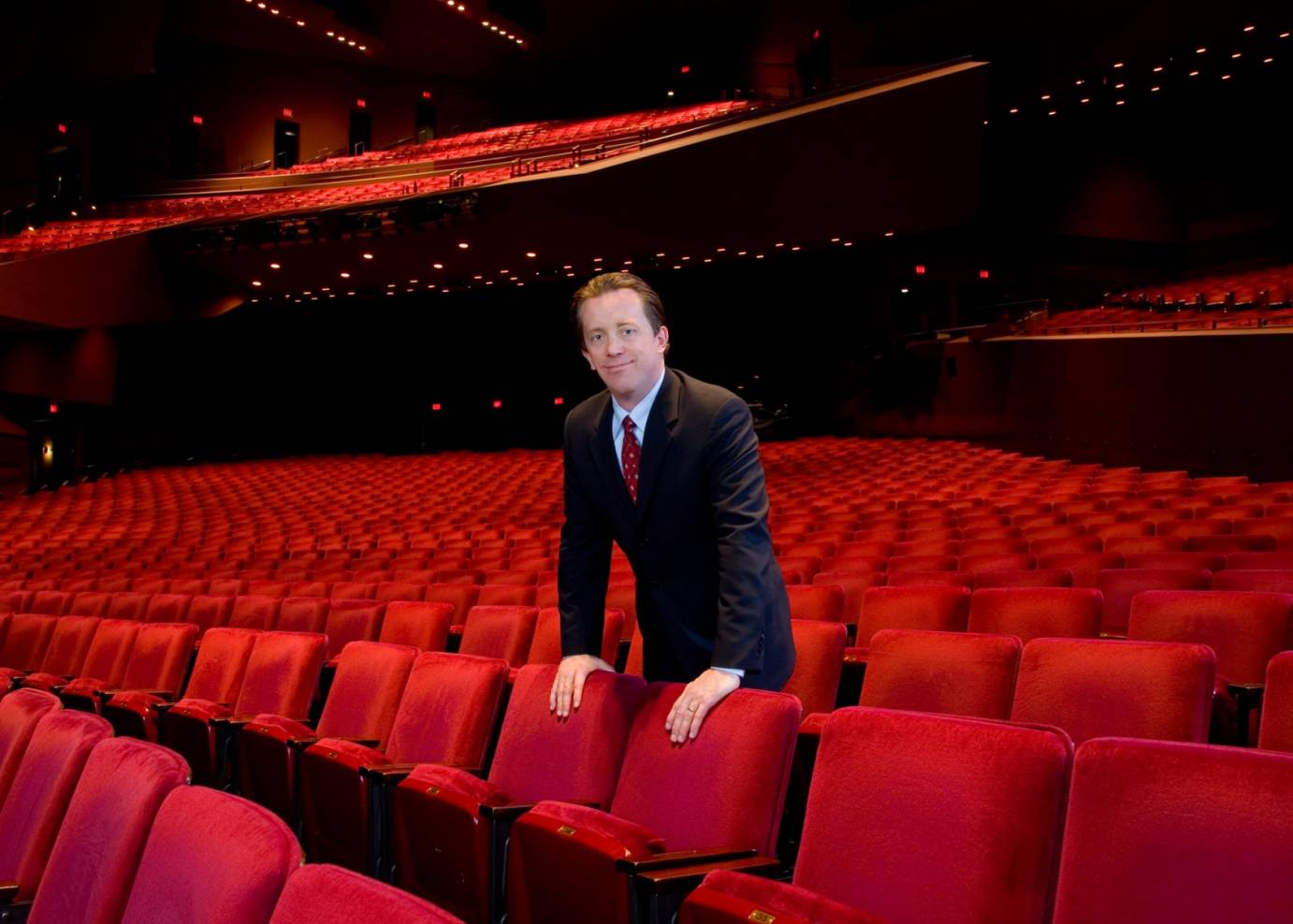 Terrence W. Dwyer, president of Segerstrom Center for the Arts
Terrence W. Dwyer, president of Segerstrom Center for the Arts, stated, "The power of world class performance to entertain and inspire, and our commitment to community, are at the heart of a bold new vision for Segerstrom Center. Our great opportunity, and motivating institutional obligation, is to now unlock the Center's full potential to effectively engage all of the wonderfully diverse communities of Orange County. By reinventing ourselves this way, we are entering an exciting new phase in the Center's history of artistic achievement and community impact. The Center will play an important new public role, not only as a provider of vibrant, vital and world class artistic and educational programming, but also as a civic resource and treasured gathering place for all the people of Southern California."
 
Julianne Argyros stated, "Orange County has long needed a public space where its communities can come together and enjoy performances and activities of all kinds. George and I, and our entire family, are thrilled to help Segerstrom Center for the Arts transform its plaza into an inviting destination for all: a 21st century town square that will be activated by the energy of community members from throughout Orange County and beyond.
---
Center for Dance and Innovation
The Center for Dance and Innovation (CDI) will embody the Center's expanded commitment to dance, innovation, and community engagement. The CDI, also designed by Michael Maltzan, will be accessible by a gardenlike entranceway, and a second curved ramp from the Segerstrom Hall terrace, as well as via a new public patio. The CDI, with its Judy Morr Theater and five newly renovated studios, will house the CDI flagship program, the American Ballet Theatre William J. Gillespie School, which begins its first full 36-week program in September 2015. A need-based scholarship program will be offered to ensure community access to that world class training program.
Segerstrom Center CDI aerial rendering by Michael Maltzan Architecture
Other CDI programs will offer artists, entrepreneurs, students, creative thought leaders and community members opportunities to convene, catalyze and collaborate through classes, events, other Center artistic programs, residencies, workshops, and innovative audience engagement activities.
 
Kevin McKenzie, artistic director of American Ballet Theatre, said, "The Center for Dance and Innovation is an ambitious and exciting initiative. Its potential is unlimited in how it can not only support the goals of the ABT William J. Gillespie School, and the development of new choreographers so important to the future of dance, but also impact the way we think about all performance, how it relates to other disciplines and technologies and, perhaps most importantly, how we challenge ourselves to explore new ideas.
---
Center Without Boundaries
The Center Without Boundaries (CWB) will further connect Segerstrom Center to the community through a variety of pioneering new partnerships primarily with non-cultural organizations. These collaborations will focus on helping to address the needs of an evolving Orange County by assisting other agencies and organizations to meet the specific needs of their individual communities. The CWB programs will focus on contributions to community through services offered off-campus and throughout the county. This civic practice approach to developing programs and serving the community will be guided by the needs of community partners and fueled by the Center's commitment to making a meaningful contribution to the lives of thousands of families throughout Orange County. Initial community partnerships with Big Brothers Big Sisters, Children's Hospital of Orange County and Camp Pendleton are already demonstrating the impact of this approach and the Center's commitment to being a valued leading civic, as well as cultural and educational resource to the community.
An Example of Current Community Engagement with the Arts at Segerstrom Center for The Arts
El Centro Cultural de México is one of the community-based service organizations with which the Center is already partnering. Dr. Socorro Sarmiento of El Centro said, "… Culture is in the streets and full of color! Community partnerships allow us to bring our assets – cultural, civic, educational and otherwise – in interesting new ways to increase our collective capacity to address local goals while contributing to the overall good of the entire community. We look forward to exploring opportunities to partner with Segerstrom Center and applaud them for taking this positive step."
---
Construction will begin on the Julianne and George Argyros Plaza and the Center for Dance and Innovation in early 2016, and is expected to be completed in the fall of 2016. Full programming plans for each of the three initiatives announced above will be announced at a later date.