Dance News: Cumbe Center for African and Diaspora Dance Finds New Home at RestorationArt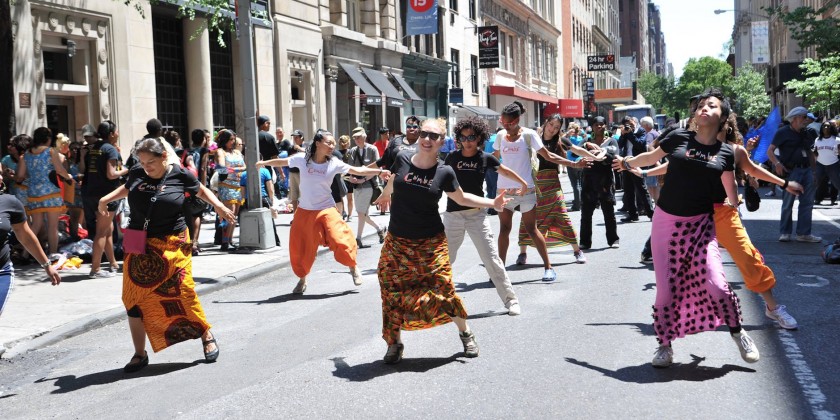 New Bed-Stuy Home Offers Displaced Dance Organization Opportunity to Re-Launch Classes and Cultural Programming
Cumbe: Center for African and Diaspora Dance (Cumbe), a thrilling and diverse dance studio championing African Diaspora dance and music returns to Brooklyn, resuming its well-loved classes on September 25. After being pushed out of its prior location in Downtown Brooklyn two years ago, Cumbe found a new home via its partnership with RestorationART at Bedford Stuyvesant Restoration Corporation's dynamic new 21st Century Complex. A community day opening on Saturday, September 23, will offer $5 classes.
"The opening of Cumbe's studio at RestorationART will be like a 'homecoming' for its students," says Cumbe's Executive Director Jimena Martinez. "By continuing classes during its own period of 'diaspora,' Cumbe has shown that it fully embodies the resilience and vibrancy present in African culture." During its displacement, Cumbe continued offering a streamlined selection of classes with support from various dance organizations throughout NYC.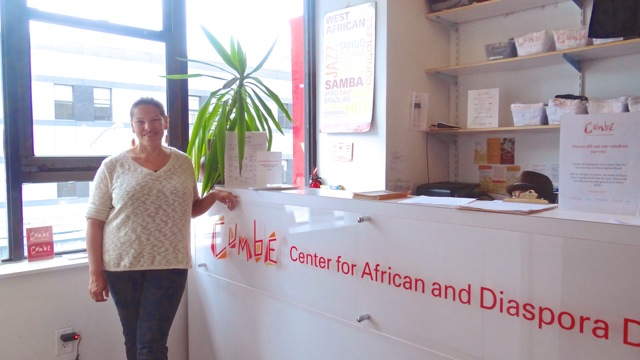 Jimena Martinez, Executive Director of Cumbe Center for African and Disapora Dance.
Starting September 25, Cumbe will begin daily adult classes ranging from traditional to contemporary styles–including West African, Afro-Haitian and, Brazilian, Soca Dancehall/Reggae, House and more. Classes for toddlers ages 1–4 will teach creative movement and rhythm through a combination of games, songs, story-telling, drumming and tumbling.
RestorationART's long-standing support of communities in Brooklyn, and the re-launch of its Center for Arts and Culture, made it a natural choice for Cumbe when searching for its new home. For RestorationART, the partnership was equally fitting: "we are excited to welcome Cumbe as an arts institution-in-residence. It joins a dynamic group of organizations in RestorationART's creative complex that personify community, perseverance, and excellence," says Indira Etwaroo, Executive Director of RestorationART and the Billie Holiday Theatre.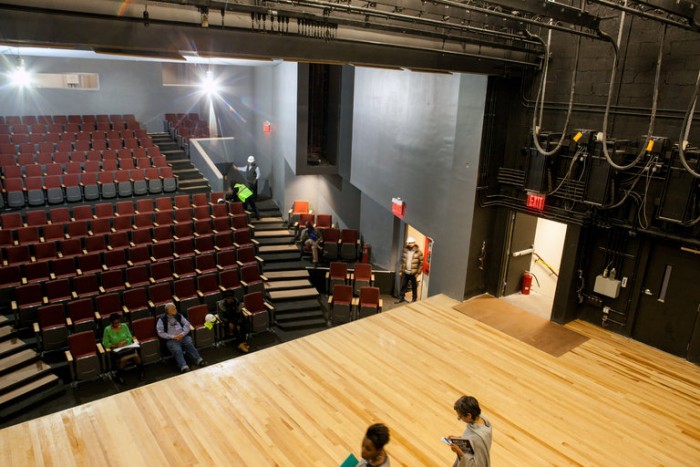 RestorationART. Photo credit: NY Times
RestorationART features 5,282 sq. ft. of ground-level studios for performing arts with sprung maple dance floors, mirrored walls, and large storefront windows. These versatile spaces will make Cumbe's classes visible to the over 1.5 million visitors Restoration Plaza receives annually.
Cumbe serves students across all five boroughs. Over the past two years, classes have been held at Gibney Dance (Gibney) and Brooklyn Ballet. Due to popular demand, two weekly classes will continue at Gibney's 280 Broadway location. Cumbe and Gibney will also partner to hold a monthly African Diaspora workshop.
September 23 Cumbe Open House Schedule at RestorationART:
 
9:45 am–10:30 am Capoeira (Instructor: Pena Verde)
10:45 am–11:45 am SOCA'N Wet (Instructor: Bajanalla Cann)
12:00 pm–1:00 pm KongoBeat (Instructor: Eto'o Tsana
1:15 pm–2:15 pm West African (Instructor: Lamine Thiam)
2:30 pm–3:30 pm Samba (Instructor: Danielle Lima)
3:45 pm–4:45 pm Afro House Fusion (Instructor: Kim Holmes)
5:00 pm–6:00 pm Rumba (Instructor: Stevie Insua)
---
The Dance Enthusiast Shares News From The Dance World And Creates Conversation!
For more FROM THE PRESS pieces, click here.
If you have important news to share, please send an announcement or press release to info@dance-enthusiast.com!