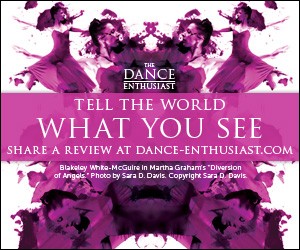 Related Features
DANCE NEWS: Award-Winning Documentary Chronicles Choreographer Amy Jordan's Fight to Dance Again Following Life-Altering Accident
Amy's Victory Dance, the award-winning documentary film about choreographer/dancer Amy Jordon's heroic journey from near-death to triumphant dance, by two-time Emmy-nominee Brian Thomas, will be available for streaming on Apple TV, iTunes , Google and Vudu beginning on May 13, 2022. The film is being released for pre-sale on May 1, the anniversary month of the horrific accident that almost took Amy's life.
Amy's Victory Dance has won Best Documentary Feature, Best Film on Disability Issue, Best Editing, Best Music, Best Choreography & Best Message, among others, at film festivals and film competitions worldwide. 
The uplifting and inspiring documentary follows the story of choreographer and dancer Amy Jordan, who, on a beautiful spring day in May 2009, was run over by a 15-ton New York City bus. As she regained awareness, she had no feeling on the right side of her body. Her first thought was, "Am I ever going to dance again?" Her second thought was 'If I survive the night, there will be a Victory Dance.' 
The film chronicles Amy's triumphant path back to the stage after the near loss of her life and her leg. In addition to producing and choreographing, Amy prepares herself to dance again with her company, the Victory Dance Project. Thomas's film embodies the physical, emotional and spiritual journey of a woman who doesn't allow circumstances to dictate her life.  It follows Amy as she manages her diabetes daily, navigates through New York City as a legally blind woman, and painstakingly maintains her rehabilitation. Her return to the stage was greeted with standing ovations and emotional tributes from the doctors who saved her life, and from the Tony Award-winning actress and dancer Chita Rivera. 
Amy Jordan; photo by Brian Thomas
Amy Jordan's training and career spans three decades of study and performances in New York, Los Angeles and Miami. She has studied classical ballet, jazz, modern dance and hip-hop with acclaimed choreographers Michael Peters, Michael Rooney, Joe Lanteri and many others.  Living with diabetes since age 4, she overcame serious health issues and complications from juvenile diabetes. She became active in the diabetes prevention community and started the non-profit Sweet Enuff Movement, to help obese kids deal with their diabetes through dance and exercise. It was a national top finalist for First Lady Michelle Obama's "End Childhood Obesity Challenge." Following an almost fatal bus accident in 2009, which crushed her leg and ended her career as a dancer, Amy founded The Victory Dance Project whose mission is to "Make The impossible is possible through the power of movement." 
Brian Thomas, director of Amy's Victory Dance
Brian Thomas, an Emmy-nominated and award-winning director, has worked in all avenues of the business over the past 30 years.   Starting his career as a choreographer he is best known for his iconic work, dancing and choreographing with Michael Jackson on the CBS 30th Anniversary Special including legends, Whitney Houston, Usher, Mary J. Blige, Liza Minnelli, Destiny's Child, and many others.  He also received an additional Emmy recognition award for his 10 years of work as choreographer on Sesame Street. Now a filmmaker his first feature documentary "Amy's Victory Dance" has won many awards internationally at prestigious film festivals around the globe.  Other directing credits include Dark Matter, featuring world-renowned dancer Desmond Richardson; and many other artistic shorts and music videos.    
Amy's Victory Dance will be available for pre-order on Apple TV/iTunes on May 1. The film will be released on May 13 on Apple TV/iTunes, Google and Vudu. 
---
The Dance Enthusiast Shares news from the dance world and creates conversation.
For more Dance News pieces, click here.
If you have important news to share, please send announcements or press release to info@dance-enthusiast.com!
---
The Dance Enthusiast - News, Reviews, Interviews and an Open Invitation for YOU to join the Dance Conversation.