DANCE NEWS: Announcing BlakTinX 2023, a Celebration of Black & Latinx Artistry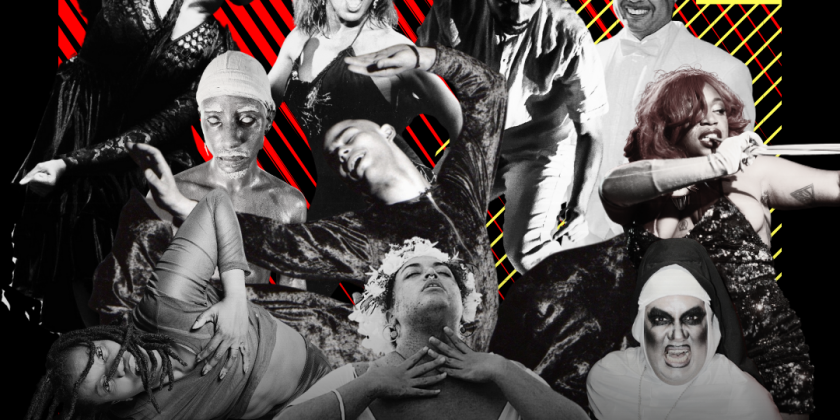 This year's dynamic BlakTinX performance series at BAAD! Bronx Academy of Arts & Dance is happening from October 6th to November 18th, 2023, both in-person and virtually. Celebrate Black and Latinx artists who are pushing boundaries and reshaping the landscape of performance art, and explore the exciting events below before getting your tickets.
Flamenco dancer Aliesha Bryan presents "El Mensaje", a new work on climate change that incorporates flamenco, contemporary dance, voice & song. Tap dancer Orlando Hernández revisits "Si así lo hicieseis, haréis bien…", a 2017 solo on the legacies of colonial violence, Indigenous interventions, and possibilities of tap as resistance.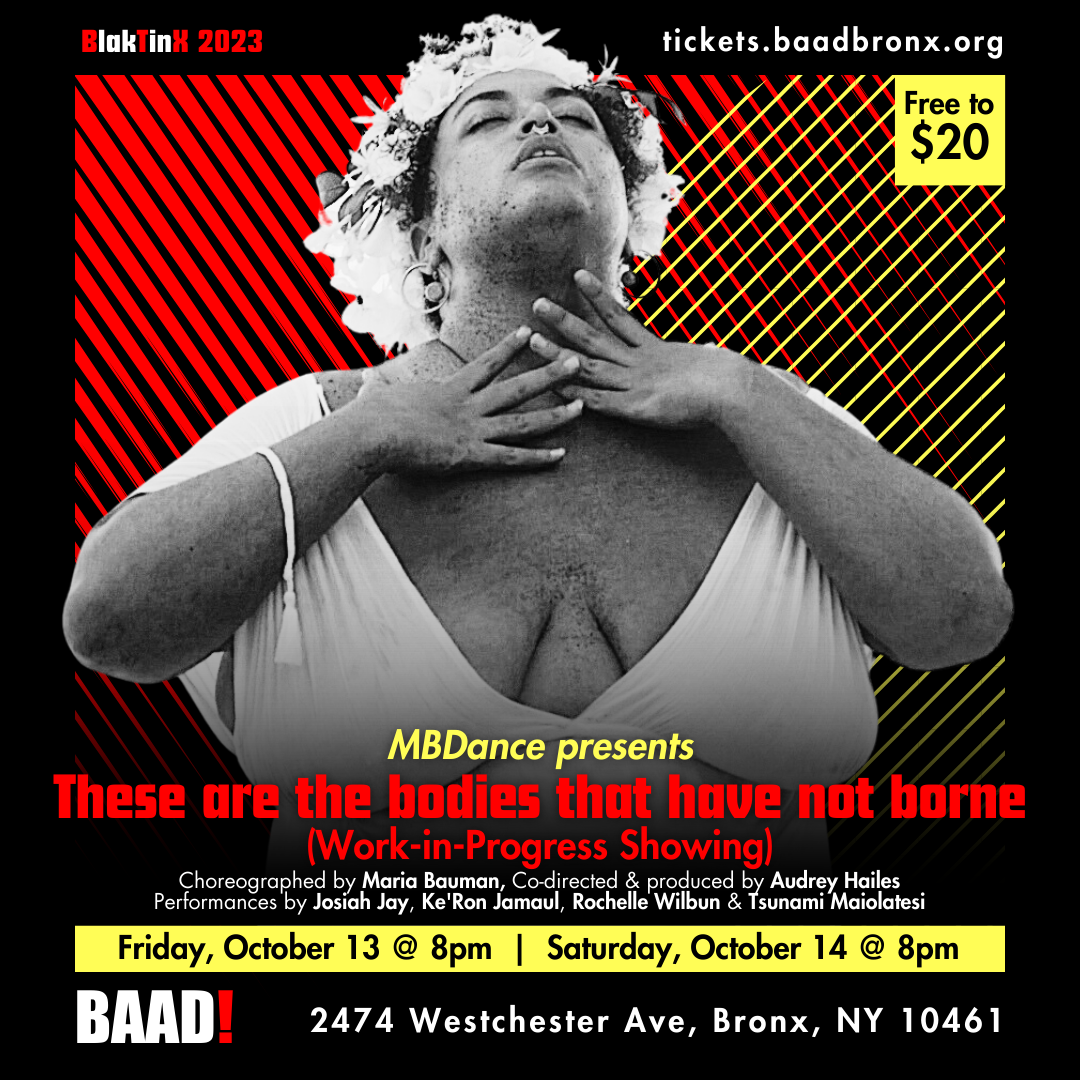 In this work-in-progress showing, Choreographer-performer Maria Bauman explores the journeys of not yet bearing a child for Black and Brown transmen, gender non-conforming & non-binary people, transwomen, and cisgender women. Featured performers: Josiah Jay, Ke'Ron Jamaul, Rochelle Wilbun & Tsunami Maiolatesi.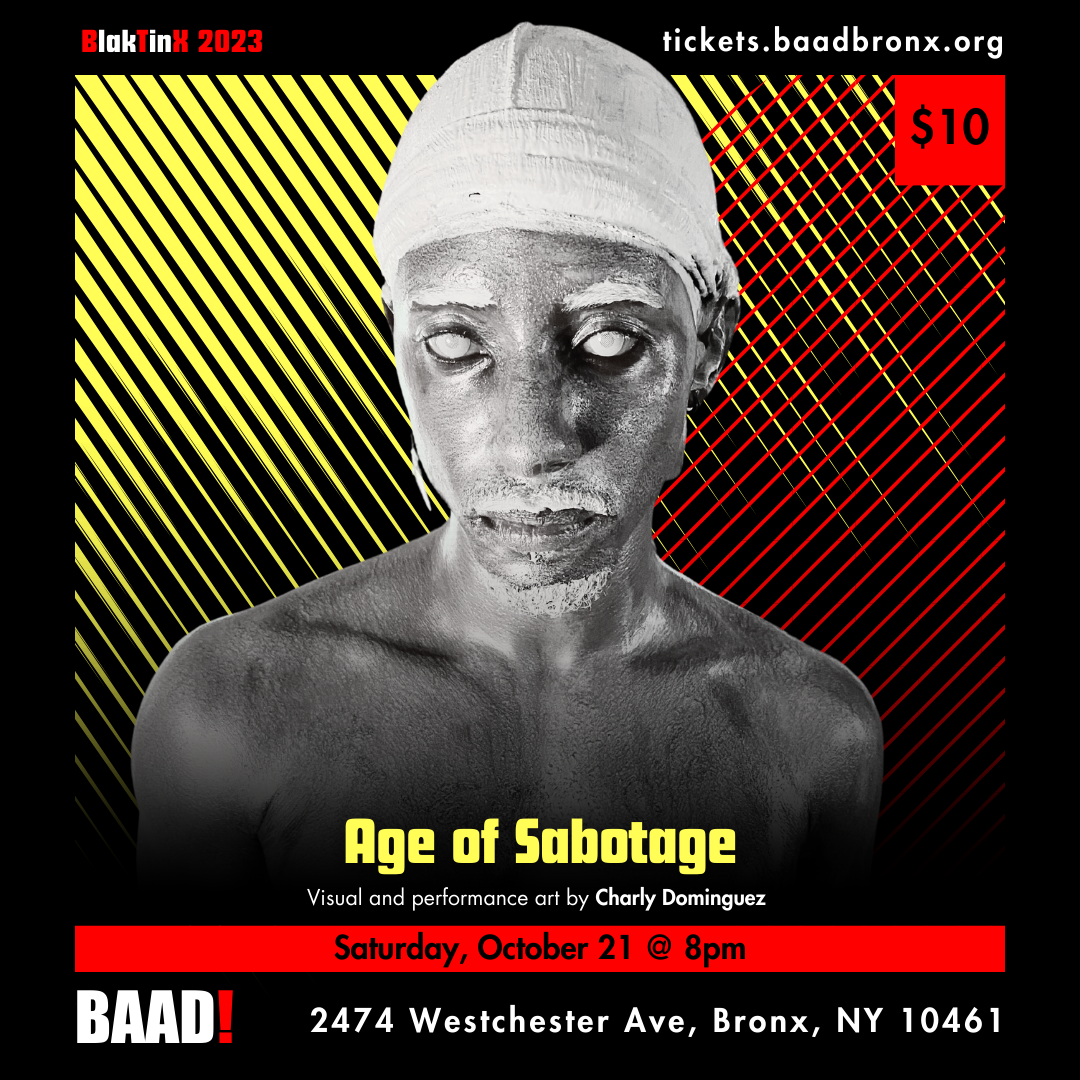 Charly Dominguez explores the challenges artists face within communities of color, highlighting the systemic barriers that hinder their prosperity. This collection of videos and performances also sheds light on the impact of cancel culture, where certain individuals intentionally disrupt the creative process to elevate themselves at the expense of artists.
this is a photo credit
Arthur Avilés revists his Untitled Series archives of re-contextualized classic dance works by Bill T. Jones, Ted Shawn, Vaslav Nijinsky and others, under a queer, LatinX lens. Featured dancers include: Nikolai McKenzie, Hunter Sturgis, Ariane Garcia, Yasmin Venable, Dea'Shinique Ramsey & Josiah Jay.
Join us this Halloween for our annual dance party featuring open mic karaoke and spooky performances! Hosted by thrilling Bronx drag queens Appolonia Cruz and Vivika Westwood Mugler. Plus, the fiercest costume will win a cash prize!
Hot-cha girls. Strip tease darlings. Exotic dancers. Shake dancers. Hoochie coochie girls. Black women have always been a part of the building and rebuilding of burlesque in America, but are often left out of the history books. Curated by Dancing Futures Resident Queerly Femmetastic, this showcase pays tribute to Black burlesque legends and features six acts from New York's vibrant Black burlesque scene. Join us to celebrate the rich legacy of Black burlesque and explore its exciting future!

Starring: Queerly Femmetastic, Nita B. Yellowcakes, Miss Aurora BoobRealis, Perle Noire, and Susie Dahl & Dominant Jeane. Presented by Pepatián with support from the Jerome Foundation.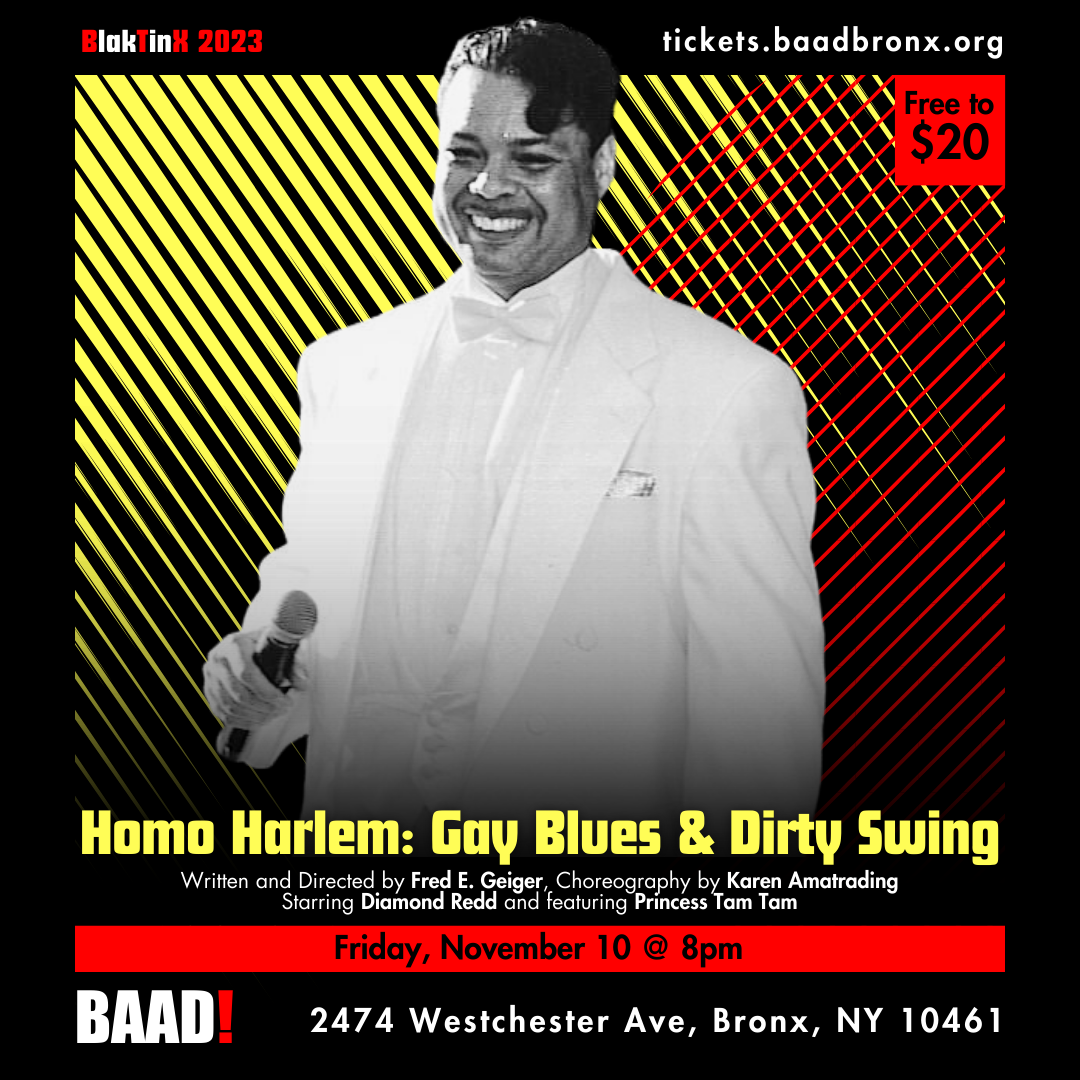 "Homo Harlem: A Queer Moment in Time" offers a series of theatrical vignettes, using music, dance, and theater to vividly portray the diverse experiences of gay men and lesbians during the culturally vibrant, yet challenging mid-20th century heyday of Harlem. Written & directed by Fred E. Geiger and choreographed by Karen Amatrading, this evening stars Diamond Redd and features Princess Tam Tam.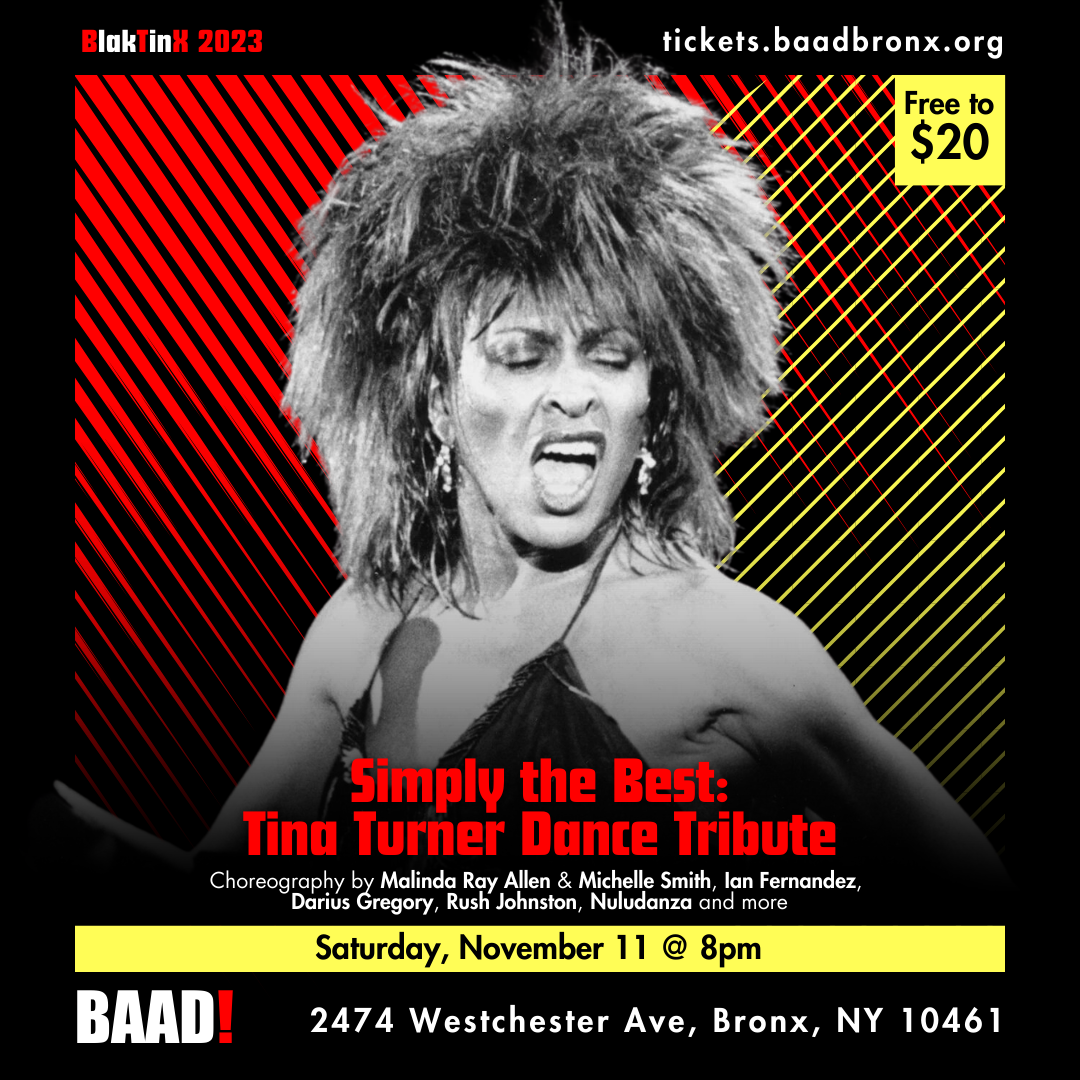 Local choreographers Malinda Ray Allen & Michelle Smith, Ian Fernandez, Darius Gregory, Rush Johnston, Nuludanza & more tribute musical shero Tina Turner in this rocking edition of BAAD!'s popular Dance Compilation series.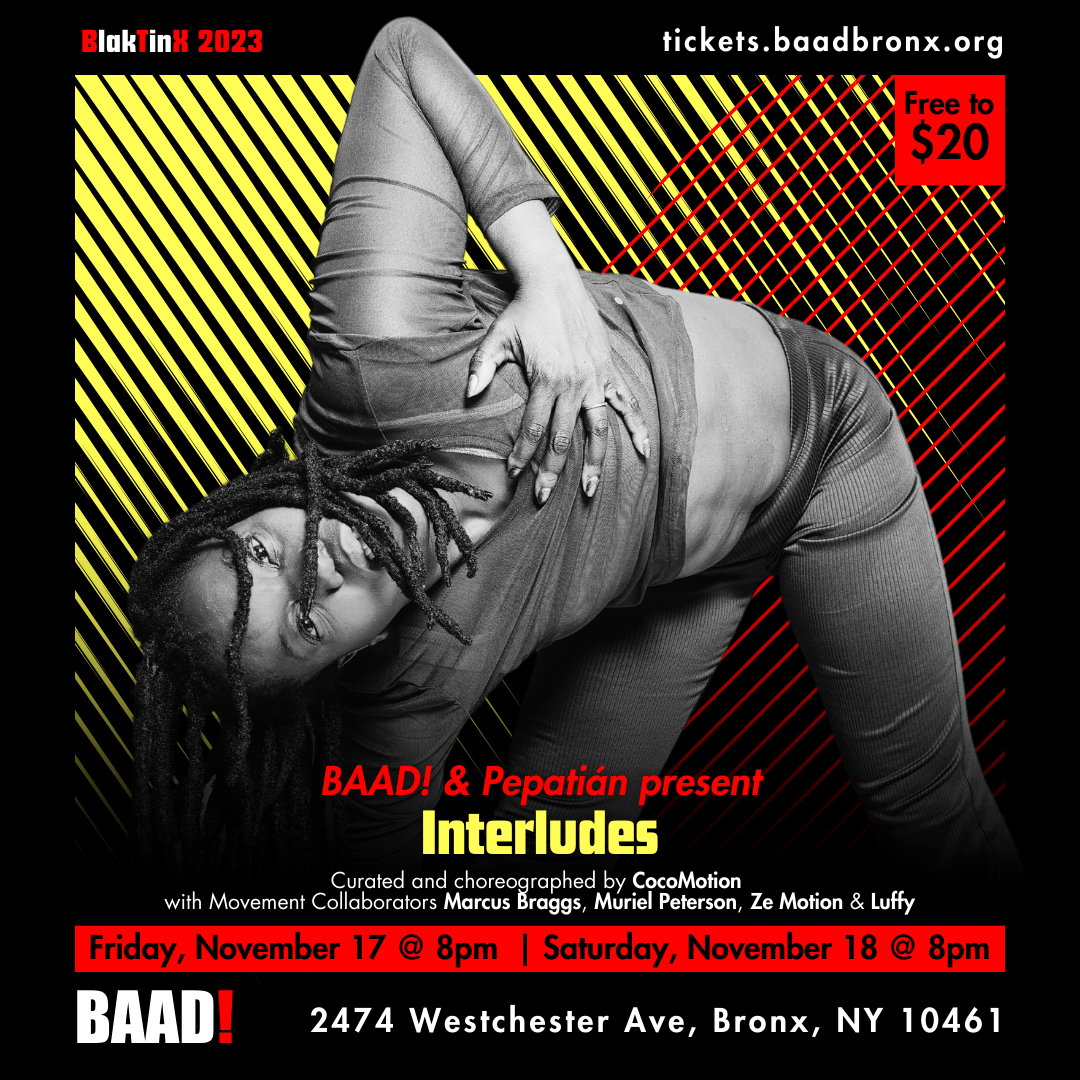 Dancing Futures Resident CocoMotion and Movement Collaborators Marcus Braggs, Muriel Peterson, Ze Motion and Luffy present a performance about relationships and the vicissitudes of life. Presented by Pepatián with support from the Jerome Foundation.
---
The Dance Enthusiast Shares news from the dance world and creates conversation.
For more Dance News pieces, click here.
If you have important news to share, please send announcements or press release to info@dance-enthusiast.com!
---
The Dance Enthusiast - News, Reviews, Interviews and an Open Invitation for YOU to join the Dance Conversation.