DANCE NEWS: Dance for PD Seeks Proposals for 2023-2024 Lucy Bowen Award for Inclusive Choreography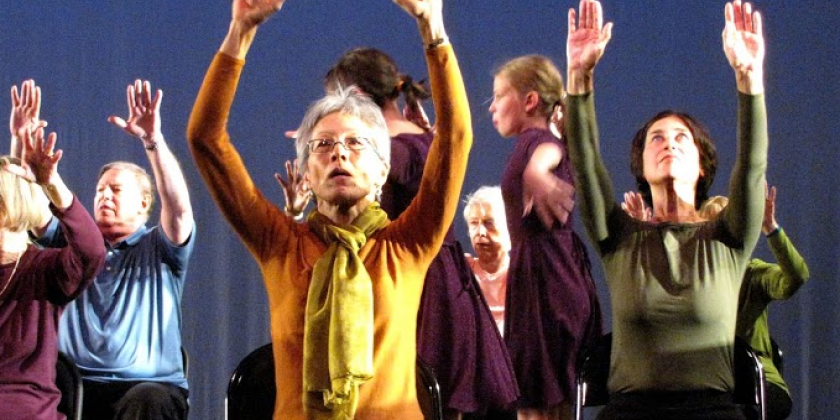 New Work by Inaugural Bowen Award Recipient Valeria Solomonoff (2021-2022) Will Premiere in June
The Mark Morris Dance Group's Dance for PD® program announces a call for proposals for the 2023-2024 Lucy Bowen Award for Inclusive Choreography, an annual award aimed at supporting choreographers who want to create a new dance in collaboration with and publicly performed by people living with Parkinson's. The Award grants up to $12,000 towards the creation of an original work of choreography and the associated production costs of a performance that shares that choreography with the public.
Award applicants must be emerging or established choreographers whose body of work reflects quality, craft, creativity, and innovation and who are proposing a collaborative partnership with a specific, established Dance for Parkinson's class community anywhere in the world. A selection committee chaired by Lucy Bowen McCauley will review applications on artistic merit, as well as on the feasibility of presenting performances of the project as proposed. Funds may be used for such expenses as choreographer fees, space rental, theater rental and production costs, and marketing. The award is representative of the work of Lucy Bowen McCauley, a certified Dance for PD teaching artist who places community engagement at the forefront of her artistic vision. McCauley, who is dedicated to nurturing and supporting the next generation of inclusive choreographers, provides generous financial assistance to uphold this award, with additional support from an anonymous donor.
Now entering its third year, prior recipients include: NYC-based Argentinian choreographer, dancer, and teaching artist Valeria Solomonoff (2021-2022), whose resulting work will premiere at the Mark Morris Dance Center Showcase in Brooklyn, June 9-11, 2023; and Robin Dekkers (2022-2023), choreographer and Artistic Director of Berkeley Ballet Theater and Post:ballet, who will premiere their new dance film in Berkeley, CA and via livestream in August 2023.
A single recipient for the 2023-24 season will be announced in October 2023.
Photo courtesy of Dance for PD
In a Nutshell...

WHAT: 
Call for proposals for the Lucy Bowen Award for Inclusive Choreography, an annual grant of up to $12,000 awarded to choreographers for the creation and production of new work for people living with Parkinson's Disease.
WHEN:
May 15, 2023: Call for proposals for 2023-24 Award
June 9-12, 2023: Premiere performance of 2022 Award recipient's work
June 30, 2023: Deadline to submit proposals for 2023-24 Award
August 2023: Premiere of 2023 Award recipient's new work
October 2023: Announcement of 2023-24 Award recipient
WHERE:
More information online at www.danceforpd.org.
---
The Dance Enthusiast Shares news from the dance world and creates conversation.
For more Dance News pieces, click here.
If you have important news to share, please send announcements or press release to info@dance-enthusiast.com!
---
The Dance Enthusiast - News, Reviews, Interviews and an Open Invitation for YOU to join the Dance Conversation.