Related Features
Contribute
Your support helps us cover dance in New York City and beyond! Donate now.
DANCE NEWS: Five Dance Artists Awarded as 2021 USA Fellows by United States Artists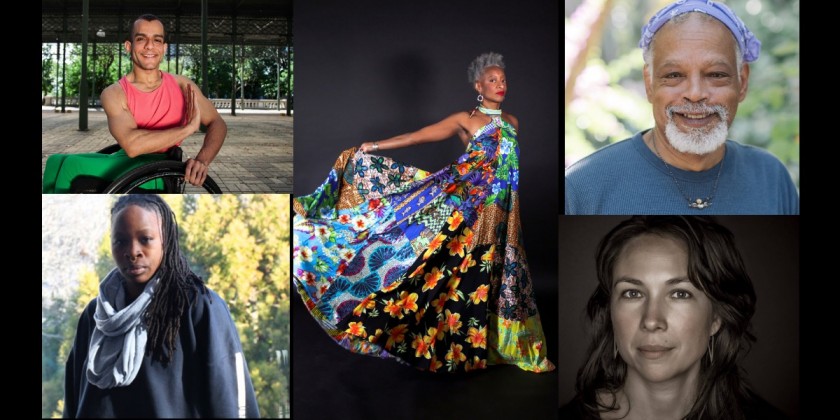 Congratulations Ishmael Houston-Jones, JanpiStar, Emily Johnson, Cynthia Oliver and Ni'Ja Whitson !
United States Artists (USA) is pleased to announce its 2021 USA Fellows.  In largest fellowship to date, sixty artists working across ten disciplines receive unrestricted $50,000 fellowships. The award honors their creative accomplishments and supports their ongoing artistic and professional development.
The 2021 USA Fellows class is the largest in the organization's 15-year history. USA Fellowships are awarded to artists at all stages of their careers and from all areas of the country through a rigorous nomination and panel selection process. Fellowships are given in the following disciplines: Architecture & Design, Craft, Dance, Film, Media, Music, Theater & Performance, Traditional Arts, Visual Art, and Writing.
The Dance Fellows are in great company across culture. Fellows span every career stage and hail from 22 states, the District of Columbia, and Puerto Rico. They represent the storytellers, shapemakers, movement builders, and culture bearers who shape today.

This award offers the chance to tell a story of how philanthropy moves forward during this ongoing crisis, raising more funds, helping more artists, and advocating for field-wide change–harnessing the support and calls to action from 2020 to help a precarious and under-supported field.
"We are grateful for every artist whose artmaking, music, writing, and more is helping us to navigate and cope through this harrowing time in our country," said United States Artists President & CEO Deana Haggag. "The 2021 USA Fellows are a testament to the power of art in shaping the world around us and navigating its complexities. Artists do so much for our communities, and we are grateful to be able to support these sixty incredible practitioners and welcome them into the United States Artists fellowship."
The USA Fellowship is the organization's flagship program and is central to its mission of believing in artists and their essential role in our society. In many ways, 2020 has shown the resilience and necessity of that mission, and the organization. As a founding partner of Artist Relief, United States Artists helped to distribute over $20 million in direct funding to nearly 4,000 artists in need. United States Artists also administered the Ford Foundation and The Andrew W. Mellon Foundation's Disability Futures initiative and is working on similar funds that are planned to be announced this year, as the organization works to deepen and diversify its cultural impact.
"Artists are at the core of their communities, and as the difficulties of the past year have demonstrated, it is more important than ever that we continue to support individual artists," said Ed Henry, USA Board Chair. "And as we continue to meet the challenges 2021 will bring, it is also clear that USA must remain nimble and responsive to the needs of the field, which is why we are honored to be able to support the largest cohort in our history with sixty artists this year."
Edwidge Danticat, a 2020 Writing Fellow, said, "From the beginning of my career, I have always benefited from the generous support of others, be it the use of a family member's house, or advice from older and more experienced writers, or grants and prizes that have gifted me the time to concentrate on my work. Now more than ever, artists need the kind of support offered by United States Artists, not just for continuity and growth, but also for safety and survival.
Since 2006, the USA Fellowship has provided direct support to artists across the country. With this unrestricted award, Fellows decide for themselves how to best use the money—whether it is creating new work, paying rent, reducing debt, getting healthcare, or supporting their families. To make its work possible, United States Artists actively fundraises each year and is supported by a broad range of philanthropic foundations, companies, and individuals committed to cultivating contemporary culture across the country.
---
The 2021 USA Fellows are:
Architecture & Design: Jennifer Bonner / MALL Portland, OR, Walter Hood,Oakland, CA,Olalekan Jeyifous,Brooklyn, NY
Craft: Diedrick Brackens,Los Angeles, CA, Bisa Butler, West Orange, NJ, Amber Cowan,Philadelphia, PA,Salvador Jiménez-Flores,Chicago, IL, Cannupa Hanska Luger.Glorieta, NM,Tiff Massey, Detroit, MI, Erin M. Riley ,Brooklyn, NY
Dance:  Ishmael Houston-Jones,New York, NY, JanpiStar, Oakland, CA, Emily Johnson, New York, NY,Cynthia Oliver, Urbana, IL,  Ni'Ja Whitson,  Los Angeles, CA
Film: Faren Humes, Miami, FL, Macha Colón, San Juan, Puerto Rico, Stephen Maing, New York, NY, Darius Clark Monroe, Brooklyn, NY. Naima Ramos-Chapman, Brooklyn, NY, Jennifer Reeder, Chicago, IL and Hammond, IN
Media: Morehshin Allahyari,Brooklyn, NY,Stephanie Dinkins,Brooklyn, NY,Lauren Lee McCarthy,Los Angeles, CA, Mother Cyborg, Detroit, MI
Music:  Martha Gonzalez,Los Angeles, CA, Edward "Kidd" Jordan, New Orleans, LA, Tomeka Reid, Chicago, IL, Wadada Leo Smith,New Haven, CT, Mazz Swift, Brooklyn, NY
Theater & Performance: Jibz Cameron,Los Angeles, CA, Carmelita Tropicana, New York, NY, Christopher Chen, San Francisco, CA ,Sandra DelgadoChicago, ILIdris Goodwin,Colorado Springs, COMia Katigbak,New York, NYKaren Zacarías,Washington, DC
Traditional Arts: Ofelia Esparza, East Los Angeles, CA; Nathan P Jackson, Ketchikan, AK, Basil Kincaid, St. Louis, M,Kawika Lum-Nelmida Honolulu, HI, Carolyn L. Mazloomi, West Chester, OH,Geo Soctomah Neptune, Motahkomikuk, ME,  Delina White,Walker, MN
Visual Art:  Njideka Akunyili Crosby,Los Angeles, CA, Lex Brown,Philadelphia, PA, rafa esparza,Los Angeles, CA, Maria Gaspar Chicago, IL, Sharon Hayes,Philadelphia, PA .Carolyn Lazard, Philadelphia, PA, Daniel Lind-Ramos Loiza, Puerto Rico,  Aki Sasamoto , New York, NY
Writing:  Alexander Chee, Bradford, VT, Eve L. Ewing, Chicago, IL ,Honorée Fanonne Jeffers
Norman, OK, Dunya Mikhail, Sterling Heights, MI,  Elizabeth McCracken, Austin, TX,  Natalie Y. Moore,  Chicago, IL Danez Smith Minneapolis, MN, Ocean Vuong,Northampton, MA
---
The Dance Enthusiast Shares news from the dance world and creates conversation.
For more Dance News pieces, click here.
If you have important news to share, please send announcements or press release to info@dance-enthusiast.com!
---
The Dance Enthusiast - News, Reviews, Interviews and an Open Invitation for YOU to join the Dance Conversation.