DANCE NEWS: A Sip of Super Good Talent: Jarritos Mexican Soda Awards $84,000 to Artists and Creatives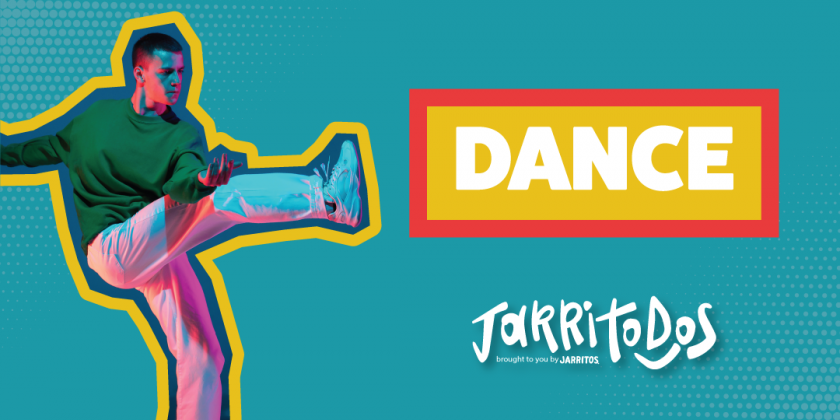 Second Annual JarriTODOS Artist Grant Contest Sees 6 Winners in Dance, Visual Arts, Fashion, Music, Makeup and Tattoo Categories
Jarritos, the authentic and flavorful Mexican soda brand, just announced the winners for the second annual JarriTODOS Artist Grant Contest.
Out of nearly 900 contest entrants, six grand-prize winners each received $10,000 and an additional top 24 semi-finalists each received $1,000 finalist awards to help them elevate their career and pursue their artistic dreams. Each submitted up to a 1:30-minute TikTok video or Instagram Reel showcasing their work in dance, visual arts, fashion, music, makeup, and tattoo categories. 
Promotional poster for the annual JarriTODOS Artist Grant Contest
"We were extremely impressed by the fierce talent and creativity from contestants this second year, especially considering how strong the submissions were for the first annual iteration of the JarriTODOS Artist Grant Contest," said Eric Delamare, Director of Marketing for Jarritos. "Jarritos at its core is fueled by art, community, and culture, and we're honored to give back to talented artists and creatives who impact and influence our society every day."
JarriTODOS Artist Grant Contest judge JoJo Gomez
A panel of notable arts and entertainment professionals selected a top-scoring grand-prize winner and four semi-finalists per contest category. Judges included returning panelists Courtney Plummer, Contemporary Art Dealer; Karla Martinez de Salas, Editor of Vogue Mexico/Latin America; Javier Farfan, music, entertainment, and cultural Marketing Consultant; JoJo Gomez, renowned professional Dancer/Choreographer; alongside new judging panelists Melissa Murdick, Celebrity Makeup Artist; and Savana Wang, professional NYC-based Tattoo Artist. 
The six grand-prize winners to receive $10,000 artist grants are:
DANCE: Bridget Stanton from Haskell, NJ
VISUAL ARTS: Hedy Torres from Inglewood, CA
FASHION: Fanny Mena from Los Angeles, CA
MUSIC: CZAR from Miami, FL
MAKEUP: Carolina Ruiz from Los Angeles, CA
TATTOO ART: Sabrina El-Masry from San Juan, Puerto Rico 
The top 24 finalists to receive $1,000 artist grants include:
DANCE: 
Tomasa Bautista from Los Angeles, CA
Vanessa Aguayo from Yonkers, NY
Isaiah Matthews from Hesperia, CA
Gideon Mekwunye from Oakland, CA
VISUAL ARTS:
Panchita Maldonado from Jersey City, NY
Malcolm Shabazz from Orlando, FL
Laura Munoz from El Paso, TX
Darien Fernandez from Las Vegas, NV
FASHION:
Kiara Harris from Austin, TX
Fey Jensen from Clackamas, OR
Marisol Ramirez from Fontana, CA
Melanie Wong from from Corona, NY
MUSIC:
2morrows June from Richmond, CA
Jeffrey Brito from Bronx, NY
Derly Barajas from Los Angeles, CA
Rosalba Valdez from Chicago, IL
MAKEUP:
Adaysela Reyes from Newark, DE
Stephanie Flores Leyva from Mount Prospect, IL
Jocelyn Estrada from San Elizario, TX
Caroline Locke from Columbia, MO
TATTOO ART:
Herchell Carrasco from Riverside, CA
Dumar Pedroza from Miami, FL
Alyssa Mijares from El Paso, TX
Maria Gomez from Van Nuys, CA
From June 13, 2023, through July 14, 2023, the second annual JarriTODOS Artist Grant Contest opened for submissions from artists across the U.S. who were interested in sharing their talent and creativity for the chance to move forward in the contest process. Upon closing contest submissions, eligible entrants advanced to judge deliberations in which judges scored the top 30 submissions to select a grand-prize winner, and four semi-finalists per their respective category. To view a list of winners and their videos, please visit: https://app.wyng.com/JarriTodos2023Winners. 
---
The Dance Enthusiast Shares news from the dance world and creates conversation.
For more Dance News pieces, click here.
If you have important news to share, please send announcements or press release to info@dance-enthusiast.com!
---
The Dance Enthusiast - News, Reviews, Interviews and an Open Invitation for YOU to join the Dance Conversation.