DANCE NEWS: Kinetic Light Announces New ALLways Access Workshop for Artists, Administrators, Event Organizers, and Arts Organizations
Next Workshop Falls on March 25, with Additional Classes Offered Throughout 2021
Kinetic Light, the acclaimed disability arts ensemble, announces its next ALLways access workshop for artists, administrators, event organizers, and arts organizations. The next workshop will take place on March 25, with additional classes offered throughout 2021. 
The ALLways method is Kinetic Light's holistic, equity-based approach to access, born out of years of research, development, experimentation, and practice. The ALLways method extends far beyond legal compliance and physical access, aiming for artistic and aesthetic equity in art making, event planning, community outreach, and marketing.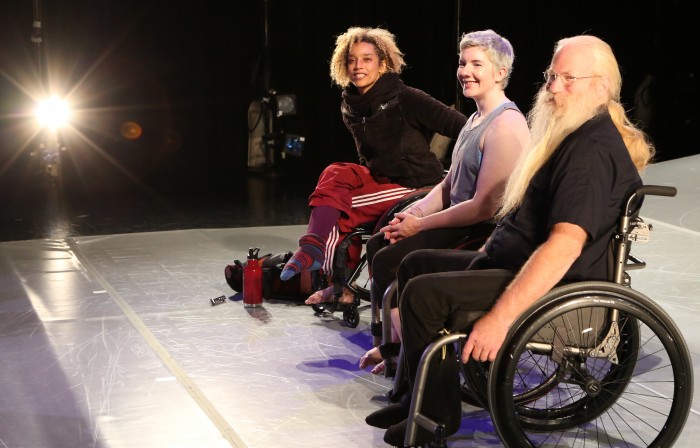 Alice Sheppard, Laurel Lawson, and Micheal Maag sit side by side in their chairs, on gray marley and lit by stage lighting. They are wearing casual and rehearsal clothing and all three are grinning at someone in the audience. Photo: MANCC/Chris Cameron
These classes, led by Kinetic Light's Laurel Lawson, are online, hands-on workshops for participants with a wide range of experience levels with disability and accessibility.  Lawson takes participants through cultural and artistic access principles, introduces tactics, techniques, and technologies, and makes space for participants to apply these principles to their own work and share with others.  Individual sessions are specialized around different topics and attendee goals.  
"Out of all of our recent work, I am perhaps most proud of ALLways," comments Alice Sheppard, Kinetic Light Artistic Director. "We strive in our own work to create the most aesthetically and artistically equitable experiences, and those approaches are constantly evolving. When we collaborate with fellow artists, presenters, museums, funders, and others in the field, we require that these collaborations are accessible, too. After years of one-on-one conversations, trainings, and teachings, and now -- led by Laurel Lawson -- we have debuted ALLways."
"Access works. Access brings in new audiences. It is not a checklist; it is a promise and a culture. Access is hospitality," says Lawson. "In these workshops we explore the why and the how of access. It's been a pleasure to share this space with artists, funders, administrators, curators, event managers, and educators and to deepen their understanding and action plans." 
EVENT DETAILS 
ALLways Workshop for Small-to-Midsize Arts Organizations 
March 25, 2021 2pm-5pm PT/5pm-8pm EDT
Prices range based on individual or organization size.
Access: the workshop will include ASL, CART, and audio description for visual elements 
Additional Information and Registration: Click Here
Contact Laurel Lawson at laurel@kineticight.org with questions. 
Workshops will be offered throughout 2021; sign up for Kinetic Light emails for alerts. 
ALLways research and access workshops are supported, in part, by the Ford Foundation.
---
The Dance Enthusiast Shares news from the dance world and creates conversation.
For more Dance News pieces, click here.
If you have important news to share, please send announcements or press release to info@dance-enthusiast.com!
---
The Dance Enthusiast - News, Reviews, Interviews and an Open Invitation for YOU to join the Dance Conversation.