Dance News: Aakash Odedra's #JeSuis Spring Tour Dates In The UK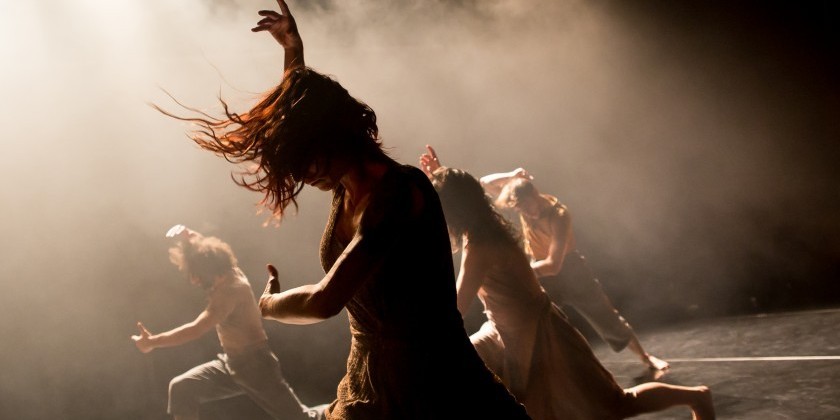 The Work Received The 2017 Amnesty International Freedom of Expression Award
Choreographer and performer Aakash Odedra's first company work #JeSuis is a powerful physical exploration of oppression in all its guises, layers and contexts.  Created for a group of seven Turkish dancers and inspired by their collective response to the widespread misinterpretations of their country,#JeSuis begins its tour in Leicester, where Aakash Odedra is based, on 9 May.

Wrapped up in ideas around displacement, refuge and instability, #JeSuisportrays the frustrations of lives lived in conflict, a homeland that no longer knows the meaning of 'home', living somewhere where freedoms and choices are a luxury and the main hope is to stay safe.

#JeSuis also looks at the role of the media in dictating the stories we see.  While #JeSuisCharlie brought solidarity and comfort to a world grieving the horrific attacks in Paris in 2015, other equally appalling attacks took place in Kabul and Istanbul but failed to capture the attention in quite the same way. #JeSuis acknowledges that some acts of oppression are more loudly heard and deeply felt than others.

The dancers are Gizem Aksu, Yasin Anar, Evrim Akyay, Taner Güngör, Su Güzey, Beril Şenöz and Melissa Ugolini.

The musical score is by Odedra's long-term collaborator Nicki Wells. Dramaturgy is by Lou Cope and lighting design by Alessandro Barbieri.

Preview performances of #JeSuis at the Edinburgh Festival Fringe in 2017 won the Amnesty International Freedom of Expression Award and in June 2018 it won the Eastern Eye ACTA Dance Award.

Naomi McAuliffe, Amnesty International's Scotland Programme Director, said: "#JeSuis is a powerful wake-up call to everyone on the climate of violence and oppression that people in Turkey are currently enduring. To see attacks on freedom of expression portrayed through the medium of dance was incredibly powerful and accessible.... A production addressing freedom of expression in Turkey is particularly resonant for us as an organisation as our colleagues from Amnesty International Turkey are currently languishing in jail."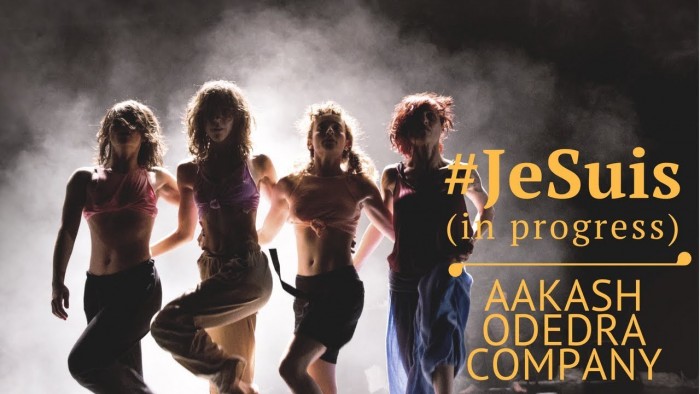 Photo © Aakash Odedra Company.
UK Tour Listings:

Thursday 9 May at 7.30pm
Peepul Centre, Leicester,
Orchardson Ave, Leicester LE4 6DP
Box office 0116 261 6000 / www.peelpulenterprise.com
Tickets £15 (£10 concessions)

Monday 13 May at 7.30pm
The Venue MK, Milton Keynes
Fyfield Barrow, Walnut Tree, Milton Keynes MK7 7WH
Box office: 01908 528808 / www.thevenuemk.com
Tickets £12 (£10 concessions)

Wednesday 15 May at 7.30pm
Cambridge Junction
Clifton Way, Cambridge, CB1 7GX
Box office: 01223 511511 / www.junction.co.uk
Tickets: £12.50 (£8.50 concessions)

Saturday 18 May at 7.30
The House, Plymouth
The Arts Institute, Roland Levinsky Building, University of Plymouth, PL4 8AA
Box office: 01752 585050 / www.plymouth.ac.uk
Tickets: £10 (£7 concessions)

Tuesday 21 May at 7.30pm
Gulbenkian Theatre, Canterbury
University of Kent, Canterbury CT2 7NB
Box office: 01227 787787 / www.thegulbenkian.co.uk
Tickets: £13 (£9 concessions)
---
The Dance Enthusiast Shares News From The Dance World And Creates Conversation!
For more FROM THE PRESS: Dance News pieces, click here.
If you have important news to share, please send an announcement or press release to info@dance-enthusiast.com!