Related Features
Contribute
Your support helps us cover dance in New York City and beyond! Donate now.
Dance News: Ailey's 60th Anniversary At New York City Center Season Opens Wednesday, November 28, 2018
Week 1 Highlights Include The World Premieres of "Lazarus" And Live Music Performances
Alvin Ailey American Dance Theater, New York City Center's Principal Dance Company, returns to the theater's stage from November 28 – December 30, 2018 for a milestone season. During the Company's Ailey Ascending 60th Anniversary celebration, Artistic Director Robert Battle leads Ailey's 32 extraordinary dancers during this five-week holiday engagement that will elevate a legacy of excellence in artistry with premieres by some of today's most revered and prolific choreographers, including world premieres by Rennie Harris and Ronald K. Brown; a company premiere by Wayne McGregor; a new production of by Robert Battle; the return of a recent premiere by Jessica Lang, and special performances of rarely seen works by Alvin Ailey himself.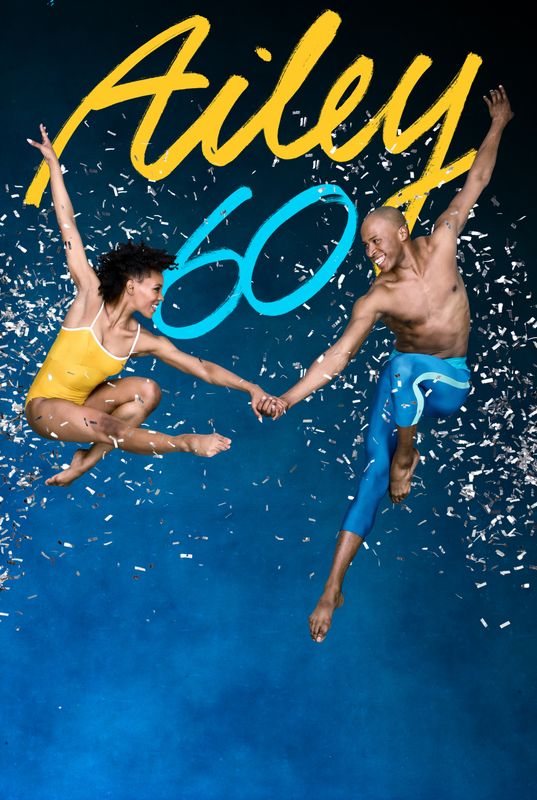 Alvin Ailey American Dance Theater's Samantha Figgins and Jeroboam Bozeman. Photo by Andrew Eccles.
The New York City Center season launches on Wednesday, November 28th with a 60th Anniversary Opening Night Gala benefit performance, followed by a party at the New York Hilton Grand Ballroom. Honorary Chairs for the gala are iconic screen stars Angela Bassett and Cicely Tyson. The one-night-only performance features special excerpts and premieres, including a piece d'occasion by Robert Battle set to Nina Simone's Black is the Color, and an uplifting Revelations finale performed with live musicians and special guest singers Ledisi (12-time Grammy-nominated R&B artist), Norm Lewis (Tony-nominated baritone known for Broadway's Porgy and Bess and NBC's live broadcast of Jesus Christ Superstar), and Brandie Sutton (critically-acclaimed Metropolitan Opera soprano). The evening honors Prudential Financial for its generous support and longstanding commitment to Ailey, especially its educational and community programs. The special program will feature the premiere of Becoming Ailey, a multimedia piece celebrating the continual gift of Alvin Ailey's presence in our hearts, minds, and stages. Created in collaboration with the award-winning artists Bob Bonniol and Caryl Glabb of MODE Studios, Inc., it will bring the voice and presence of Alvin Ailey back to the stage at the start of each performance (except Tuesday, December 11th) during the New York City Center season.
On Friday, November 30th, Ailey unveils its first ever two-act ballet with the world premiere of Rennie Harris' Lazarus. Inspired by the life and legacy of Mr. Ailey and addressing the racial inequities our nation has faced, in 1958 when the company was founded and today, Lazarus is an ensemble work featuring a soundtrack that melds Nina Simone, Terrence Trent D'Arby, Michael Kiwanuka, Odetta, original music by Darrin Ross, and the voice of Alvin Ailey. Harris is also currently serving as Ailey's first Artist-in-Residence, leading a wide range of activities across the organization: including The Ailey School, Ailey II, Arts-in-Education, Ailey Extension, and the New Directions Choreography Lab.
Tuesday, December 4th welcomes the world premiere of The Call, Ronald K. Brown's seventh work for Ailey. Brown describes the work, which seamlessly blends modern and West African dance idioms, as "a love letter to Mr. Ailey." The music includes Johann Sebastian Bach (performed by Chris Thile, Edgar Meyere & Yo-Yo Ma), Mary Lou Williams, and Asase Yaa. Prior to the work's premiere, Brown will receive the 2018 Dance Magazine Award on December 3rd.
On Friday, December 7th, Wayne McGregor's work takes the Ailey stage once again with Kairos, his second Company premiere (following 2013's Chroma). The title has dual meanings – one being the most opportune time to act, the other weather – and is set to Vivaldi's The Four Seasons, re-imagined by experimental composer Max Richter. Framed by Idris Khan's dramatic set design, Kairos features McGregor's angular yet sinuous movement on a cast of 10.
The season also welcomes the return of Jessica Lang's luminous 2018 premiere EN. Lang's 100th ballet and her Ailey choreographic debut, EN is a celebratory ensemble work set to original music by composer Jakub Ciupinski, with costumes by Bradon McDonald.
Following these world and Company premieres, two weeks of special programs kick off on Tuesday, December 11 with a commemoration of City Center's opening performance in 1943, as part of the theater's 75th Anniversary celebration. The Principal Dance Company of New York City Center, Alvin Ailey American Dance Theater has been bringing audiences there to their feet since 1971, when it became this historic theater's first resident modern dance company. The program will include Paul Taylor's Piazzolla Caldera, Twyla Tharp's The Golden Section, and Alvin Ailey's masterpiece, Revelations.
The special programs continue on Wednesday, December 12th with the premiere of Timeless Ailey, a thrilling evening featuring two acts of rarely seen excerpts from works by the Company's founder – including Streams, Pas de Duke, The Lark Ascending, For "Bird" – With Love, and many more. The program culminates with a performance of Ailey's Revelations, and repeats on December 15, 22 (mat and eve), and 30 (mat).
On Friday December 14th, the Three Visionaries program welcomes works by each the Company's artistic directors – Alvin Ailey, Judith Jamison, and Robert Battle. Excerpts of two works by Artistic Director Emerita Judith Jamison return to the stage – Divining (1984), her first choreographic effort and a popular and critical success, and Forgotten Time (1989), a quietly uplifting work in which 12 dancers journey through ancient rituals of love and tribal rites of passage. The program also includes two works by Robert Battle – the ensemble work Mass and the thrilling duet Ella – as well as Alvin Ailey's tour-de-force solo Cry and Revelations (repeats Dec 23 mat, 26 mat).
The All Battle program premieres the following Friday, December 21st, with a new production of Robert Battle's first work for the Company, Juba (2003). The quartet explores ritual and folk traditions in modern society against an original score by frequent collaborator John Mackey. The program also includes Ella, No Longer Silent, In/Side, and Mass (repeats Dec 23 eve, 27).
Other special programs in the season include All Ailey, featuring a selection of Mr. Ailey's classics in their entirety (December 13, 15 eve, 16 mat and eve), and All New, comprising season premieres (Dec 18, 19, 20, 29 eve).
Alvin Ailey American Dance Theater's Samantha Figgins and Jacquelin Harris. Photo by Andrew Eccles.
The Young New York program, supported by The Wallace Foundation as part of a multi-year audience development project, also returns this season. The initiative engages people between the ages of 21 – 30 through a series of special events and ticket offers, introducing new audiences to modern dance and the Company's inspiring legacy. Young New York Night on Thursday, November 29th features $29 tickets for every seat in the house, and the program includes Ailey dancer Jamar Roberts' Members Don't Get Weary, Jessica Lang's EN, and Revelations.
The season also includes Family Matinee Series performances presented each Saturday at 2pm, with a Q&A session featuring Ailey's revered dancers following the finale of Alvin Ailey's Revelations; live music performances of Revelations on November 30 and December 1 (mat and eve); and Ticket to Dance, a program that invites audience members to try their first Ailey Extension class FREE with a performance ticket stub. The City Center engagement culminates on Sunday, December 30 at 7:30pm with a rousing Season Finale featuring excerpts of season favorites. The 60th Anniversary celebration continues when the Company brings the magic of Ailey to more than 20 cities during the 2019 North American tour from February 1 through May 12, 2019. Stops include Washington, D.C., Atlanta, Miami, Berkeley, Boston, Chicago, Los Angeles, New Orleans and Newark.
When Alvin Ailey and a small group of African American modern dancers first took the stage at the 92nd Street Y in 1958, the engagement was for one night only—but it turned out to be the start of a new era in the performing arts. Mr. Ailey became one of the groundbreaking greats in African American history, while the work of his Company grew beyond the limits of the stage to encompass education at all levels, community outreach and cultural diplomacy. Alvin Ailey American Dance Theater now embodies six decades of achievement, celebrating the human spirit with performances that unite and inspire all.
All Young New York Night tickets are $29 - ticket buyers must be between ages 21-30; this group can also buy one ticket get one 50% off for any following season performance using code BOGOYNY.
Discount tickets are available for Ailey Super Fans who purchase tickets for more than one performance, for students with an appropriate ID, and for groups of 10 or more (discounts do not apply to $29 tickets).
For group sales, call 212-405-9082 or e-mail
groupsales@alvinailey.org
. For further information, visit
www.alvinailey.org
.
---
The Dance Enthusiast Shares News From The Dance World And Creates Conversation!
For more FROM THE PRESS pieces, click here.
If you have important news to share, please send an announcement or press release to info@dance-enthusiast.com!