Related Features
Contribute
Your support helps us cover dance in New York City and beyond! Donate now.
Dance News: The American Tap Dance Foundation's TAP DANCE AWARDS on July 10, 2018 at Symphony Space
The American Tap Dance Foundation's TAP DANCE AWARDS will be presented on Tuesday, July 10 at the Leonard Nimoy Thalia Theater, Symphony Space at 7pm.  The ceremony will honor winners of the organization's Hoofer and Tap Preservation Awards and include inductions into the ATDF Tap Dance Hall of Fame. The awards evening, which will also offer film presentations and performances, is a featured event of "TAP CITY," the weeklong celebration of tap dance returning to New York City for its 18th consecutive year (July 7 to 13).

Jared Grimes and Katherine Kramer are recipients of this year's ATDF Hoofer Award, in recognition of their inspiration to future generations and contributions to the art form.
Katherine Kramer in a Beantown Tap Festival Performance in Boston, MA (August 2016). Photo credit: Joni Lohr.
 
The 2018 Tap Preservation Award will be awarded to the late Leticia Jay for her role in advancing tap dance through presentation and preservation. The late Ralph Brown and The Tap Happenings are this year's inductees into the ATDF Tap Dance Hall of Fame, the only Tap Dance Hall of Fame focused exclusively on 20th and 21st century professional tap dancers. With its collection of photographs, biographies, and videos, the ATDF Hall of Fame is a colorful and diverse retrospective of America's seminal tap dance personalities.
Each ATDF Tap Dance Award presentation will be accompanied by a dance performance or film footage. The Hoofer Award to Katherine Kramer will present original waltz choreography by Ms. Kramer, featuring dancers Nicholas Young, Carson Murphy, Katherine Kramer, and Ilana Reynolds (contemporary dance). The Hoofer Award tribute to Jared Grimes will present Grimes choreography recreated by Robin Passmore (dancer from Apt 33), and others he inspired while creating Broadway Underground. Michelle Dorrance will present Mr. Grimes with his award.
The Tap Dance Hall of Fame Award to the late Ralph Brown will include his tap choreography, reconstructed by an ensemble of dancers who worked with him firsthand, including Katherine Kramer and students. Rarely seen video footage of Mr. Brown will also be shown. The presentation of rare footage of the legendary hoofers in The Tap Happenings (1969 film), produced by Tap Preservation Award winner Leticia Jay, includes performances by Charles "Chuck" Green, Howard "Sandman" Sims, Lon Chaney, Rhythm Red and others.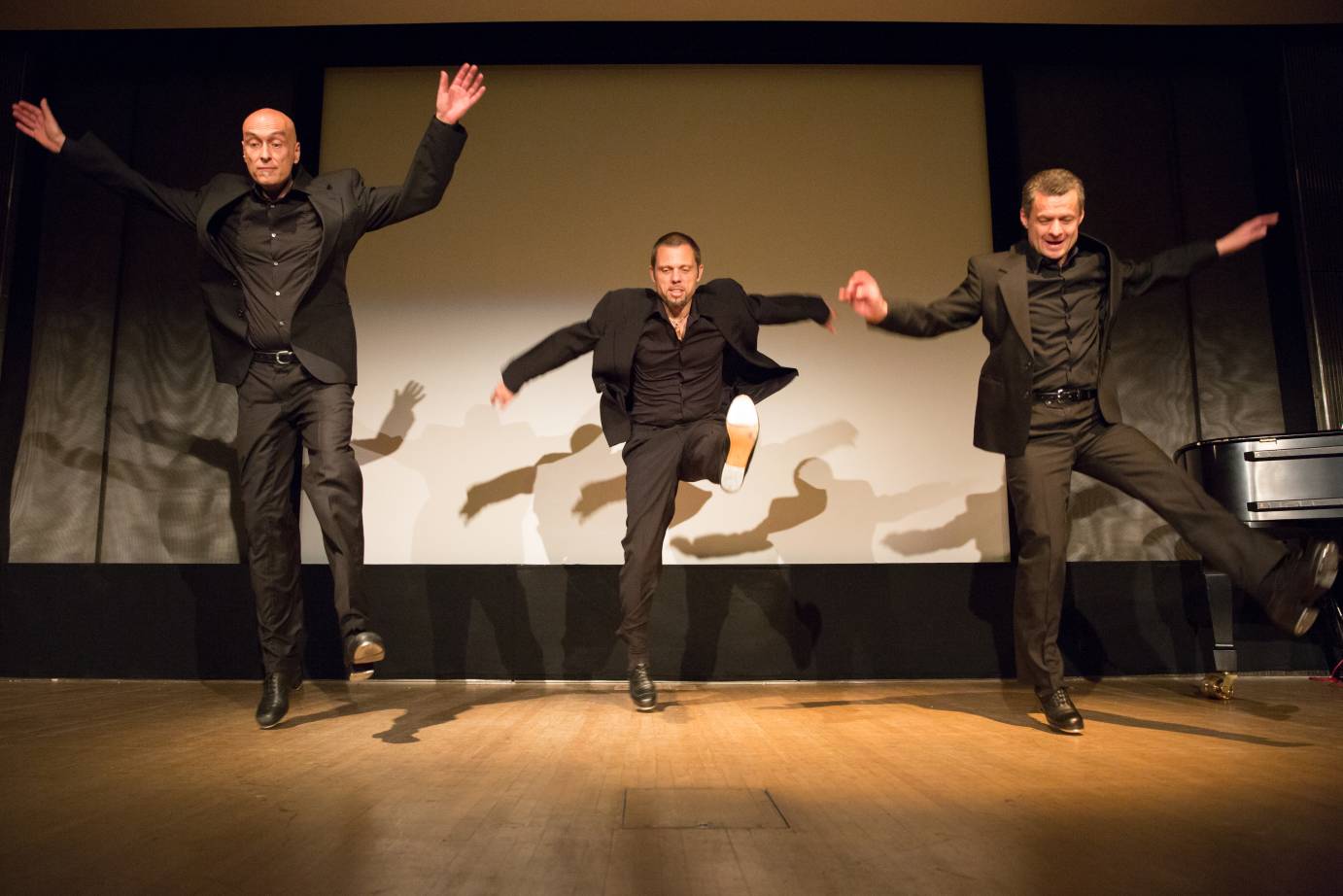 Photo courtesy of The American Tap Dance Foundation.
A live jazz trio, with Jess Jurkovic on piano, Joe Fonda on bass, and Josh Davis on drums, will accompany the performances. The Hoofer Award/Katherine Kramer dance performance will also include Virginia Mayhew on saxophone and Kenneth Metzker on percussion.
The American Tap Dance Foundation's TAP CITY, THE NEW YORK CITY TAP FESTIVAL will return from Saturday, July 7 through Friday, July 13 with local and international tap dance artists, master classes, a tap dance boat tour around Manhattan, the Tap Dance Awards, Rhythm in Motion Concert Performance and "Tap it Out," a free outdoor tap dance event in the middle of Times Square. Read more.

TAP CITY, The New York City Tap Festival celebrates the American Tap Dance Foundation's ongoing commitment to establish and legitimize tap dance as a vital component of American dance through creation, presentation, education and preservation. ATDF is in a unique position as both a promoter of the new and preserver of the living history of tap dance.

In July, the American Tap Dance Foundation will celebrate 32 years since its founding by tap master Charles "Honi" Coles, his protégée Brenda Bufalino, and the Foundation's current artistic and executive director, Tony Waag.
---
The Dance Enthusiast Shares News From The Dance World And Creates Conversation!
For more FROM THE PRESS pieces, click here.
If you have important news to share, please send an announcement or press release to info@dance-enthusiast.com!