Dance News: Baryshnikov Arts Center Announces Naming Of The Danny Kaye & Sylvia Fine Kaye Studio
Mikhail Baryshnikov Calls The Couple "Great Creative Talents & Humanitarians"
Baryshnikov Arts Center (BAC) announces the naming of its Studio 4B for the great American entertainer, actor, singer, and comedian Danny Kaye (1911—1987) and his wife Sylvia Fine Kaye (1913—1991), an accomplished lyricist, composer, and producer who mostly collaborated with her husband, writing material that he performed. The dedication completes the naming of all of BAC's studios and theaters for gifted artists, friends and/or mentors to Founder and Artistic Director Mikhail Baryshnikov—a roster that includes philanthropist Howard Gilman; artists Jerome Robbins, John Cage, Merce Cunningham, Rudolf Nureyev; and BAC's founding managing director emerita, Christina Sterner. A private event at BAC on Tuesday, October 30 will serve as the official naming of Studio 4B as the Danny Kaye & Sylvia Fine Kaye Studio in recognition of the Kayes and their contribution to arts and culture.  
Honoring Danny and Sylvia Kaye has personal significance to Mr. Baryshnikov, who was a close friend of the couple. Naming the Danny Kaye & Sylvia Fine Kaye Studio is also in acknowledgement of the eponymous foundation that provides support to grantees in the arts, health, human services, and international affairs. From its inception, BAC, now in its 13th year, has received sustained and generous support from the Foundation, whose funds are stewarded by the Kaye's daughter, Dena Kaye.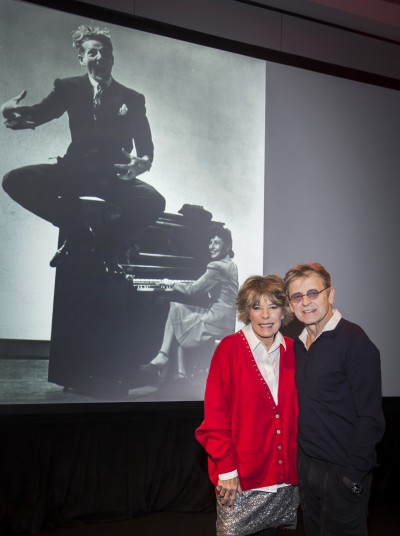 Dena Kaye and Mikhail Baryshnikov. Photo © Baryshnikov Arts Center.
Mikhail Baryshnikov said: "I have very fond memories of Danny and Sylvia. Naming our studio after them is the perfect opportunity to honor two great creative talents and humanitarians, to acknowledge the efforts of their Foundation, and to recognize Dena's commitment and generosity to BAC." 
Dena Kaye said: "Naming the last unnamed studio in the Baryshnikov Arts Center after both of my parents reflects Misha's respect and admiration for them as artists and, equally important, reflects the affection and friendship they shared. I hope that the presence of my parents in a contemporary, forward-looking institution will give new generations a chance to discover them, and their unique talents." 
Danny Kaye was a gifted, energetic, and immensely charismatic entertainer who honed his skills as a rapid-fire patter singer, a comedian, and a master of fractured foreign accents and mimicry on the "Borscht Belt" circuit of Catskill resorts and in vaudeville, before moving to Broadway and films in the early 1940s. With clever songs and special material tailored to showcase his comedic gifts written by Sylvia Fine, whom he married in 1940, and the backing of Samuel Goldwyn with whom he signed in 1943, Kaye starred in a series of evergreen comedies with music, often playing befuddled innocents who act with surprising heroism and ultimately "get the girl." Among his most beloved classic films are "The Secret Life of Walter Mitty" (1947), "The Inspector General" (1949), "On The Riviera" (1951), "Hans Christian Andersen" (1952), "White Christmas" (1954), and "The Court Jester" (1956). By the early 1950s Kaye was actively involved with UNICEF and made a short film called "Assignment Children" (1954) for the United Nations. He also won a Special Academy Award in 1954 for "his unique talents, his service to the Academy, the motion picture industry, and the American people." His film career came to a virtual halt as he focused on his Emmy winning TV variety show, "The Danny Kaye Show" (1963—67) and his work with UNICEF in the 1960s, and he conducted symphony orchestras worldwide to raise money for the musicians' pension funds. In 1982, he was presented with the Jean Hersholt Humanitarian Award at the 54th Academy Awards.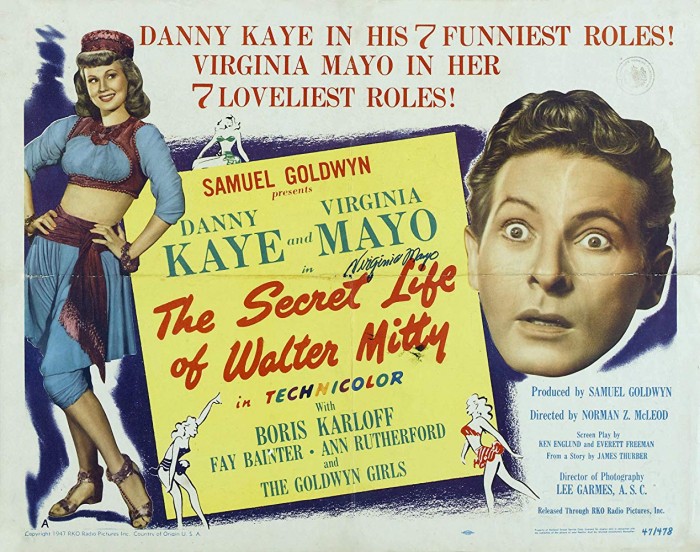 "The Secret Life of Walter Mitty" (1947) written by Sylvia Fine Kaye for Danny Kaye.
After graduating from Brooklyn College, Sylvia Fine helped produce skits at the Tamiment Playhouse in the Poconos, where her fellow entertainers included Danny Kaye, Jerome Robbins, and Imogene Coca. In 1940, she married Kaye, and the couple worked as a cabaret act at the Manhattan nightclub La Martinique. She wrote the music and lyrics for the act, and accompanied Kaye on piano. For most of her career, Sylvia Fine Kaye wrote songs and music exclusively for her husband, including many of his films: "Up in Arms" (1944), "Wonder Man" (1945), "The Kid from Brooklyn" (1946), "The Secret Life of Walter Mitty" (1947), "The Inspector General" (1949) and "The Court Jester" (1956). She was twice nominated for Academy Awards for Best Original Song for her work on "The Moon Is Blue" (1953) and "The Five Pennies" (1959). In the 1970's, she embarked on a separate career as a television producer and teacher, teaching musical comedy at the University of Southern California in 1971 and at Yale in 1975. In 1979, she produced and narrated this course as a PBS program, "Musical Comedy Tonight," which won a Peabody Award. Two further "Musical Comedy Tonight" programs premiered on PBS in 1981 and 1985.
---
The Dance Enthusiast Shares News From The Dance World And Creates Conversation!
For more FROM THE PRESS pieces, click here.
If you have important news to share, please send an announcement or press release to info@dance-enthusiast.com!