Related Features
Contribute
Your support helps us cover dance in New York City and beyond! Donate now.
Dance News: INSITU Site-Specific Dance Festival 2018 Takes Place This August 4 & 5
20 Choreographers from NYC and Beyond Create Original Works Inspired By Natural and Urban Landscapes
INSITU Site-Specific Dance Festival, named by the New York Times as one of "15Summer Dance Festivals, Portland to Vail" to see this summer, is a unique event presented in four public parks along the East River waterfront in Queens. For two days in August, neighborhood residents and visitors are invited to discover LIC through cutting edge site-specific contemporary and urban dance.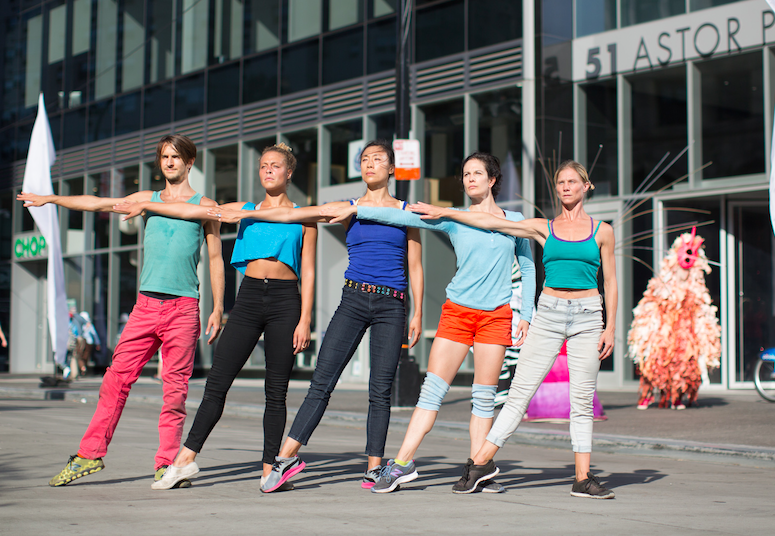 Douglas Dunn + Dancers, September 17, 2016. Dancers: Timothy Ward, Emily Bock, Jin Ju Song, Alexandra Berger, and Emily Pope. © Ian Douglas.

Now in its second year, INSITU 2018 will transforms the Western Queens waterfront into one giant stage on August 4 & 5 from 1 pm to 8pm daily. Twenty new commissioned works by regional, national and international choreographers selected from over 200 applications will be presented in Hunters Point South Park, Gantry Plaza State Park, Queensbridge Park and Socrates Sculpture Park, including new site-specifics works by Douglas Dunn (NYC), Chantal Caron/Fleuve Espace danse (Canada), Sarah Elgart | Arrogant Elbow (Los Angeles) and Alice Gosti (Seattle). One hundred and sixty performances representing 32 hours of dance will be organized into 4 performance rounds per park per day, each lasting approximately 90 minutes and all starting at the same time in each park at 1 PM, 3 PM, 5 PM and 7 PM. Additionally, INSITU 2018 will offer audiences the opportunity to interact directly with several choreographers from last year's festival in a 20-minute workshop presented after the first three performance rounds. The choreographers are Melissa Riker/Kinesis Project dance theatre, JoAnna Mendl Shaw/The Equus Projects, Christopher Nunez, and Cecelia Fontanesi/Parcon NYC.
Renegade Performance Group. Photo by Richard Louissaint.
 
Another important element of INSITU 2018 will be the Community Dance Workshop series, July 10, 2018-August 2, 2018 hosted by Jacob A. Riis Neighborhood Settlement located at 10-25 41st Avenue, Long Island City, NY 11101, and facilitated socially engaged choreographers over four weeks in July. This year, INSITU offers two specific workshops, one for young adults guided by choreographer Quilan "Cue" Arnold, and one for 50+ adults led by choreographer Nubian Nene throughout the month of July. The INSITU Young Adult Dance Workshop, called "onC.U.E." meets on Tuesdays and Thursdays from 6:30-8:00 PM on July 10, 12, 17, 19, 24, 26, 31 and August 2. The INSITU 50+ Dance Workshop, called "The Essence Experience" meets on Wednesdays from 10:00-11:30 am on July 11, 18, 25 and August 1. Each workshop will culminate in a short performance at INSITU Site-Specific Dance Festival on August 4 + 5 in Queensbridge Park. Workshops are free, no dance experience necessary. For more information, visit insitudancefestival.com/workshops.
 
INSITU is free and open to the public, offering an exciting way to experience dance in unusual public spaces. Inspired by natural and urban landscapes of the public parks, the diverse line-up of 20 contemporary and urban dance companies will maneuver through playgrounds, partner with benches, appear in hidden corners and dance on piers, staircases and shorelines. Other sites within the parks include a beach, historic railway ties, piers, promenades, lounge chairs, thicket of trees, a stone platform, and more. Audiences will be led through continuous dance performances several times throughout the day, setting up a chain of dynamic and immersive performances throughout the four parks.
Alice Gosti's "Bodies of Water."
 
A festival map, with performance schedule and locations, will be available at each park as well as available on the INSITU 2018 website, insitudancefestival.com/program.
 
INSITU's mission is to activate public spaces through dance, spark dialogue and create community through the arts. It's an initiative that aims to strengthen, bridge and celebrate the diverse communities living along the Long Island City waterfront by using dance as a tool for deeper community engagement. INSITU aspires to make dance accessible, connect artists with audiences, and raise awareness of the power of movement by bringing it into public spaces of our community. INSITU is a supportive platform for artists to develop new work and strives to increase the visibility of the arts in Queens.
Artists and companies participating in INSITU Site-Specific Dance Festival 2018.
---
The Dance Enthusiast Shares News From The Dance World And Creates Conversation!
For more FROM THE PRESS pieces, click here.
If you have important news to share, please send an announcement or press release to info@dance-enthusiast.com!