Related Features
Contribute
Your support helps us cover dance in New York City and beyond! Donate now.
Dance News: Lincoln Center Out of Doors Launches On July 24, 2019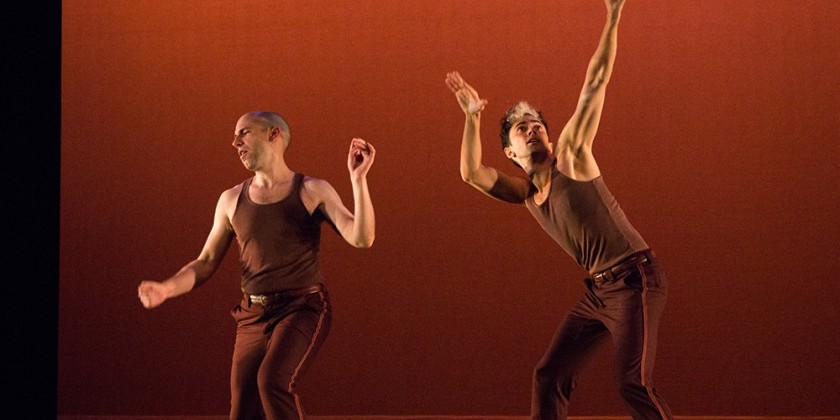 Dancemakers To Catch Include Caleb Teicher, Jesús Carmona, Sri Lankan Dance Academy of New York, Redobles de Cultura & More!
Lincoln Center Out of Doors—Lincoln Center's totally free outdoor summer series—launches in just a couple of weeks, on July 24!
Put these 3 dance events on your radar:
Sri Lankan Dance Academy of New York.

Made in NYC 2.0: Next Generation Traditions
Sunday, July 28 at 1pm in Hearst Plaza
Featuring Redobles de Cultura, Sri Lankan Dance Academy of New York, Michael Winograd & the Honorable Mentshn, and Inkarayku
Building off of last year's Made in NYC Heritage Sunday program, which celebrated the 50th anniversary of the Center for Traditional Music and Dance (CTMD) with an all-star lineup of artists, Made in NYC 2.0 calls upon next-generation practitioners inheriting the city's soundscape with increasingly New York–formed traditions and stories. From celebrated legacy artists to those who are just bursting onto the scene, these musical stories and talents are in fact "made in NYC"—and it is that New York City story that makes them, and CTMD's work, so significant. Among the featured ensembles are Nuyorican bomba extraordinarios Redobles de Cultura, who blend the foundational knowledge of their elders with the aesthetics, styles, and realities of an urban and diasporic perspective; the intergenerational Sri Lankan Dance Academy of New York repping Staten Island and its diverse Sri Lankan community; Brooklyn-based klezmer torchbearer Michael Winograd & the Honorable Mentshen; as well as Inkarayku, an Andean band that blends the organic power of Quechua folk songs and dance music with the energy and edge unique to our city that never sleeps.
Caleb Teicher & Company in "Bzzz." Photo by Em Watson. 
Liza with a "Z" (rare screening of Liza Minnelli's seminal special)
Friday, August 2 at 7pm in Damrosch Park
Caleb Teicher & Company + Students of LaGuardia High School perform "Sing, Sing, Sing" from Bob Fosse's DANCIN' (1978) 
Liza Minnelli fans young and old are invited to gather under the stars in Damrosch Park for a rare screening of the Emmy- and Peabody Award–winning Liza with a "Z". Capturing a one-woman, one-night-only production Minnelli gave at the Lyceum Theater in 1972, and along with it a momentous time in cultural history, this concert film boasted superstar credits (directed by Bob Fosse, costumed by Halston, and packed with songs by Kander & Ebb). Out of Doors opens this time capsule of 20th-century art to a whole new generation.
Following in the footsteps of choreographic legend Alvin Ailey, Caleb Teicher believes that dance is for everybody—and every body. The jazz, tap, and swing wunderkind has developed a style of dance that reflects not only how Americans have danced for the last hundred years, but also how they use their bodies now. Along with his intrepid ensemble, the Bessie Award–winner presents a program that includes the spirited Lindy hop–inspired Meet Ella, set to the music of Ella Fitzgerald; Small & Tall, witty, jazz-inflected duets performed to live music; and Bzzz, featuring rousing tap choreography and the irresistible rhythms of an onstage beatboxer. Rounding out this exhilarating evening of dance is a performance of "Sing, Sing, Sing" from Bob Fosse's DANCIN', by students of LaGuardia High School, with original choreography by Fosse.
Jesús Carmona. Photo credit: Marcos G Punto.
Jesús Carmona: Amator
Wednesday, August 7 at 7:30pm in Damrosch Park
Arooj Aftab
With his flawless footwork and ballet-infused moves, Jesús Carmona is "un fenómeno"—a phenomenon—of the flamenco world (New York Times). He brings his palpable charisma to the Damrosch Park Bandshell for a performance of his intensely beautiful Amator, a deeply personal work that draws upon his love of Spanish dance. Experience this masterful feat of electrifying choreography and improvisation, accompanied by onstage orchestration.
This evening of visceral musicality begins with Lahore-born, Brooklyn-based artist Arooj Aftab who is continuing the Sufi tradition with a style that combines Sufi-mystical poetry with the spirit of independent rock. Reworking classical Pakistani and North Indian forms, including thumri, khayal, and kafi, she creates a fascinating mix of sounds and cultures that will float through the night air with lightness and poise. Tonight, Aftab presents new music in collaboration with an exceptional ensemble featuring Maeve Gilchrist, Shahzad Ismaily, Gyan Riley and Greg Fox.
---
The Dance Enthusiast Shares News From The Dance World And Creates Conversation!
For more FROM THE PRESS: Dance News pieces, click here.
If you have important news to share, please send an announcement or press release to info@dance-enthusiast.com!