Dance News: MFA in Dance Launched at Rutgers Winter 2017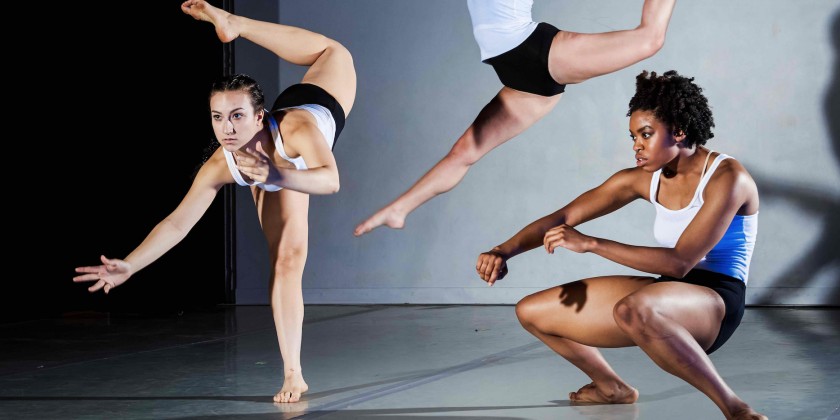 Second Cohort Of MFA Dance Students To Enroll In Winter 2018
The inaugural cohort of MFA students at Rutgers University's Dance Department enrolled in winter 2017, including working dance artists from New York City and New Jersey. Graduate Director Jeff Friedman notes that applications for these spots in the first MFA cohort were competitive.
"We enrolled dance artists and scholars, including a Flamenco dance aritst who has worked in Mexico with underprivileged orphans and is currently associate director for the Ballet Hispanico school in New York City; a certified African diaspora-based Umfundalai dance artist who has received fellowships to study diasporic African dance in Cuba and South America; and a working contemporary dance artist with an interest in African American women's literature."
The 26-month flexible schedule program launched in January 2017. The first cohort has studied oral history and performance, video techniques, and Black women's literature, in addition to required courses in improvisation strategies, including William Forsythe's Improvisation Technologies, with direct connection to readings in dance philosophy and aesthetics. Spring 2017 guest artists and scholars included Brooklyn-based interdisciplinary choreographer Laura Peterson, who created a dance/visual arts work for the Rutgers main stage, and lectures by artist/scholar Rosemary Candelario, discussing Eiko and Koma's dance oeuvre, and dance philosopher Dr. Aili Bresnahan, from Dayton University in Ohio. All MFA students study with full-time Rutgers faculty and New York metropolitan area-based technique guest instructors.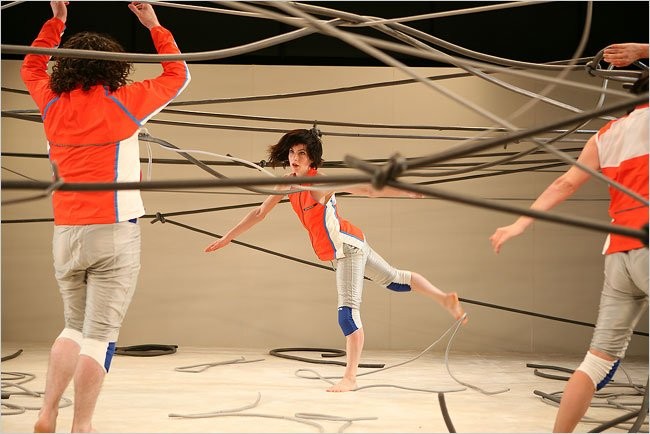 Laura Peterson Choreography at Dance New Amsterdam. Photo credit: Briana Blasko.
The second cohort of MFA graduate students have been accepted for Winter 2018, including a dance and opera specialist from Russia; a choreographer from Paris with training in Chinese martial arts; a New Jersey-based specialist in children's pedagogy from the Mark Morris Dance Center; and a choreographer form Philadelphia with experience in collaborations with jazz music. Both the first and second cohorts' resumés support MFA in Dance focus areas: substantial course sequences in critical pedagogy and creative research towards interdisciplinary thesis projects.
Applications are now open in Fall 2017 for the third cohort in Rutgers' MFA degree in dance. Auditions, incuding ballet barre, contemporary dance, and improvisation workshop are available on the Rutgers-New Brunswick campus in January and February 2018. Los Angeles auditions in January 2018 are available by appointment. Contact Graduate Programs Administrative Assistant Colleen Klein at ck612@mgsa.rutgers.edu or at 848-932-1345 for more information; reivew the MFA web site: www.masongross.rutgers.edu/dance/mfa
Dance faculty Jeff Friedman, a dance artist with a doctorate degree in dance studies, undergraduate training in archiectural design, and a creative and performing career in multi-, cross- and interdisci-plinary works, serves as MFA program director. Dr. Friedman describes the degree as designed for professional dance artists with five years working experience from undergraduate school who wish to teach and research at the collegiate level.
Dance Department graduate faculty Dr. Julia M. Ritter says the degree is for students interested in honing their artistic and scholarly visions to emerge from the program with an approach to dance that is both global and interdisciplinary.
Dr. Friedman says: "Dance faculty teach and conduct research, contributing to scholarly discourse. To do so, MFA students must commit to rigorous thinking and a transformative experience." The 60-credit degree requires a year-and-a-half of coursework and eight months of thesis work, with a flexible option to complete final projects on- or off-campus. The degree trains students in history, philosophy, and aesthetics; critical pedagogy theories and methods; and interdisciplinary performance and choreography strategies with faculty and guest artists from around the world. Electives in other art forms, the humanities, and additional disciplines are drawn from Rutgers University's vast offerings. In addition, a pair of seminars focus on portfolio preparation and leadership/advocacy, launching graduating students into higher education.
The MFA experience has already proven to be a rich mix of thinking and doing: linking theory and practice, through research and teaching towards creating movement-based interdisciplinary works in concert dance, screendance, installation, or other formats.
"The MFA further establishes our Dance Department as a conservatory that focuses not only on high-caliber training in dance technique and choreography but also as an institute dedicated to the development of highly trained dance researchers and educators," says Kara Golden, director of admissions at the Mason Gross School. "Given proximity to New York City, the MFA degree program is ideal for dance artists who have already established a professional career and are looking to enhance their artistry while developing skills and experience required to teach their craft."
To enroll, applicants submit a formal application and fee online through Rutgers University Graduate Admissions (admissions.rutgers.edu) by December 1, 2017, and the Mason Gross Supplemental application by January 5, 2018. Additional supporting material including a personal statement, writing and video samples, a resume, and an audition, are due by March 1, 2018.
For more information about the MFA in dance program, contact Mason Gross Admissions at 848-932-5269 or admissions@mgsa.rutgers.edu.
---
The Dance Enthusiast Shares News From The Dance World And Creates Conversation!
For more FROM THE PRESS pieces, click here.
If you have important news to share, please send an announcement or press release to info@dance-enthusiast.com!