Dance News: National Dance Institute (NDI) Raises Over $1.5 Million at 42nd Annual Gala
Three-time Tony Award Nominee Terrence Mann Emceed and Bebe Neuwirth Honored
National Dance Institute (NDI), the non-profit arts education organization founded in 1976 by legendary New York City Ballet principal dancer Jacques d'Amboise, hosted its 42nd Annual Gala at the Zeigfeld Ballroom in New York City. The annual event, which is NDI's largest fundraising event of the year, raised $1.5 million, with all proceeds benefitting NDI's award-winning arts education programs.
The evening kicked off with a festive cocktail reception for its nearly 500 guests, followed by an elegant seated dinner punctuated by a spiritual live auction, an honors presentation and special performances by the children of Nation Dance Institute. Three-time Tony award nominee Terrence Mann introduced the program which featured performances by NDI children, showcasing the mission, essence, and culture of the organization and this year's in-school curricular them – Rivers – and gala titled, "Dance Me A River." Since the dawn of time, rivers have enabled civilizations, built economies, and inspired dreams. They are the source of life to those who live along its banks as well as under its waters.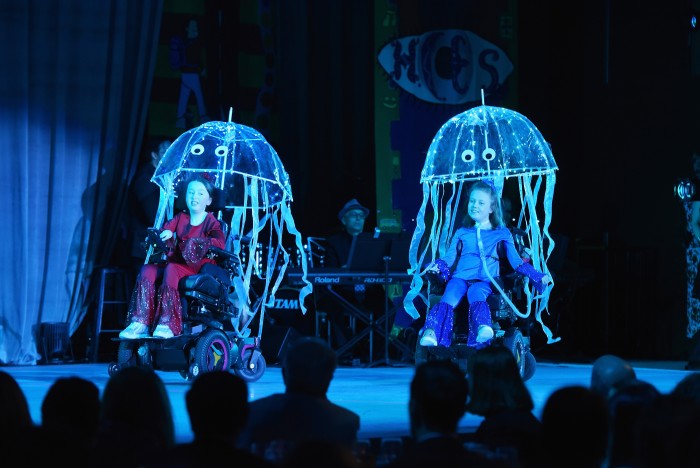 The NDI Dancers perform during the National Dance Institute (NDI) Annual Gala at The Ziegfeld Ballroom on April 30, 2018 in New York City. (Photo by Noam Galai/Getty Images for National Dance Institute)
The NDI children performed, "Where the River Begins," "River Creatures," and a routine to "Dreamin' on the River," which showcased the DREAM Project, a special program that pairs children with physical and intellectual disabilities with mainstream students. In addition, NDI dancers performed "Other Side of My World," an upbeat favorite from the NDI repertoire and "You Can't Stop the Beat."
The live auction was conducted by professional auctioneer CK Swett. This year's live auction lots included:
Two impossible-to-get house seats to the 11-time Award-winning show Hamilton and an exclusive backstage tour as part of the once-in-a-lifetime experience. Plus, the winning bidder received a personally curated Kindle pre-downloaded with Lin-Manuel Miranda's favorite book list.
Two tickets to the exclusive 2019 Vanity Fair Oscar Party in LA and two nights stay at the luxurious Loews Santa Monica Beach Hotel.
An unforgettable day with world-renowned American artist, Red Grooms, including a tour for four of his private studio, an original sketch of the winning bidder and their guests to take home and a delicious meal at one of his favorite lunch spots in Chinatown. 
A reservation for four at the legendary Rao's Restaurant in NYC with private investigator, mayoral candidate, and media personality, Bo Dietl.
CK Swett then introduced the StarChild Auction, a time where guests are invited to give any level of donation to support NDI. Attendees were given the option of adopting a school, a class, a dancer, supporting NDI's work with children with disabilities and more.
Mandy Patinkin performs onstage during the National Dance Institute (NDI) Annual Gala at The Ziegfeld Ballroom on April 30, 2018 in New York City. (Photo by Noam Galai/Getty Images for National Dance Institute)
Following the auction, actor and longtime NDI supporter Mandy Patinkin took the stage for an impromptu speech about being the father of an NDI alum and the impact that the organization had on his son and on so many other people. He said, "I had no idea that it had nothing to do with dance and everything to do with being a human being." He continued, "I was brought to tears watching the DREAM team up here today, overwhelmed of the gift that all of you contribute, and to the gift that Jacques has given to all of us." He then sang "Anyone Can Whistle" and closed by asking the audience to "whistle for Jacques d'Amboise."
The NDI children retuned to the stage to perform a short rendition of "Chicago," with a special appearance by Terrence Mann who introduced this year's honoree, Tony Award-winning dancer, singer, and actress, Bebe Neuwirth who was honored for her passionate support of dance and arts education. Upon accepting the honor, Bebe remarked how much joy she gets watching the NDI children on stage. She said, "Every single time I see them I get a grin on my face, a leap in my heart, and a joyful tear in my eye." She continued to share a story about the first time she ran into Jacques while studying at The Julliard School, which was in the same building as the New York City Ballet. She continued, "I overheard a part of his conversation as he walked past me. He said something about the kids. I didn't know which kids he was referring to, but this was 1976, so this could have been the first group of NDI kids. So, 42 years later, I'm so deeply moved and grateful to have been recognized and called to this stage. Thank you Mr. d'Amboise for your concern all these years, and for continuing to take care of the kids. For providing them the opportunity to hear the music and dance together, opening their hearts, their minds, and their souls, in the joyous way that can only happen through dance."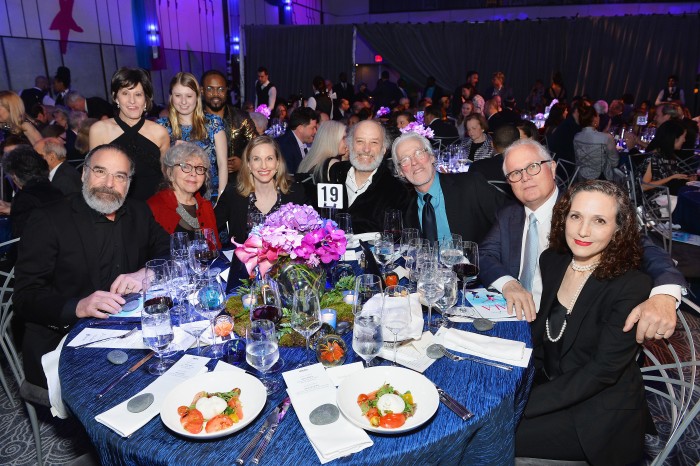 (L-R) Mandy Patinkin, Ellen Weinstein, Kathryn Grody, Frank Wood, Terrence Mann and Bebe Neuwirth attend the National Dance Institute (NDI) Annual Gala at The Ziegfeld Ballroom on April 30, 2018 in New York City. (Photo by Noam Galai/Getty Images for National Dance Institute)
NDI Board member and last year's honoree Arnold S. Penner returned to the stage to present an additional honor to long-time NDI supporter and Chairman of GFP Real Estate, Jeffrey R. Gural. Upon accepting the honor Jeffrey said, "It is truly an honor to be recognized by National Dance Institute at this year's Gala.  I have been sponsoring NDI programs at three different elementary schools and seeing the joy it brings to the students, teachers, and their parents at the end of the year performances makes it all worthwhile." He continued by reading a few of the many thankful and inspiring letters written by children in the in-school program that he frequently visits.
To close the night, 200 NDI children performed "Harlem Night Song," an upbeat favorite from last year's curricular theme. Additional notable guests in attendance included: Actress Kathryn Grody; Broadway actress and NDI Board Member Charlotte d'Amboise; New York City Ballet Dancers Daniel Ulbricht, Sterling Hyltin, Jared Angle, Amar Ramasar, Ask la Cour, Teresa Reichlen; Former New York City Ballet Dancer Wendy Whelan, Alegra Kent, among others.
Also included this year was an incredible array of silent auction items and experiences including trips, tickets, backstage tours, wine and so much more. Most notable were the one-of-a-kind dance shoes worn by legendary New York City Ballet principal dancer, Jacques d'Amboise, in George Balanchine's Who Cares? They are signed and dated (1979) by Jacques himself. 
---
The Dance Enthusiast Shares News From The Dance World And Creates Conversation!
For more FROM THE PRESS pieces, click here.
If you have important news to share, please send an announcement or press release to info@dance-enthusiast.com!