Dance News: Thelma Hill Performing Arts Center Donates Archives To Library For The Performing Arts
The New York Public Library for the Performing Arts announced that the Thelma Hill Performing Arts Center (THPAC) has donated its archives to the Library. The collection includes photographs, film and video tapes, promotional items, posters, and administrative documents from the performing arts center, which was named after legendary dancer Thelma Hill in 1977, the same year she died. The rich archive contains much of the documented dance history of Black dance and other dance artists of color since 1976 to the present. The archive includes materials documenting the work of Loretta Abbott, Alvin Ailey, Camille A. Brown, Ron K. Brown, Chuck Davis, George Faison, Louis Johnson, Marlies Yearby, Dance Theatre of Harlem, Urban Bush Women, Forces of Nature, and many more. THPAC will continue to grow the archive by donating additional materials on an ongoing basis.

"The Thelma Hill Performing Arts Center has been a vital space for dance artists of color for over forty years and a vibrant part of the cultural landscape of Brooklyn," said Linda Murray, Curator of the Library's Jerome Robbins Dance Division. "We are so honored to bring this rich history to the Dance Division and to make it available for our users."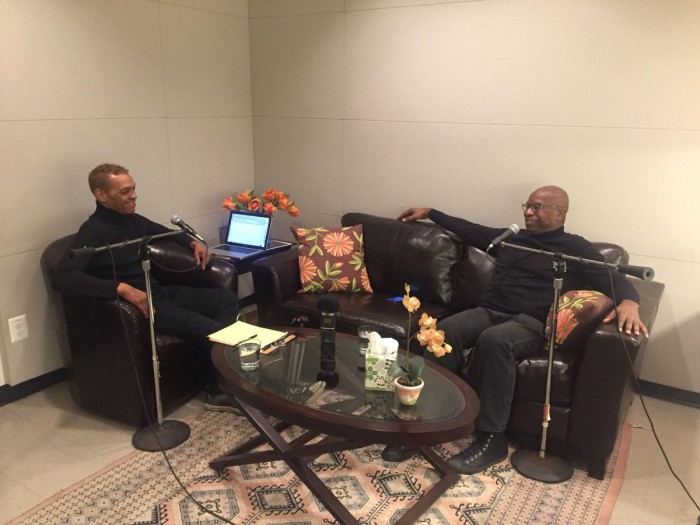 Alex Smith Jr, Executive Chairman of the Thelma Hill Performing Arts Center (THPAC), telling his story to interviewer Walter Rutledge.
Alex Smith, Jr., Executive Chairman of THPAC, explained that this donation was the realization of the dream of his predecessor, Melvin C. Davis, who died in 1995, and was the result of a fruitful coincidence recently at the Bessie Awards. "Melvin once told me that he dreamed of having our collection at The New York Public Library for the Performing Arts," said Smith. "Since taking on the role of leading THPAC, it has been a concern of mine as to what to do about all the documents we had and were continuing to create every year. In 2016, when I received the Bessie Award for an individual for Outstanding Service to the field of Dance, the Jerome Robbins Dance Division was receiving the same honor on behalf of an institution. I remembered what Melvin's wish was, and connected with Linda. The rest is now history and I could not be more pleased."

To help identify as many artists included in the archive, Smith, along with THPAC artistic consultant, Walter Rutledge, and former THPAC artistic director, Marshall Swiney, are actively involved in the collection processing. Once processed, the collection will ultimately be available to users on the third floor of The Library for the Performing Arts in Lincoln Center.
Thelma Hill Performing Arts Center was founded by Larry Phillips, who began working as a dance therapist in Brooklyn at a community center that sponsored children's education and support programs for single parents attending New York Technical College. In 1977, Phillips renamed the organization after his renowned and highly influential teacher, the late Thelma Hill. Like its namesake, THPAC is known as a positive force in the dance world of New York City and beyond. Its mission is to preserve and present the artistic vision of dance artists of color. Over the years, THPAC has supported and attracted emerging and established dance artists of color who seek out the organization's experimental, yet historically aware environment. THPAC has become a viable institution for communities that have traditionally celebrated and reflected on their social and cultural issues through the rituals of music, dance, literature, and performance. In 2016 THPAC celebrated its 40th Anniversary season. Over 37 dance artists and companies were presented over a four-day period in recognition of that milestone.
---
The Dance Enthusiast Shares News From The Dance World And Creates Conversation!
For more FROM THE PRESS: Dance News pieces, click here.
If you have important news to share, please send an announcement or press release to info@dance-enthusiast.com!