Dance News: These Are The Gibney Awards 2018-2019 Dance In Process Artist Residencies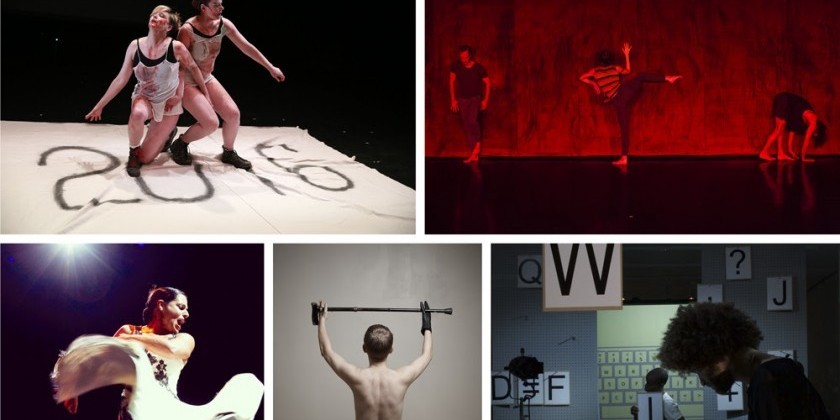 Gibney's Signature Creative Residency Program Enters Its Fifth Year
Gibney announces today the 12 artists awarded its 2018–2019 Dance in Process (DiP) residencies: chameckilerner, DANCENOISE, Ursula Eagly, Neil Greenberg, Jaamil Kosoko, Nia Love (in partnership with 651 ARTS), Marissa Perel, Will Rawls, Vicky Shick, Nelida Tirado (in partnership with BAAD!), Mariana Valencia and Pavel Zuštiak. Each resident artist will receive three weeks of exclusive studio space at Gibney, a $7,500 stipend with an additional $2,000 available for artistic consultant fees, plus administrative, production and marketing support throughout the year. See below for information on each artist and, where available, specific projects to be developed during their residencies.
These 12 artists make up the second of two cohorts funded by a generous $600,000 grant from The Andrew W. Mellon Foundation, whose support has been instrumental in supporting five cycles of DiP residencies so far, totaling 54 residencies for mid-career artists since the program's inception. Thanks to this visionary grant, two of this year's artists will once again have the opportunity to transform one of their three residency weeks into a fully supported production residency, enabling them to fully develop work that requires technical support in a theater or production laboratory setting during the creative process. This program component was conceived last year to address artists' need for extended access to tech-ready performance space and technical resources. Production residency artists receive a stipend of $8,500, with an additional $4,000 available for artistic consultant fees and access to one of Gibney's four performance spaces. chameckilerner and Jaamil Kosoko are the 2018-2019 recipients.

"Now entering its fifth year, DiP has provided pivotal support in the artistic trajectories of over 50 dance makers whose creative output has been resonant and impactful," says Gina Gibney, Artistic Director and CEO of Gibney. "The generosity and commitment of The Andrew W. Mellon Foundation has meant that diverse voices in the art form have been brought forth, nurtured and lifted up through expansive support. At a time when funding for culture and creativity has been called into question, Mellon's backing of DiP is visionary and nothing short of extraordinary."

Dance in Process (DiP) is Gibney's signature creative residency program for New York City-based mid-career artists. DiP focuses on immersive, high-impact support for artists working on complex, large-scale projects that require intensive developmental time and are catalytic in the artist's career. DiP provides nuanced resources through concentrated access to studio space, a significant stipend, a robust menu of technical and administrative resources and year-round support for twelve artists annually.

ABOUT THE ARTISTS

chameckilerner
chameckilerner is Rosane Chamecki and Andrea Lerner, with a body of work that includes dance performances, video and installation pieces. What has been at the core of our work are questions involving the body and its presence. We are in search of a way of moving that is real in its obsessions and in relationship with the other. From the struggling bodies of our initial works, obsessed with their intentions and busy resolving their tasks, to our deranged bodies in the late '90s, full of internal mechanisms of desire, to the social bodies of our latest works—feminine, aging and conflicted between the intimate and the public—the work has always been a magnifying glass into the unspoken humanity enclosed in these bodies. chameckilerner is the recipient of a Guggenheim Fellowship and support from The Foundation for Contemporary Arts, NYFA, NYSCA, NEFA, Jerome Foundation and Rockefeller MAP Fund, among others. Their work has been presented by The Kitchen, DTW, The Joyce Theater, Performance Space 122, Central Park SummerStage, Portland Institute for Contemporary Art, Mass MoCA, Diverseworks, Jacob's Pillow, American Dance Festival and they have toured Brazil, Central and North America and Europe. Residencies include YADDO, Watermill Center and EMPAC.
Project: Excerpts of a Lifetime
Excerpts of a Lifetime is a live-performance, multi-screen video installation. In any collaboration the self-experience is a dual-experience, one responds to the other, and together they experience the world. After 20 years of collaboration between Andrea and Rosane, this piece dwells on ideas of symbiosis, and a fragile balance between collision and magnetism. The piece is a story of mutual imprints—a practice of belonging, of becoming, of the fear of being too close, or the desire to be closer.
DANCENOISE
DANCENOISE, Anne Iobst and Lucy Sexton, began making dance-based performances in 1983.  They performed in nightclubs and small venues including The Pyramid, 8BC and King Tut's Wah Wah Hut. They produced full-length shows at Performance Space 122, Soho Rep, La MaMa, The Kitchen, Lincoln Center and the Whitney Biennial. They toured nationally and internationally and received NEA, NYSCA and NYFA grants as well as a NY Dance and Performance Award, or Bessie. After a period of sporadic performing, they did a full-length show at the new Whitney Museum in 2015 and a NY Live Arts residency in 2016.
Project: DANCENOISE 2016
DANCENOISE: The Next Step (2016) is our first major new work in several years. We will tap into a history of radical art-making and lifesaving activism to respond to our current political and cultural crisis. Co-choreographers Anne Iobst and Lucy Sexton, joined by a cast of powerhouse females of all genders, will use dark humor and fierce dance as they hack through the wilderness of the American psyche to find a path forward.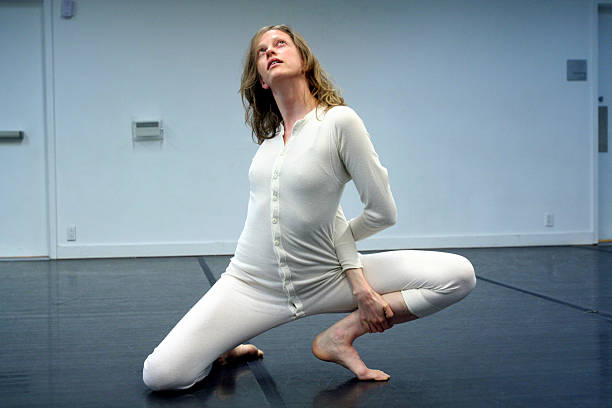 Ursula Eagly in "Smearcase" at Dance Theater Workshop, March 31, 2008. Photo courtesy of the artist.
Ursula Eagly
Ursula Eagly makes dances characterized by a "rabbit-hole logic" (The New York Times) that considers the potential of porosity, an interrupted physicality and you. Her work has been commissioned and presented in New York by The Chocolate Factory, Dance Theater Workshop, Danspace Project and Mount Tremper Arts, among others, and internationally in Albania, Denmark, Italy, Japan, Macedonia, Manipur and Mexico. Her work has been sustained by grants from the Mid Atlantic Arts Foundation/USArtists International, The Suitcase Fund, FCA/Emergency Grant, Japan Foundation/Performing Arts JAPAN, the Mertz Gilmore Foundation and the Queens Council on the Arts, and through residencies including Movement Research AIR, Explore the Metropolis Choreographer + Composer, Gibney boo koo, Dance New Amsterdam AIR, DTW Studio Series, DTW Fresh Tracks, Topaz Arts' Solo Flight, Kaatsbaan International Dance Center, International Interdisciplinary Artists Consortium at Earthdance, Bunker Production's Stara Elektrarna, STATION, and Seoul Dance Center (Korea). Other projects include writing for magazines from Artforum to ARTnews and editing 53rd State Press Dance Pamphlet (inaugural edition), MR Performance Journal (#41 & 42), Critical Correspondence (2010-2011), and Danspace Project catalogues (PLATFORM 2010 & 2011). Ursula was Artistic Advisor for NYLA's Fresh Tracks program (2014-2017) and currently serves on the Explore the Metropolis Advisory Board.
Neil Greenberg
Neil Greenberg came to New York from Minnesota in 1976 and danced with the Merce Cunningham Dance Company from 1979-1986. He is known especially for his "Not-About-AIDS-Dance," which employs his signature use of projected words as a layering strategy that provides doors into "meanings" in the dance, while also raising questions about the nature of meaning-making. He has received a Guggenheim Fellowship and two Bessie Awards, repeated fellowships from the NEA and NYFA, a fellowship from the Foundation for Contemporary Arts, a NDP Production grant, a Doris Duke Creative Exploration Award and repeated support from the MAP Fund and NYSCA. He has created two works for Mikhail Baryshnikov's White Oak Dance Project. Greenberg is currently a Professor of Choreography at Eugene Lang College of Liberal Arts, The New School, and has previously taught at Purchase College, Sarah Lawrence College and UC Riverside. He served as dance curator at The Kitchen from 1995-1999. His most recent project, This, continues his interest in the move away from representation toward an experience of the performance moment in and of itself.
Project: To The Things Themselves!
To The Things Themselves! continues my interest in provoking an engagement with the performance moment in and of itself, while also exposing the cultural situated-ness of the performance actions. Movement, music materials and actual physical objects are manipulated to at times emphasize their in-and-of-themselves object-ness, while at other times transforming into blatant representations: the stick becomes a sword, then a cane (stealing from Improv 101 beginning dance students). With music by James Lo and performance by Greenberg, Michael Ingle, Molly Lieber and Omagbitse Omagbemi, TTTT! proposes that an experience of "the thing itself" necessarily includes the conditions of a phenomenon's production and reception, both.
Jaamil Kosoko
Jaamil Kosoko is a Nigerian-American choreographer and performance artist originally from Detroit, MI. Kosoko is a 2017-2019 Princeton Arts Fellow and a 2017 Cave Canem Poetry Fellow. Kosoko's work has toured throughout Europe having appeared in major festivals including Moving in November (Finland), TakeMeSomewhere (UK), SICK! (UK), Tanz im August (Berlin), Oslo Internasjonale Teaterfestival (Norway), Zurich MOVES! (Switzerland), Beursschouwburg (Belgium) and Spielart Festival (Munich). Publications include two chapbooks: Animal in Cyberspace and Notes on An Urban Kill-Floor, and poetry published in The American Poetry Review, The Dunes Review, The Interlochen Review, The Broad Street Review, Silo Literary and Visual Arts Magazine.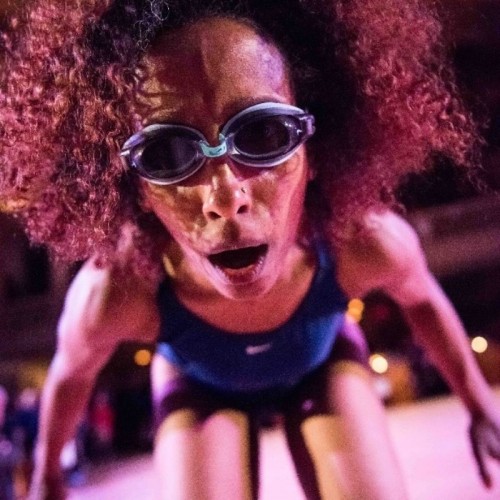 Nia Love. Photo credit: Ian Douglas
Nia Love
Nia Love's career spans forty years, beginning in 1978 when she became one of the youngest international apprentices with Havana's world renowned Ballet Nacional de Cuba. In 1986, Love studied Butoh and toured with celebrated Japanese Butoh master Min Tanaka. She received her B.F.A. in Theater from Howard University (1987), M.F.A. in Choreography from Florida State University (1992). A Fulbright Fellow (2002-03), a Brooklyn Arts Exchange/BAX Artist-In-Residence (2011-12, 2013-14), and a Movement Research Artist-in-Residence (2016-17). Love received the New York Live Arts Suitcase Fund (2013-14), the Alvin Ailey New Directions Lab Choreographer Award (2013-14), the CUNY Dance Initiative (2014-15), a Bessie award for the Most Outstanding Performer (2017) as part of the ensemble of Skeleton Architecture, and the CUNY Incubator Grant (2018-19). Currently BAX Racial Equity Advisor and Adjunct Professor at Queens College, Hunter College and The New School. In Spring 2018, she was the Movement Research Exchange Guest Artist/Lecturer at UCLA's Department of World Arts and Culture/Dance. In Fall 2018, she will be a guest professor at Bard College, and in Winter 2019 a visiting professor at University of Illinois—Urbana-Champaign. In addition to her own work, she is the co-founder of the collective LOVE|FORTÉ.
Project: g1(host): lostatsea
Underwater life/death requires an action of complete submergence. I dive 60 feet below sea level in hopes of seeing something left from the tens of thousands of bodies sacrificed during the trans-Atlantic slave trade. Under intense atmospheric pressure, I slip away from time measured by fear and although in this new world I am a foreigner, I am not a fugitive; nor am I skin but memory, a recollection of 'membrance that holds me together in partnership with the nothing spread far wide around[?] me. Centuries of slippage, shipwreck particles and unnoticed gases collide and dance. This project is driven by a hauntography whose fundamental query takes place in an underwater search for what remains. I am collaborating with scholar Christina Sharpe to produce choreography in dialog with her groundbreaking text, In the Wake: On Blackness and Being.
Marissa Perel
Marissa Perel is a disabled artist and choreographer whose work spans installation, performance and writing. Perel's recent work, (do not) despair solo, premiered at the 2018 American Realness Festival. Perel is currently a Mertz-Gilmore AIR at Movement Research, and is the International AIR at Sophiensaele, Berlin. Perel was a resident choreographer for the new Choreo-Lab initiative for the integrated dance company, AXIS Dance. Perel has received previous commissions from the Chocolate Factory Theater, FringeArts, the Chicago Cultural Center and the Chicago Humanities Festival in partnership with the Americans with Disabilities Act. Perel is a Lecturer for the School of the Art Institute of Chicago's Low Res M.F.A, and has been a visiting artist at the University of Michigan, Wesleyan University and Konstfack College for Art and Design in Stockholm.
Will Rawls
Will Rawls is a choreographer, writer and performer. His practice combines dance with media to investigate the poetics of blackness, ambiguity and abstraction. He has presented work at The Chocolate Factory, MoMA PS1, Performa 15, The Whitney Museum of American Art, ImpulsTanz and the Portland Institute of Contemporary Art. His writing has been published by Artforum, Triple Canopy, les presses du réel, The Museum of Modern Art, The Hammer Museum, and Danspace Project. Rawls has received support from the Guggenheim Fellowship, Robert Rauschenberg Foundation and Foundation for Contemporary Arts in addition to teaching fellowships at Wesleyan University and Williams College.
Project: [Siccer]
[Siccer] is a choreographed performance for The Kitchen. The title refers to "[sic]," the editorial disclaimer used to acknowledge a citation that retains a grammatical error from its source. Acknowledging the profound errors that are embedded in the words and techniques we use on ourselves, and on each other, [Siccer] whittles away at the stability of language and dance as vehicles for the invention of self. In particular, this research will follow performers negotiating blackness as a medium, as an abstract, porous set of actions and utterances. [Siccer] will comprise stories, methods and attitudes about the self, none necessarily in favor of "I," stewing, instead, in auto-fables that borrow and refuse form, yet are determined, nonetheless, to leave an impression.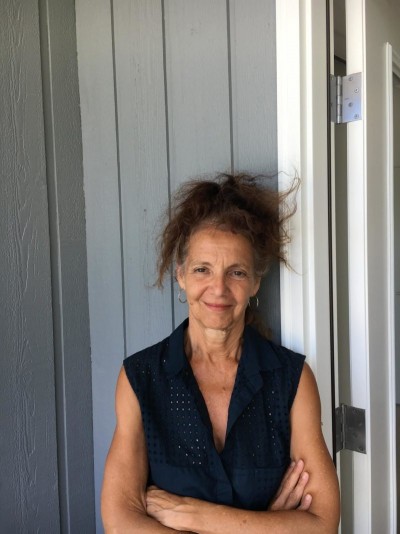 Vicky Shick. Photo credit: Rebecca Chapman.
Vicky Shick
Vicky Shick has been involved in the NYC dance community for over three decades. During her years (1980-86) with the Trisha Brown Company, she received a Bessie Award for performance. She has been making dances since the mid '80s and was honored with a second Bessie Award for her collaborations with artist Barbara Kilpatrick and sound designer Elise Kermani. Shick has taught, shown work, created student dances and restaged Brown's pieces in festivals and at universities, including in her hometown, Budapest. She has collaborated and worked with many others, including Seline Baumgartner, Yoshiko Chuma, Meg Harper, Irene Hultman, Jon Kinzel, Juliette Mapp, Marilyn Maywald Yahel, Jodi Melnick, Jimena Paz, Stephen Petronio, Susan Rethorst and Sara Rudner. In 2015, she was a second-time Movement Research Artist-in-Residence, a 2008-2009 Guggenheim Foundation Fellow, and a 2006 grant recipient from the Foundation for Contemporary Arts.

Project: Untitled Work in Process
I am at the beginning of my process for a February performance at Danspace Project. This past May, I showed Wash/A Variety Show at the West End Theatre. The portraits and duets presented there will lead into ongoing explorations during the late summer and fall. I will continue to investigate (as I have for decades) a nuanced physicality revealing the fragility and grit of the performers. That is what captures my passion. I am and have always been obsessed with detail. Now, as in recent years, alongside my devotion to clarity and a pared down simplicity, I am also fascinated by sprinklings of exaggeration, the slightly off-kilter events we discover, and how these opposing elements seamlessly combine to shape imagined character and story. Underlying it all is a fervent desire to deliver intimacy between the performers and with the audience. Swiss artist Seline Baumgartner (with whom I have previously worked) will create the set. I am curious about how space and set can enhance and bring into focus this effort in intimacy, in hints of narrative, and in the wacky. Performers are also still to be determined: confirmed are Jodi Bender, Jennifer Lafferty, Marilyn Maywald Yahel, Mina Nishimura and Shick.
 
Nelida Tirado
Nelida Tirado, hailed as "magnificent and utterly compelling" (The New York Times), began her formal training at Ballet Hispanico of New York at the age of six. Barely out of her teens, she was invited to tour the U.S. with Jose Molina Bailes Espanoles and work as a soloist in Carlota Santana's Flamenco Vivo, soloist/dance captain of Compania Maria Pages and Antonio El Pipa, performing at prestigious flamenco festivals/on television in Europe and Japan. She has performed in Carmen with the MET, World Music Institute's Gypsy Caravan, Noche Flamenca and as the featured flamenco dancer in Riverdance on Broadway. Ms. Tirado was recipient of the 2007 and 2010 BRIO Award for Artistic Excellence, and opened Summer 2010 for Buena Vista Social Club featuring Omara Portoundo for the Celebrate Brooklyn! Festival. Some highlights include HarlemStage E-Moves, Amores Quebrados at the Repertorio Espanol, Valerie Gladstone's "Dance Under the Influence" 2011 and 2012 in collaboration with the Flamenco Festival USA and collaboration with jazz great Wynton Marsalis at Harvard University, and the 2016 premiere of her solo show Dime Quien Soy in the Flamenco Festival NY. She was the recipient of the 2017 Rosario Dawson Muse Fellow through BAAD and featured in Dance Magazine's "25 to Watch."
Project: TRANSITIONS:TRANSICIONES
The necessary transformation, realignment and evolution from life's fragile and empowering uncertainty. This work is an exploration of our vulnerable and ever-changing human state.
 
Mariana Valencia
Mariana Valencian is a dance artist. She has held residencies at Chez Bushwick (2013), New York Live Arts Studio Series (2013-14), ISSUE Project Room (2015) and Brooklyn Arts Exchange (2016-18). Nationally, she's held residencies at Show Box LA and Pieter Pasd in Los Angeles (2014); and at the Portland Institute for Contemporary Art, Oregon (2018). Internationally, she's held residencies in Serbia and Macedonia (2016). Valencia is a Bessie Award recipient for Outstanding Breakthrough Choreographer (2018), a Foundation for Contemporary Arts Award to Artists grant recipient (2018), a Jerome Travel and Study Grant fellow (2014-15), a Yellow House Fund of the Tides Foundation grant recipient (2010-13) and a Movement Research GPS/Global Practice Sharing artist (2016/17). She is a founding member of the No Total reading group (2012-15) and she has been the co-editor of Movement Research's Critical Correspondence (2016-17).

Project: Bouquet
Bouquet examines authorship by questioning what gets carried into Valencia's work through the modes of proximity, relation and alliance. This process seeks to manipulate perceptions of life and its collaborators. Bouquet is sourced from various popular and cultural alliances and this particular ensemble of sources builds a choral surround of references. Valencia's trajectory is not solely bound to her cultural history, but rather an algorithm―of body, object and language―that creates a collective shout. The performance is similar to a vernacular exchange between the performer and the audience that encourages the responder to craft a field of meaning. The work proposes a lens for observation that positions our personal and cultural attachment to objects and subjects, and why (or if?) we choose to live among them. In Bouquet, Valencia invites the audience to traverse a dense field of collective reference.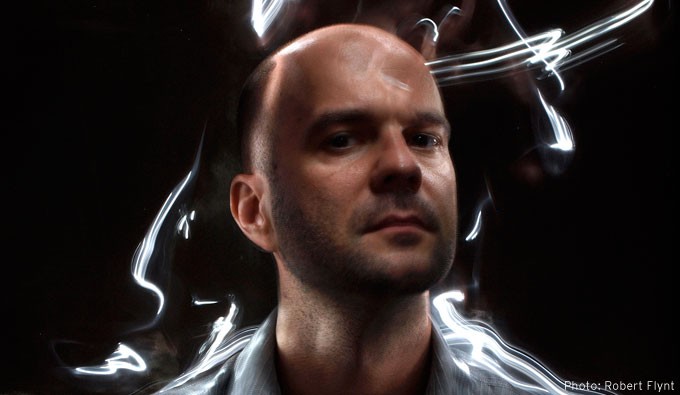 Pavel Zustiak. Photo credit: Robert Flynt.

Pavel Zuštiak 
Pavel Zuštiak is a Slovak-American choreographer and director. Often described as human and humane, his interdisciplinary works are visually evocative and emotionally piercing. Zuštiak is the 2015 Bessie Juried Award winner for his "poetic layering of movement and visual imagery, conceiving the stage as a decentralized world in which the corporeal body is the focus and canvas for a wide range of human expression." He is a Princeton Arts Fellow, recipient of LMCC President's Award, NEFA/NDP Production & Residency Grants, Guggenheim Fellowship, MANCC and Bogliasco Fellowships and multiple Princess Grace Awards. Zuštiak's work was commissioned and presented by Cal Performances/UC Berkeley, Walker Art Center, Wexner Center for the Arts, PS122, Abrons Arts Center, Baryshnikov Arts Center, La MaMa and New York Live Arts, among others. Zuštiak lives in New York City.

Project: HEBEL
The choreographer/director Pavel Zuštiak will create HEBEL, a proscenium stage performance with scenography designed by digital media arts collective United Visual Artists and music composed by Christian Frederickson. Commissioned by NYU Skirball with additional support by Princess Grace Foundation-USA in partnership with Baryshnikov Arts Center, the work will premiere in Spring 2020.
Main photo credits: Top row (L-R): DANCENOISE by Paula Court; Pavel Zustiak's "Custodians of Beauty" by Maria Baranova; bottom row (L-R): Nelida Tirado by Chasi Annexy; Marissa Perel by Eric McNatt; photo by Will Rawls.
---
The Dance Enthusiast Shares News From The Dance World And Creates Conversation!
For more FROM THE PRESS pieces, click here.
If you have important news to share, please send an announcement or press release to info@dance-enthusiast.com!